On Friday 21 August, families with a child in Year 7 next year will receive an email regarding the Transition Program, beginning with Remote Online Transition Meetings.
There are five key steps to follow, to best prepare for your child's start at Catherine McAuley College. Our intention is to collect as much information as possible regarding their learning and social needs before commencement. Please refer to the 'Transition Update 1: Key Dates and Steps' information sheet below.
Transition Meetings: 26 and 27 August; 1 and 2 September
You will need to book a Transition Meeting on one of the dates above. We request that you do this via the Parent Access Module (PAM) within our College Administration System. You will have the opportunity to talk through Steps 2 – 5 at the Transition Meeting.
If you have any questions regarding transition, please contact the College Registrar, Mrs Audra Petri on 5445 9100 or email info@cmc.vic.edu.au.
Download the Key Steps to Year 7 2021 - Parent Update 1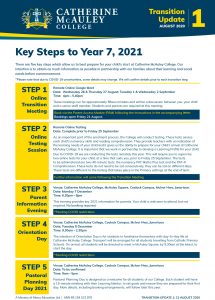 Your Grade 6 child may also like to view this video about Beginning Year 7 at Catherine McAuley College, in the words of current students.
Key Enrolment & Transition Dates
FOR YEAR 7, 2021
Enrolments Open: Wednesday 18 March 2020
Transition Days: Cancelled due to COVID-19 restrictions
Enrolments Close: Friday 12 June 2020 is the closing date for enrolment applications for Year 7 in 2021
Enrolment Offers: sent by Friday 17 July 2020.
Enrolment Acceptance: sign and return by Friday 31 July 2020
Remote online Transition Meetings: Wednesday 26 & Thursday 27 August 2020; Tuesday 1 & Wednesday 2 September
Remote Online Testing: Complete prior to Friday 25 September
Year 7 Parent Information Evening: Monday 7 December 2020
Year 7 Orientation Day: Tuesday 8 December 2020
Enquiries
Please contact Mrs Audra Petri, College Registrar for more information.
Phone: 03 5445 9100
Email: info@cmc.vic.edu.au