As we continue to grow in understanding of Mercy, we are inspired by our College motto, Living Mercy, which guides us today and into the future. May the charism of Mercy be evident each day as we strive to encompass the Mercy Education Values of Compassion, Justice, Respect, Hospitality, Service and Courage in all that we say and do.
The leadership of Catherine McAuley and the ongoing work of the Sisters of Mercy continues to guide us in our decisions and our actions. Our community aspires "To come to know and love Jesus Christ through a deep understanding of, and connection to, our vibrant Mercy story."
We seek to awaken a social conscience in our students through a culture of faith in action, living Mercy in our daily lives.
Catherine for Today . . .
"In a world yearning for the touch of mercy, Catherine's example may be both encouraging and empowering. She had no great design, only a desire to make some lasting effort for God's poor. This yearning engendered a response that was practical and immediate, warm and cordial, enabling and respectful. Through this personal and simple approach, she invites us all to walk in the path of Mercy, the principal path marked out for those who wish to follow Jesus." (Praying with Catherine McAuley, Helen Marie Burns and Sheila Carney).
Read more about the Mercy Values
Find out more about Mercy Education
Watch the video 'In God Alone' about the story of Catherine McAuley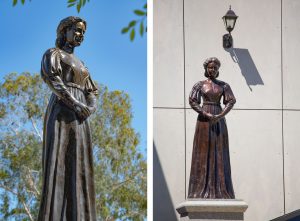 Catherine McAuley at St Mary's Campus (left) and Coolock Campus (right)
Read more about the statues of Catherine McAuley