The importance of all these events is the story and ongoing legacy associated with each. In this age of Snapchat and Instagram they can be lost with the flick of a screen. We need to stop and contemplate their significance and realise their importance.
Today the Diocese launched the latest edition of the Source of Life document outlining the curriculum for Religious Education and how that will be integrated throughout our Learning and Teaching.
Refund
In the next week each family will receive a letter from the College outlining a refund on fees for this year. The letter was presented and approved at the Advisory Council on Tuesday evening and the context behind the determination, and figure, is explained in the letter. We understand that this year has caused hardship in many forms and this measure not only acknowledges the College's appreciation of your support throughout, but also might reduce some of the financial pressure impacting so many families as we approach Christmas and the end of the year. As always, if any family wishes to discuss the matter further, or seek advice around additional support please call the College.
Learning 2020
Today marks one of our longer stints of ongoing traditional learning for the year. There is no doubt of the impact of COVID on our students and staff. When observing student behaviour across the College, there are clear signs that the normal patterns of behaviour that we usually observe across the different year levels, and the students' development, are very, very different this year.  The lockdowns have caused a lot of social disruption and the normal flow of maturation and change that takes place naturally is different. This term, there has been a sense of re-orientation for many students in the classroom and in the yard. The impact of the lack of co-curricular experiences and celebrations has compounded the isolation and the affected the sense of belonging. Some students are struggling to assume the norms of routine and socialisation. The lack of access has impacted some of the basic social skills. The College has been patient in re-establishing the expectations and we are sensitive to each student's context.
We are actively generating various forms of evidence and drawing comparisons with other Mercy and Diocesan schools to deepen our knowledge of the impact of COVID, to prepare for any contingencies arising from further disruption.  Before the end of the term we will be seeking feedback from each household which will further complement the information we have to this point.
Graduation and Orientation
As I have stated throughout this year, there are still so many events and items that are in a state of flux, not only for the remainder of this year, but for the next twelve months. We are still awaiting on some updates from the State Government detailing what we are permitted to offer for events. For example, we are still waiting for information relating to Year 12 Graduation and Year 7 2021 Orientation. There are some significant announcements in the coming week that we hope will enable us to change what we can plan and offer.
Bus
Throughout this year the College has been reviewing the option of purchasing a bus that will allow us to create and coordinate our own service to Strathfieldsaye/Mandurang before and after school each day. This offer would allow students to travel directly to the College rather than via the Tom Flood bus transfer. There will be more information on this opportunity in the coming weeks.
Advisory Council
I would like to thank the Advisory Council for their ongoing work. Before our final meeting for the year I want to extend my thanks on behalf of the Catholic College Bendigo and Catherine McAuley College community for the ongoing service and support that Mrs Fiona Russell has dedicated to the Council and to the College. Fiona has been the Chair this year and has been a great support and guide over many years. Fiona's service will be recognised at our final meeting for this year and we hope that we will not have to be remote. The College is also delighted to announce that Justine Minnie has recently joined the Council and that we are still looking to appoint other parents who might be interested in joining.
VRQA
Recently a whole school review of the College was administered by the Victorian Registration and Qualifications Authority (VRQA).  A whole school review involves an enormous amount of organisation and preparation. The College is delighted to announce that the VRQA provided the College with a very positive review and commended many aspects of our offerings. The process is a very effective source of reflection and discernment. Thank you to all the staff who helped in the preparation, organisation and presentation of various material to the VRQA.
iGEN
One shining light of joy this year has been the success of iGEN 2020. The program has been so popular with students, despite meeting remotely for most of the year, that we have increased student involvement next year. The staff at Bethlehem and Mercy Health have been able to maintain the program this year and we will continue to look at a range of options in 2021 to ensure we keep up the momentum of the program. The most important element of the program is the relationships that have been formed between students and residents.  The highlights of iGEN will be added to our website in the coming weeks.
Our Year 12 exams are heading into their second week and we wish our students every success. Please keep them in your thoughts and prayers.
On Monday 30 November, the Headstart program will kick off for current Years 9, 10 and 11 students so please add to your calendar.
At this time of year, we want students to get involved in the direction of the College and be involved in leadership roles. The Student Representative Council, House Captains, and College Captain roles are all important in the running and decision-making of the College and we hope that lots of students will consider the opportunity.
Mr Brian Turner, Principal
---
Principal's Update 8 October 2020 – Return to Onsite Learning
On Monday 12 October all students return to onsite learning. Mr Brian Turner, Principal has prepared a video message to families and a Student Information sheet.
Students and families are asked to read the Student Information prior to returning to school and follow the instructions in order to keep our community safe:
Download the Student Information for Return to Onsite Learning - Term 4 2020
Topics covered in this video include:
COVID guidelines
Uniform
Year 7s
Transition from remote learning
GAT congratulations
VCAA – reporting on VCE grades and accounting for impact of remote learning
Confusion around adjusted return and pastoral support
Refund for 2020 – Details to be confirmed
reGEN and what that means for CMC in 2021 and onwards
Thank you for support.
Mr Brian Turner ,Principal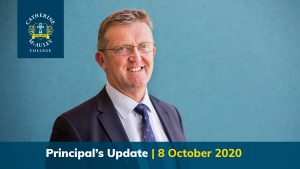 ---
Principal's Update – 1 October, 2020
Download the Principal's Update - Adjusted arrangement Term 4 Return - 1 October 2020
---
Principal's Update – 11 September 2020
As we near the end of Term 3, Mr Brian Turner has recorded this update to keep the CMC Community informed of plans for the last week of Term 3 and the commencement of Term 4.
Given the rapidly-changing situation, the College will provide updates as we receive further advice from the Victorian Government, the Catholic Education Commission of Victoria, Mercy Education Ltd and Catholic Education Sandhurst.
Topics covered in this video include:
R U OK? Day
Congratulations to those who contributed to last Thursday's R U OK? video message
Final Week of Term 3
Mercy Day Celebration: Thursday 17 September for all students and staff
Staff Spirituality Day (Pupil Free): Friday 18 September
Term 4
Term 4 begins Monday 5 October
All students in remote learning for Week 1.
Exception is on Wednesday 7 October for those undertaking the GAT. This information has been sent to students involved (Years 11/12).
All students back to on campus learning from Monday 12 October.
Please wear full summer uniform and make sure you have masks ready.
College Closure
Please note the College remains closed to visitors until Monday 12 October.
Thank you
Thank you to all families for their support of the College and our teachers and congratulations to students on their high level of attendance in challenging times.
Thank you to staff for their continuing efforts with remote learning and supporting students.
Mr Brian Turner, Principal
---
Principal's Message to the CMC Community – 14 August 2020
Topics covered in this video include:
Essential Services students
Thoughts go out to families who have lost loves over the past few weeks. You remain in our thoughts and prayers…
Attendance
SMS to remind the parents of absence will resume next as of Monday 17 August as a pastoral reminder for families regarding student attendance
Student Pastoral Care
Stay well, take care, be active
Connect with school  – reminder Daily Roll with Period 1 teachers – all kids, all subjects
Student Activities
SRC students have some great things in store…
Thanks for support
Two positive COVID cases.
Contact tracing undertaken
Parent Student Teacher Interviews
Thanks for your attendance and feedback
Subject Selection
Reminder – submit by 19 August
2021 – Grade 6 interviews
Junortoun development
---
Principal's Letter to the Community – 10 August 2020
Download the Principal's Letter to the Community - 10 August 2020
Download the Student Supervision COVID-19 Procedures for Term 3 Students On Site
---
COVID-19 CMC Community Letter – 5 August 2020
Download the COVID-19 Community Letter - 5 August 2020
---
COVID-19 CMC Community Letter – 3 August 2020
Download the COVID-19 Community Letter - 3 August 2020
---
COVID-19 CMC Community Letter – 31 July 2020
Students and families have been impacted from within Bendigo and other locations. Please watch the video update and download the full letter below.
Download the full COVID-19 CMC Community Letter - 31 July 2020
Download the FAQ - school closure
Download the CECV Infectious Cleaning Guidelines
Download the SAMPLE LETTER - Information for Families
Download the SAMPLE LETTER - Close Contact Testing
---
Principal's Update 24 July 2020
Currently, for us and our location, the situation is the same as it's been since we started back – and prior to the holidays.
If your child is unwell, please don't send them to school…watch full video message below (3:49)
Mr Brian Turner, Principal
Principal's Update 10 July 2020 - download PDF
Principal's Update 19 June 2020 - download PDF