Spirit of Catherine Awards 2022
29/09/2022
Term 3, 2022
Congratulations to the following award winners for Term 3, 2022. They were announced and presented with their certificates on Mercy Day, in the presence of our whole community. They were joined by the Term 1 and 2 winners on stage.
As a Mercy community, we strive to live by the values and teachings of Catherine McAuley. The prestigious Spirit of Catherine Awards recognise members of our community who epitomise the Mercy values and demonstrate Living Mercy in their words and actions.
YEAR 7
Lauchlan Campbell-Pollard: Like Catherine McAuley, Lauchlan strives to help others around him and to live Mercy in his actions and interactions with others. Lauchlan embodies what it means to truly immerse oneself into a Mercy community, through involvement in many areas of College life. He has volunteered at events, participated in co-curricular activities such as music and production and is a conscientious student in the classroom.
Aaliyah Greenwell: Aaliyah is a conscientious student who embodies the Mercy Values of Respect, Courage and Justice. In class she works diligently and shows courage by having a go. She is always willing to help other students and is empathetic to their differing needs. Aaliyah quietly demonstrates her good sense of justice and is an excellent role model to her peers.
YEAR 8
Tynan Caine: Tynan truly represents the Mercy Values. He always shows Respect and Hospitality to his peers and teachers and his manners are exemplary. He is a modest student who strives to achieve a high standard in his classes and helps other students whenever they need it. Tynan participates in all class activities and his peers are proud to have him in their Student Advocate group.
Rose McSweeney: Rose is a great ambassador for the College and demonstrates all the Mercy Values. Since Year 7, she has displayed courage and her 'clear voice' shows compassion and a keen sense of justice. In class, Rose is respectful and encourages others. She would be the first to put her hand up and volunteer, and as an SRC member, she works hard to make a difference.
YEAR 9
Lilliee Rose Breeze: Lilliee Rose consistently demonstrates the Mercy Values of Hospitality and Respect. New to our community in 2022, Lilliee Rose is an open and sociable student who goes out of her way to connect with her peers. She is a positive role model to others, always communicating in a polite and courteous way. Lilliee Rose strives for excellence in her academic work.
Annabelle Smith: Annabelle is a humble student who models the Mercy Values, especially Compassion and Respect. Annabelle is considerate of the feelings and individual situations of others, and conscious of her words and actions. She is always respectful of teachers, her peers and members of the community. Annabelle contributes positively to her classes, encouraging herself and others to fully explore and develop concepts and ideas.
YEAR 10
Henry Edwards: Henry consistently demonstrates the Mercy Value of Respect. He is courteous in all interactions and expresses thanks and appreciation towards those he works with each day. He has shown quiet leadership among the sporting teams, at Year 10 Camp and the Outdoor Education camps. Henry takes pride in how he represents himself and the College.
Mikayla Hill: Mikayla always displays the Mercy Values of Respect and Courage. She is a diligent student who applies herself with integrity and hard work. Mikayla treats all members of our College community with respect and kindness through caring words and patience, in the spirit of Catherine McAuley.
YEAR 11
Lauren MacKenzie: Lauren consistently demonstrates the Mercy Value of Respect. She is pleasant, hard-working and takes pride in her work. Lauren listens attentively, enjoys the company of others and helps those who may need assistance. Lauren is reliable and responsible in the classroom, making it a welcoming and pleasant environment for all.
Thomas Reid: Thomas demonstrates many of the Mercy Values, in particular Compassion. Thomas has eagerly participated in the iGEN Bethlehem program, SCOPE football, the Bendigo Special Developmental School and Bendigo Foodshare for Structured Workplace Learning. These all exemplify his understanding of others in the community who need assistance.
YEAR 12
Lara Bish: Lara demonstrates many of the Mercy Values, especially Hospitality. She is an incredibly active leader who quietly gets the job done. Lara has a bright and bubbly personality that makes those around her feel included and valued. She creates a welcoming environment for the Year 12 cohort, which was particularly evident on retreat. Lara is polite and kind to all and a role model to her peers.
Claude Bombardieri: Claude demonstrates the Mercy Value of Respect and always displays a positive attitude. He is inclusive of others and respected by his peers and teachers alike. Claude goes out of his way to make others feel comfortable and welcome. He strives to do his best in his studies and seeks ways to improve and learn. Claude quietly assists those around him who may need some extra help.
STAFF
Mrs Benita Arnott: Mrs Arnott demonstrates on a daily basis, the values of compassion, respect and service. She is highly respected by students, colleagues and families, in her teaching and in her organising of the timetable and subject selections for St Mary's. Benita's positive attitude is infectious, and her generosity brings joy to those she encounters.
Spirit of Catherine Awards - Term 2, 2022
Spirit of Catherine Awards - Term 1, 2022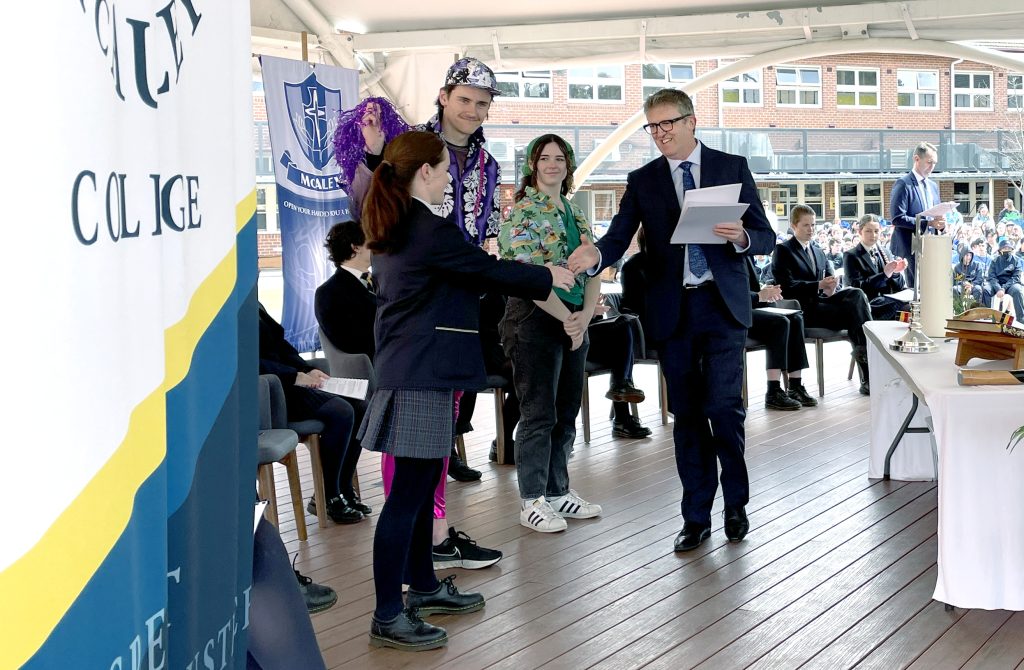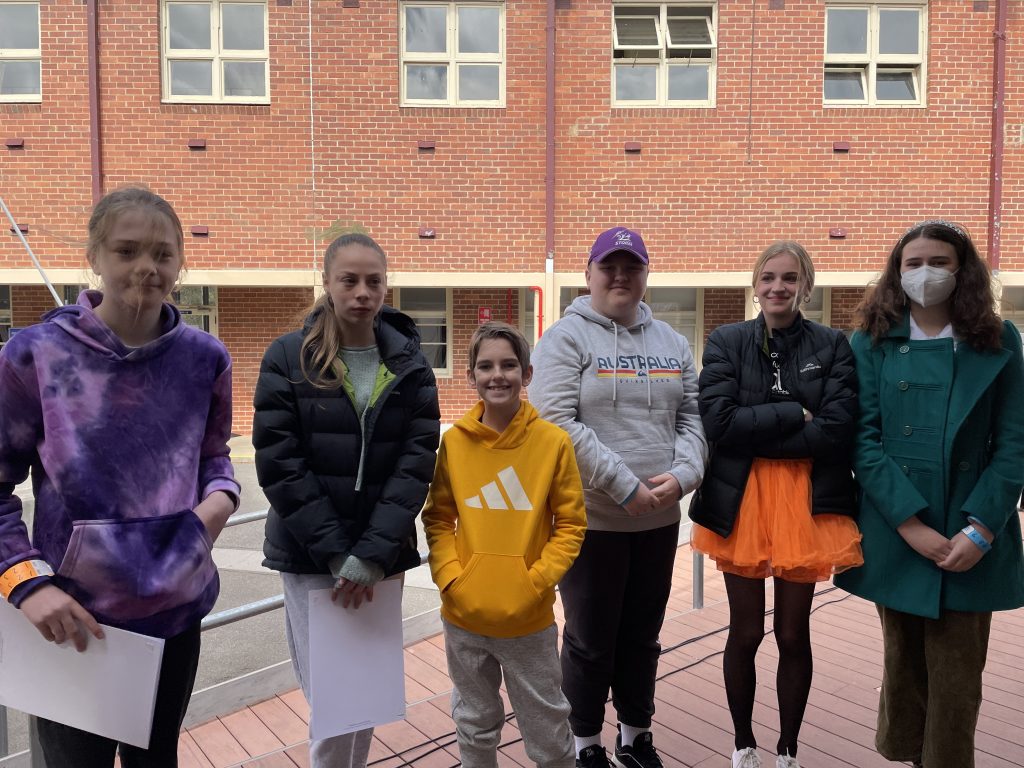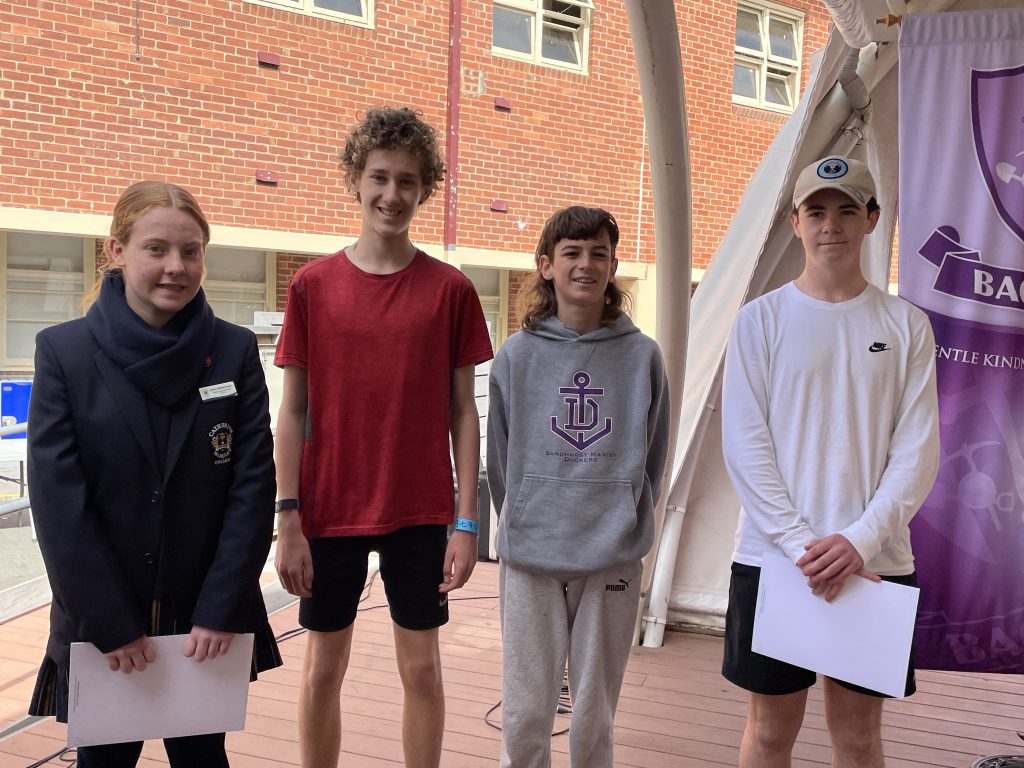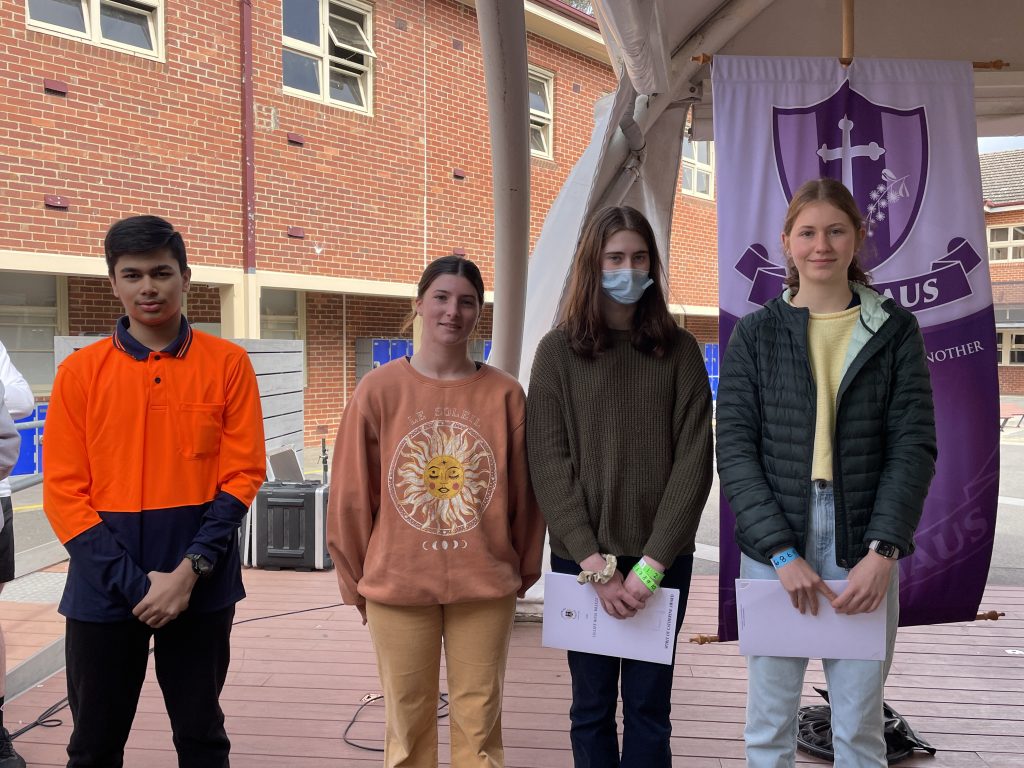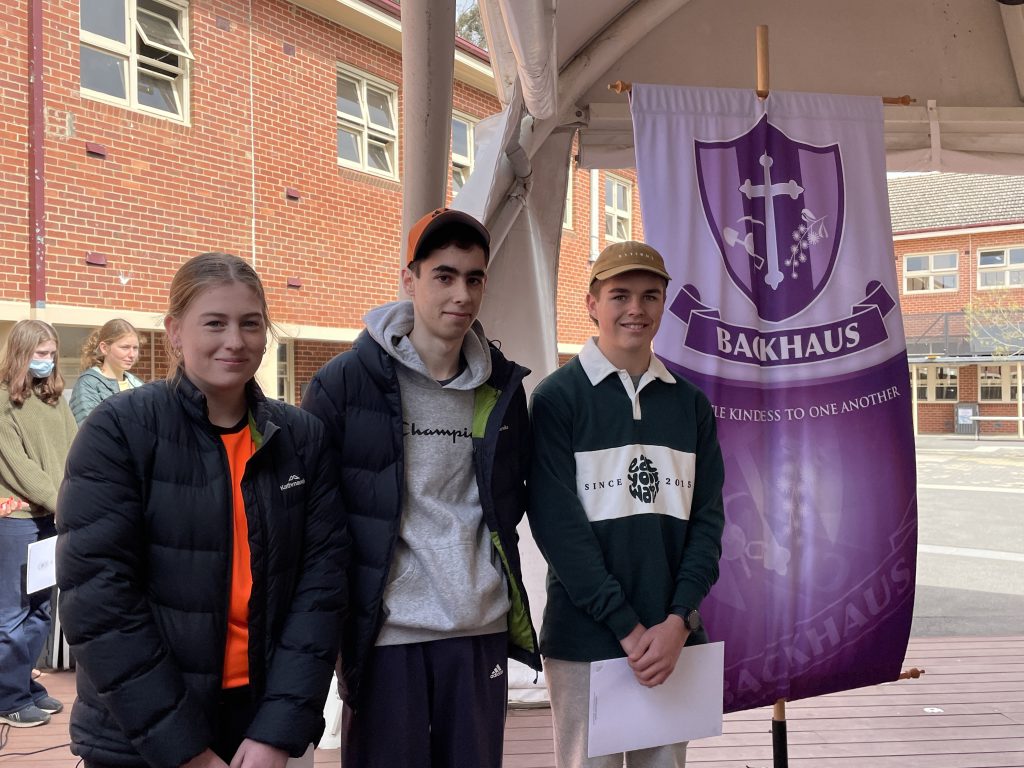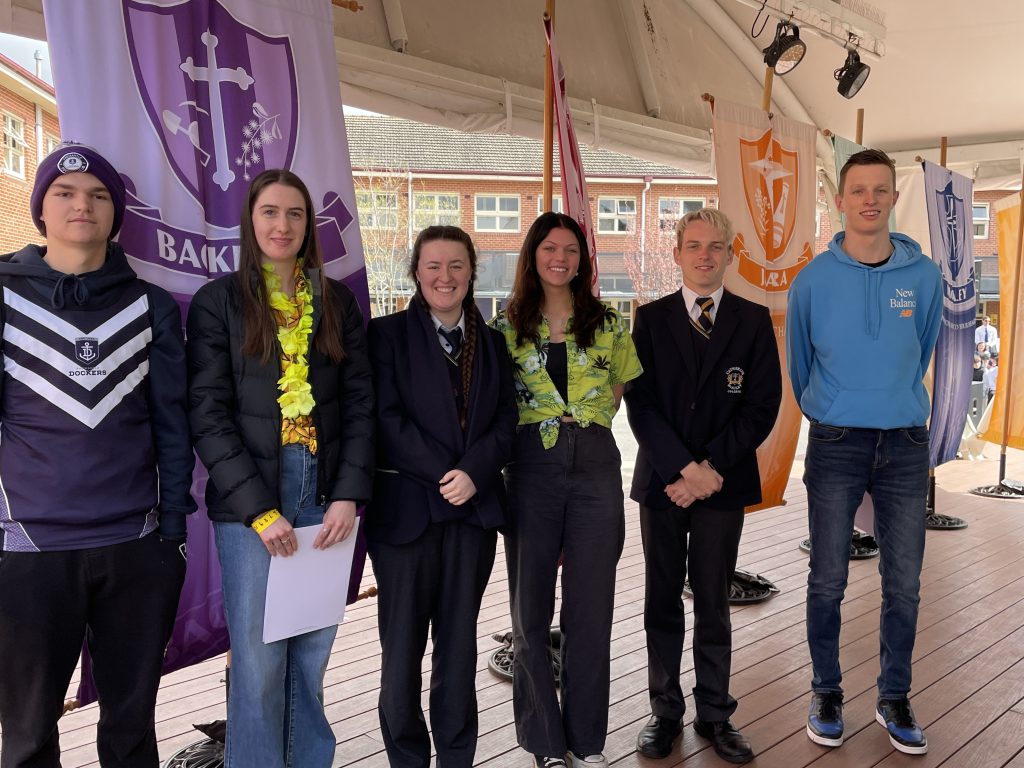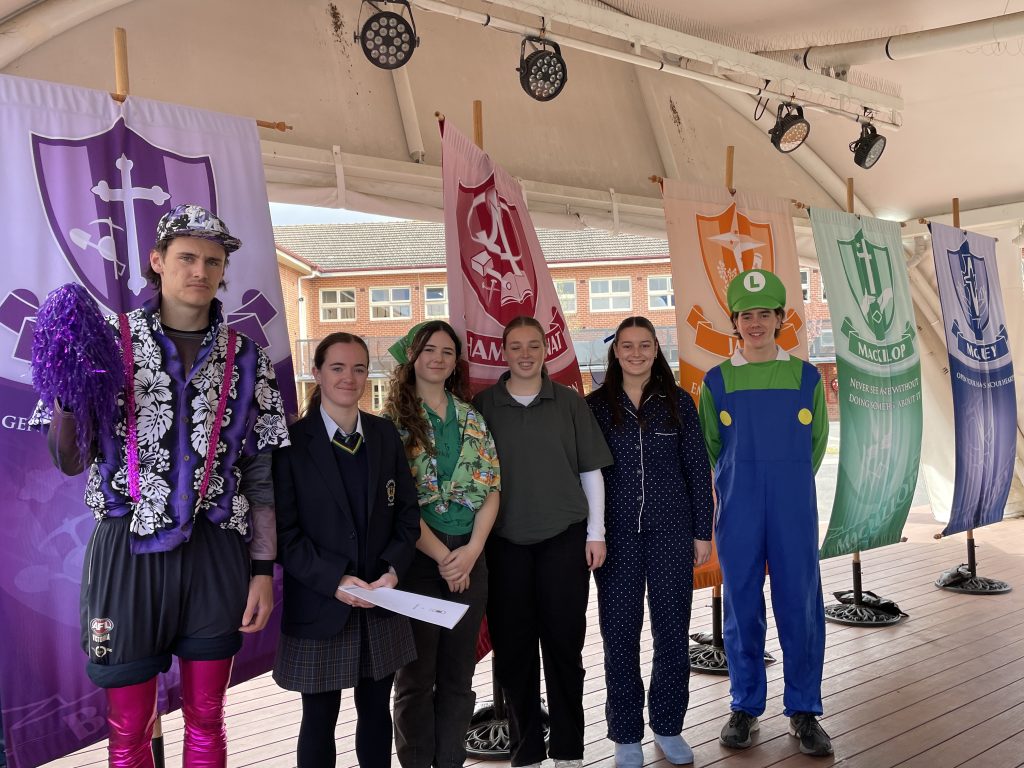 Spirit of Catherine award winners from Terms 1 – 3, 2022