Intermediate boys start strong in cricket
08/03/2023
SCHOOL SPORT VICTORIA – SANDHURST DIVISION
Intermediate Boys Cricket
On Friday 3 March, Catherine McAuley College's Intermediate Boys Cricket team competed at Club Court, Strathfieldsaye in the pool matches of the Sandhurst Division.
In the first match of the day, Creek Street Christian College won the toss and elected to bat. CMC were able to apply consistent pressure with the ball and dismissed Creek Street for a total of 18. The bowling was shared amongst the team with Miller Armstrong the standout, taking 4/0 off 2 overs which included a hattrick. All three dismissals were remarkably similar in hitting the top of the middle stump. Well done Miller!
CMC set about their chase in a positive manner and quickly ran down the total inside the first two overs. The innings continued until the completion of the allotted 15 overs, with CMC finish on 2/162. Multiple players enjoyed an opportunity to bat with Gus Hay, Miller Armstrong, Oscar Cail and Oscar Farrelly all retiring after reaching 30 runs.
In the second match, CMC were up against Crusoe College after both teams were victorious in the opening matches. CMC won the toss on this occasion and decided to bat first.
CMC got off to a blistering start, with Xavier Grant being particularly explosive before he was retired on 30. The batters were able to find regular boundaries and continually kept the scoreboard moving. Oscar Cail played some outstanding shots and retired on 30. CMC finished their innings on 6/127 off 15 overs.
Crusoe started their chase quite well and were able to develop some partnerships at the top of the order. The CMC bowlers were able to contain the middle order, as each bowler used was consistent in their lines and lengths. Seb Rossi was the pick of the bowlers in collecting two wickets. Crusoe finished their innings on 5/86 off 15 overs, and CMC were the victors of Pool B.
CMC now progress through to the final of the Sandhurst Division, on a date to be confirmed.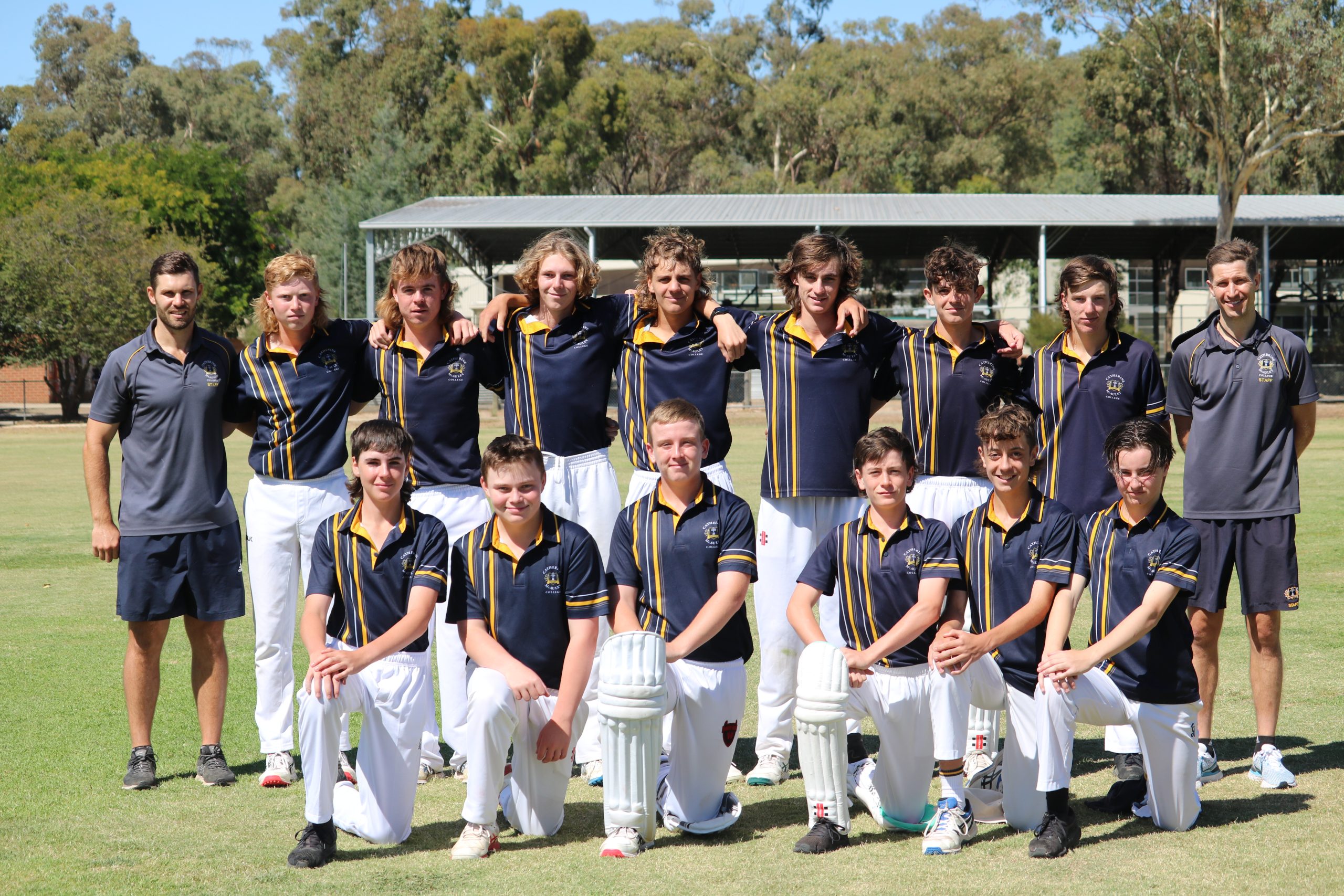 Back L-R- Mr Mitchell Winter-Irving (Coach), Oscar Cail, Xavier Grant, Gus Hay, Hugh Behrens, Taj Taylor, Darby Whatley, Lachie Wilson, Mr Gerard Waterman (Coach)
Front L-R- Miller Armstrong, Jackson Harris, Angus O'Brien, Eamon Austin, Sebastian Rossi, Oscar Farrelly