Youth Ministry and Solidarity
18/09/2018
YEAR 10 RELIGIOUS EDUCATION
Youth Ministry & Leadership students working with our Primary Schools
Students from our Year 10 Youth Ministry and Leadership classes have spent time in the classes of some of our Catholic Primary Schools, developing their leadership skills and building connections.
At St Francis of the Fields Primary School, the Year 10s led classes in games and activities, also participating in the Grade 2 Inquiry Unit focusing on Science. The Year 10s took the Grade 2 students through some simple experiments exploring air pressure, sucking a whole egg into a bottle and shooting rockets into the sky!
All the students involved had so much fun together, developing their skills and knowledge, and building strong relationships.
Mrs Lisa Darlow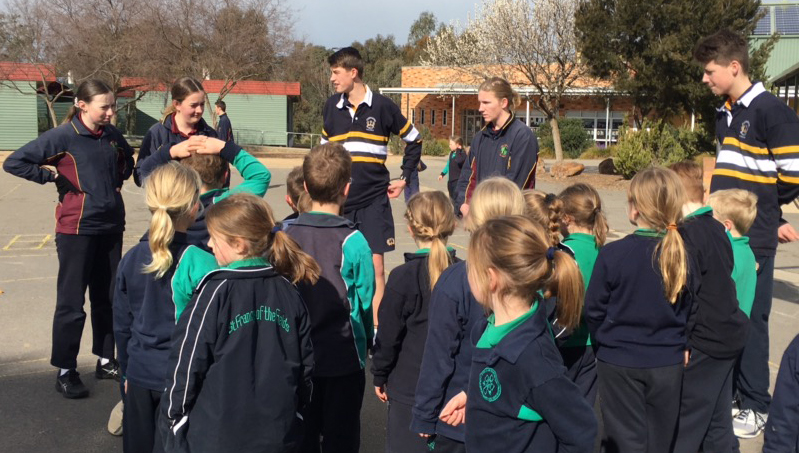 Walking in Solidarity
Recently Mrs Bowman and her two Year 10 Religious Education classes walked in Solidarity with people in countries throughout the world who have water related issues, such as having to walk many kilometres to collect and retain water. Our thoughts also included farmers here in Australia who are doing it tough by having little to no water due to drought.
We all carried buckets of water and we walked two laps around our school which was about 2km. We all reflected upon how grateful we are to have clean and fresh water and how we are all grateful that we can just turn on the tap and water runs out. We all learnt about how water is a crucial part of our lives as it is vital for us to live every day.
We all had a great time walking in Solidarity and we all felt the struggles that people go through every day just to collect water for their families. This has made us all realise how much freedom and how many opportunities we have as young Australians to thrive and help others.
Sophie McLean 10 JR11