Year 8 Netball Girls bring home the title
20/09/2022
VICTORIAN SCHOOL NETBALL CHAMPIONSHIPS
Year 8 Girls
On Thursday 8 September, the Year 8 Girls netball team returned to Melbourne to play in the Victorian School Championships at the State Netball & Hockey Centre. Games consisted of two 7-minute halves and teams had to finish first in their pool to guarantee qualification for the finals.
The first game was against our sporting rivals Rowville Secondary College. The girls came out firing, hoping for some revenge after losing to them the week before. This time the girls were able to come out on top, winning by 2 goals, 13-11.
The second game was against Catholic College Wodonga. This was a tight game, and despite the girls' best efforts, Wodonga had a slightly better second half and won, 16-14. The pressure was on the girls to win their remaining games in order to qualify for the finals.
The next game was against St Brigid's College, Horsham. The girls had a great start and established a comfortable lead, but St Brigid's fought back to close the gap in the second half. The girls rallied late and eventually secured another win, 12-9.
The fourth game was against Kilbreda College where the girls were able to come away with a comfortable win, 14-7. The last pool game was against Aquinas College Ringwood. The team headed into this game thinking it would be another closely contested game, but our players gelled so well all over the court with all 10 players rotating positions, that they came away with an impressive win, 19-3.
It was only at this stage did we realise we had a chance of making it into the finals as we came equal first in our pool. After a nervous wait, we found out we had qualified first in the pool with a very high percentage.
The semi-final game was against Trinity College, Colac. They had the better start and went into the halftime break with a 2-goal lead. However, right from the start of the second half the girls switched on, and played smart, controlled netball. They found their rhythm and came away with a 11-7 win.
The grand final was played against Carey Baptist Grammar School. In this match the girls continued the momentum from the semi-final, getting off to a fantastic start. They continued with that form all game to secure the title of 'Champions', with the final score being 14 goals to 9.
It was an amazing team effort all day, with strong defence from Lila Kelly, Zara Bibby, Emersyn Newlan and Layla Pearce. Our awesome mid-court consisted of Lilly Hope, Charlize Pinder and Zaidee Khong, who ran their socks off all day. Add in the brilliantly accurate goalers of Diana Napoleon, Lexie Austen and Maeve Cass, and that team effort resulted in being crowned Netball Victoria's Junior Girl Champions.
Well done to all players and our coach on such a successful year.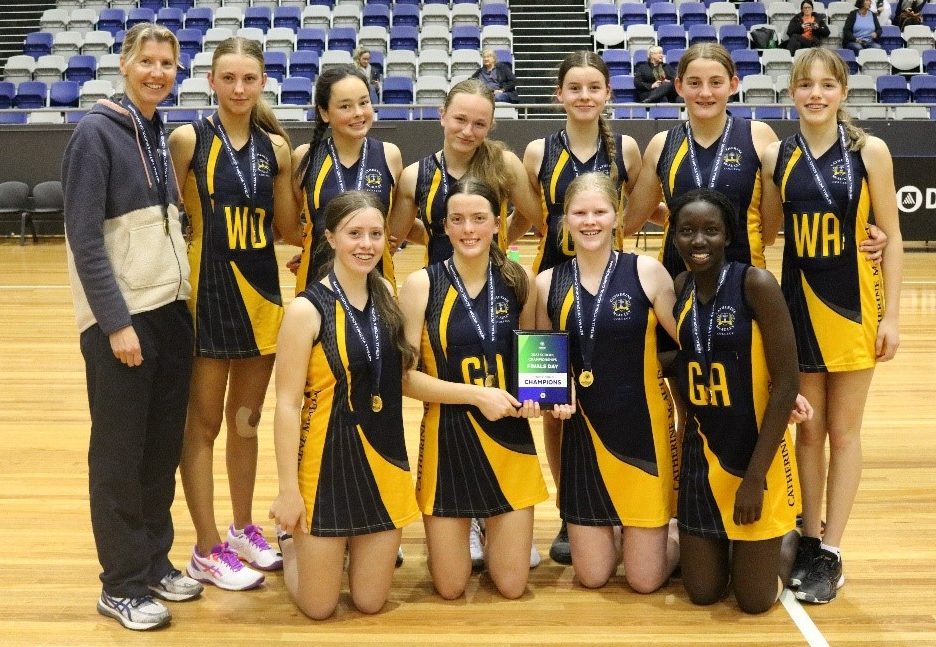 Back L-R: Mrs Julie Fennell (Coach), Emersyn Newlan Zaidee Khong, Lily Hope, Lexie Austen, Zara Bibby, Charlize Pinder
Front L-R: Layla Pearce, Lila Kelly, Maeve Cass, Diana Napoleon