Year 8 Football – 4 Wins!
27/06/2019
A Perfect Record for Our Year 8 Boys Footballers – 4 Games, 4 Wins!
SANDHURST FOOTBALL
On Wednesday 19 June, the Year 8 Boys Football Team travelled to Epsom Recreation Reserve for the Sandhurst Year 8 Boys Football Day. The day turned out to be a great success for the team; they went on to win all four of their games in convincing fashion. They were able to keep their opposition scoreless in three of their games and had only one goal scored against them in their other game.
The results of the four games were as follows:
Game 1 vs Victory Christian College
CMC 10-8-68 defeated VCC 0-0-0
Goals: Harrison Kelly 4, Will Marks 1, Bernard Nihill 1, Josh Evans 1, Rory McCrann 1, Jasper Cheesman 1 and Evan Cole 1.
Game 2 vs Girton Grammar School
CMC 5-8-38 defeated GGS 1-1-7
Goals: Charlie Edwards 2, Tait Poyser 2 and Jack Lacey 1.
Game 3 vs Weeroona College
CMC 8-7-55 defeated WC 0-0-0
Goals: Tait Poyser 3, Riley Mulquinny 1, Evan Cole 1, Tommi Turner 1, Bernard Nihill 1 and Jasper Cheesman 1.
Game 4 vs East Loddon College
CMC 12-6-78 defeated ELC 0-0-0
Goals: Lachie Jones 2, Rory McCrann 2, Evan Cole 1, Charlie Edwards 1, Tait Poyser 1, Josh Evans 1, Tommi Turner 1, Darcy Edminston 1, Bernard Nihill 1 and Will Marks 1.
A big thank you to Mr Ted Dullard who assisted the team and myself on the day and a big congratulations to the boys on a superb performance. We wish them all the very best, as they prepare to tackle Bendigo South East College in the Sandhurst Grand Final, early in Term 3.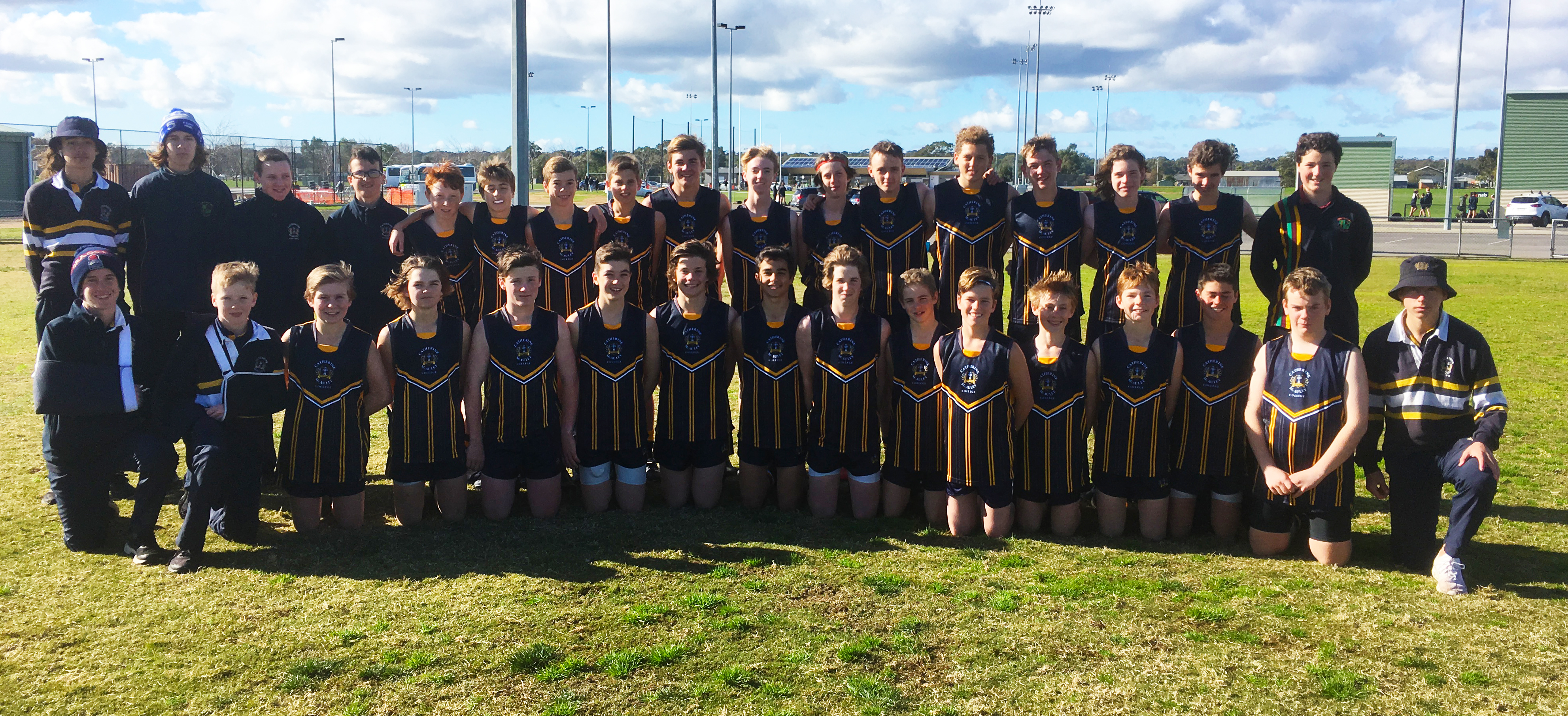 Back Row (Left to Right): Zac Tarr (Helper), Oliver Mayman (Assistant Coach), Bailey Tyrrell (Helper), Campbell Boyd (Helper), Jack Smith, Will Stewart, Paddy Hannaford, Will Marks, Evan Cole, Ethan Yates, Rory McCrann, Jimmy Tuohey, Max Harris, Tait Poyser, Evan Santas and Toby Harrison.
Front Row (Left to Right): Xavier Austin, Noah Warfe, Lachlan Kelly, Zach Grieve, Jack Lacey, Charlie Edwards, Jasper Cheesman, Harrison Kelly, Riley Mulquiny, Tommi Turney, Josh Evans, Darcy Edmiston, Louis Banfield, Bernard Nihill, Lachie Jones and Harrison Fitzgerald (Helper).
Mr Stephen Evans, Activities Leader