Year 8 Boys Cricket Team
28/11/2019
Year 8 Boys Cricket Team suffers narrow loss in State Quarter Final
On Tuesday 26 November our Year 8 Boys Cricket Team played Viewbank Secondary College for a spot in the State Semi and State Final stage the following day.
After a consistent performance in the field, we managed to restrict our opposition to a score of 3/119. In reply, Xavier Austin and Jasper Cheesman made a solid start. However as our innings progressed we struggled to get the ball through the ring of fielders and the required run rate went from 6 at the beginning of our innings to 9.
A middle order fight back from our boys, in particular Charlie Edwards, put our team in a winning position needing 9 runs off 6 balls. After an exciting final over, we fell just two runs short of victory, leaving the team and supporters devastated.
Overall, it was a great performance by our boys and we hope this result inspires them to go one stage better next year.
Final Results:
Viewbank SC 3/119 defeated CMC 6/118
Batting Highlights: Charlie Edwards 50 and Jasper Cheesman 26.
Bowling Highlights: Callum Thompson 2/6.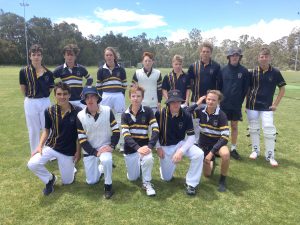 Back (L-R) : Charlie Edwards, Jasper Cheesman, Jedd O'Keefe, Jack Smith, Callum Thompson, Max Harris, Harry Roberts and Jack Wilson.
Front (L-R): Harry Kelly, Xavier Austin, Louis Banfield, Bailey Tyrrell and Jacob Floyd.