Year 7 Soccer
27/06/2019
SCHOOL SPORT VICTORIA – SANDHURST DIVISION
Year 7 Boys
The Year 7 boys played a round-robin competition against 3 other schools, Weeroona College, Castlemaine Secondary and Bendigo South East College (BSE).
In the first game, the boys had a good contest against Weeroona College, It was a good chance for the team to play a game together after a number of trials and training sessions. The boys won that match 1 – 0.
In game 2 the boys played BSE. This was a great match and very skilful. Sadly though, the boys went down in a tight contest 1 – 0.
Game 3 was against Castlemaine. The boys were terrific. They passed well, and the work rate was excellent and as a result of the good teamwork they won the match 6 – 0.
This result saw the boys qualify for the final which was against BSE. This time BSE dominated play and the CMC boys could not respond to the pressure that they were under the way they wanted to. They tried desperately to shut the BSE forwards down and at times found space to attack as well. It was a fast-moving, hotly-contested match that resulted in the boys going down 3 goals to nil.
The entire squad showed great sportsmanship and comradery across the entire day. They were terrific ambassadors for the College and played some very exciting soccer. Finishing 2nd on the day was a great achievement.
Thanks to Mr Driscoll for coaching the team.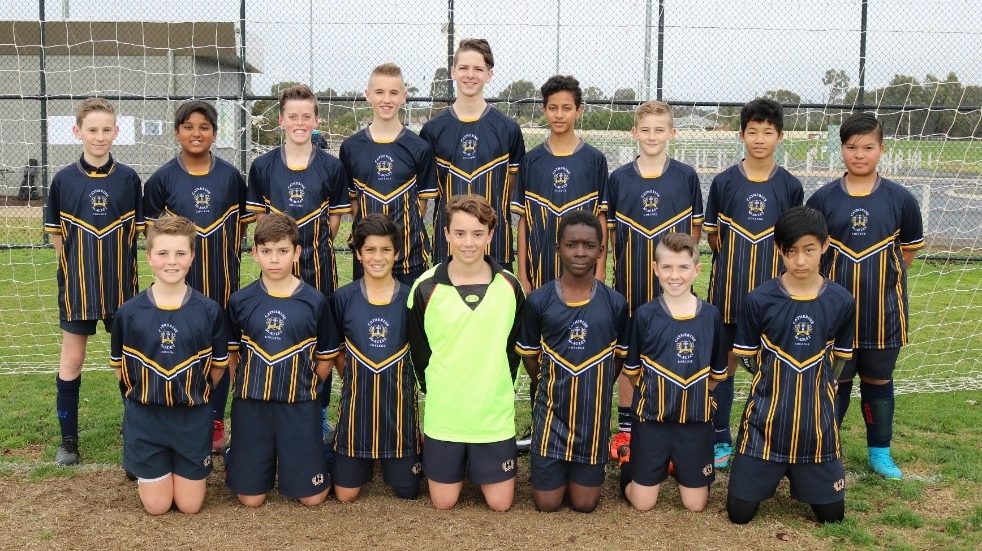 Back Row L-R: Sam Williams, Daniel Dilawar, Noah Kelly, Xavier Clark, Nathaniel Cawley, Yash Boparai, Anthony Willoughby, Eh Htoo Wah, Eh Htoo Taw Bleh Dah Moo
Front Row L-R: Noah Kelly, Alejandro Canavero-Serrano, Joel Feeney, Oliver Hannaford, Tamba Basha, Graison Jelbart, Lin Naing Win
Year 7 Girls
CMC vs BSE game consisted of two 30-minute halves. In the first half BSE scored the first goal of the game after breaking through our defence. A penalty was then given to BSE and they scored again. They then scored another goal in the first half, so by half time it was 3-0 BSE's way.
In the second half of the match Kelsey Jenson, playing in midfield for CMC, scored the first goal of the second half. Kelsey scored another goal for CMC. It was now just 3-2 BSE's way. In the last 3 minutes of the game BSE got another penalty shot in front of goals but missed. Then with 2 minutes to go, BSE got another penalty shot and this time they scored. BSE won the game 5-2.
CMC's coach was Poung Shu Thay and Mrs Kingsley supported the team for the entire match. The team; in defence we had Shaye Couch, Vyne Bertulfo, Melek Beyatli, Eh Khu Shee, Elise Long and Ava Nihill. In goals we had Arietta Wilkinson in the first half and Chanelle Kabalan in the second half. In midfield there was, Kelsey Jenson, Kiara Fields, Sophie Allan and Phoebe Maher. Up front in striker was Elise Long, Evergreen Sien, Abbey Freeman and Kiara Field.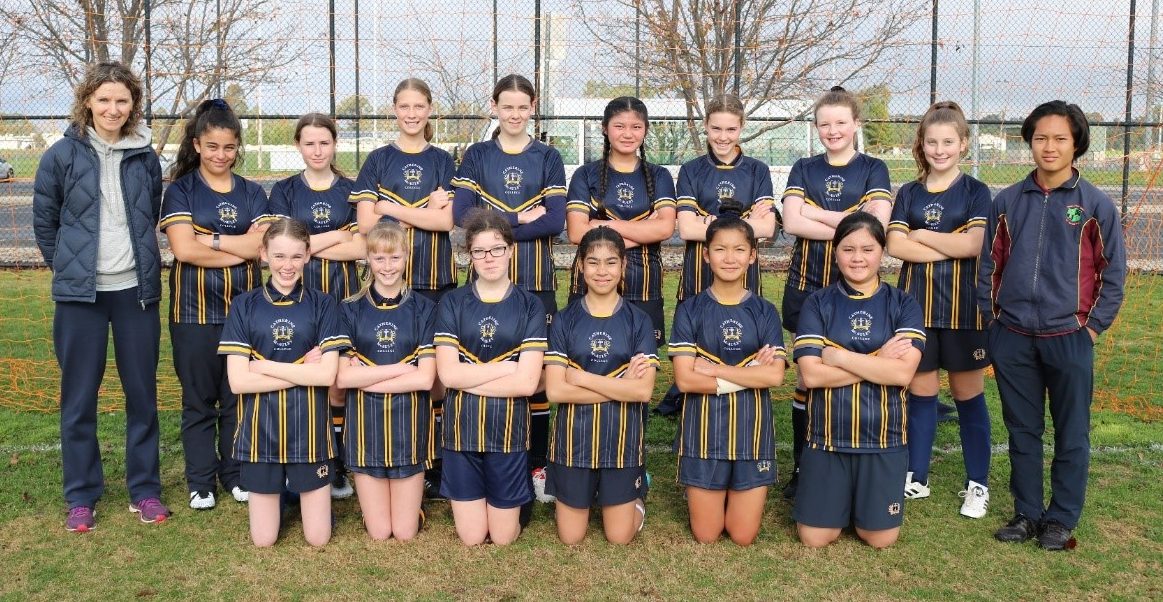 Back Row L-R: Mrs Kate Kingsley, Chanelle Kabalan, Kelsey Jensen, Ava Nihill, Phoebe Maher, Evergreen Sein, Shaye Couch, Arietta Wilkinson-Black, Sophie Allen, Poung Shu Thay (Coach)
Front Row L-R: Elise Long, Kiara Field, Abbey Freeman; Melek Beyatli, Eh Khu Shee, Vyne Bertulfo
CMC played very well and everyone had a great time.
Elise Long and Arietta Wilkinson