Year 7 Boys Cricket Team wins State Title
28/11/2019
We are the Champions!
State Quarter Final – Tuesday 26 November
The Year 7 Boys played against Hume Anglican Grammar in their State Quarter Final. In trying conditions, the boys took the early hand before a late fight-back from our opposition.
In the end, some steady heads in the field saw CMC run out victors by 20 runs, booking them a spot in the State Semi Final and Final stage the following day. The final results and highlights of the match were:
CMC 3/126 vs Hume Anglican Grammar 4/106
Batting Highlights: Will Pinniger 20, Toby Travaglia 21 and Billy Bassett 41
Bowling Highlights: Great team effort.
State Semi Final – Wednesday 27 November
In the State Semi Final, the team played Catholic College Sale and got off to a flying start. Will Pinniger and Billy Bassett carried on from where they left off the day before, belting the ball to all parts of the park to make an opening stand of 154 off only 12 overs.
In the final overs of our innings, Toby Travaglia and Ollie Hannaford both combined well with Billy Bassett to see the score skyrocket. In the field, the boys were amazing, not giving their opposition an inch and in the end, the total was way too much for our opponents to overcome. The team had set themselves up well for the State Final later in the afternoon.
CMC 4/261 vs Catholic College Sale 4/151
Batting Highlights: Billy Bassett 106 not out and Will Pinniger 90.
Bowling Highlights: Olli Hannaford 2/10.
State Final – Wednesday 27 November
In the State Final, we played Strathmore Secondary College who won had their Semi Final on the last ball of the game. It promised to be a great match.
After a steady start by our early batsmen, we reached 2/51 off our first 10 overs. Another wonderful performance from Toby Travaglia and Billy Bassett saw CMC hit 112 runs off our last 10 overs, putting our team in a winning position. In the field, a couple of early run outs put our opposition on the back foot, from which they never fully recovered.
Consistent fielding and bowling saw our boys run out the eventual victors and take the ultimate title of 'State Champions'.
CMC 3/163 vs Strathmore SC 6/118
Batting Highlights: Toby Travaglia 67 not out, Billy Bassett 43 and Will Pinniger 29.
Bowling Highlights: Ethan McMahon 2/4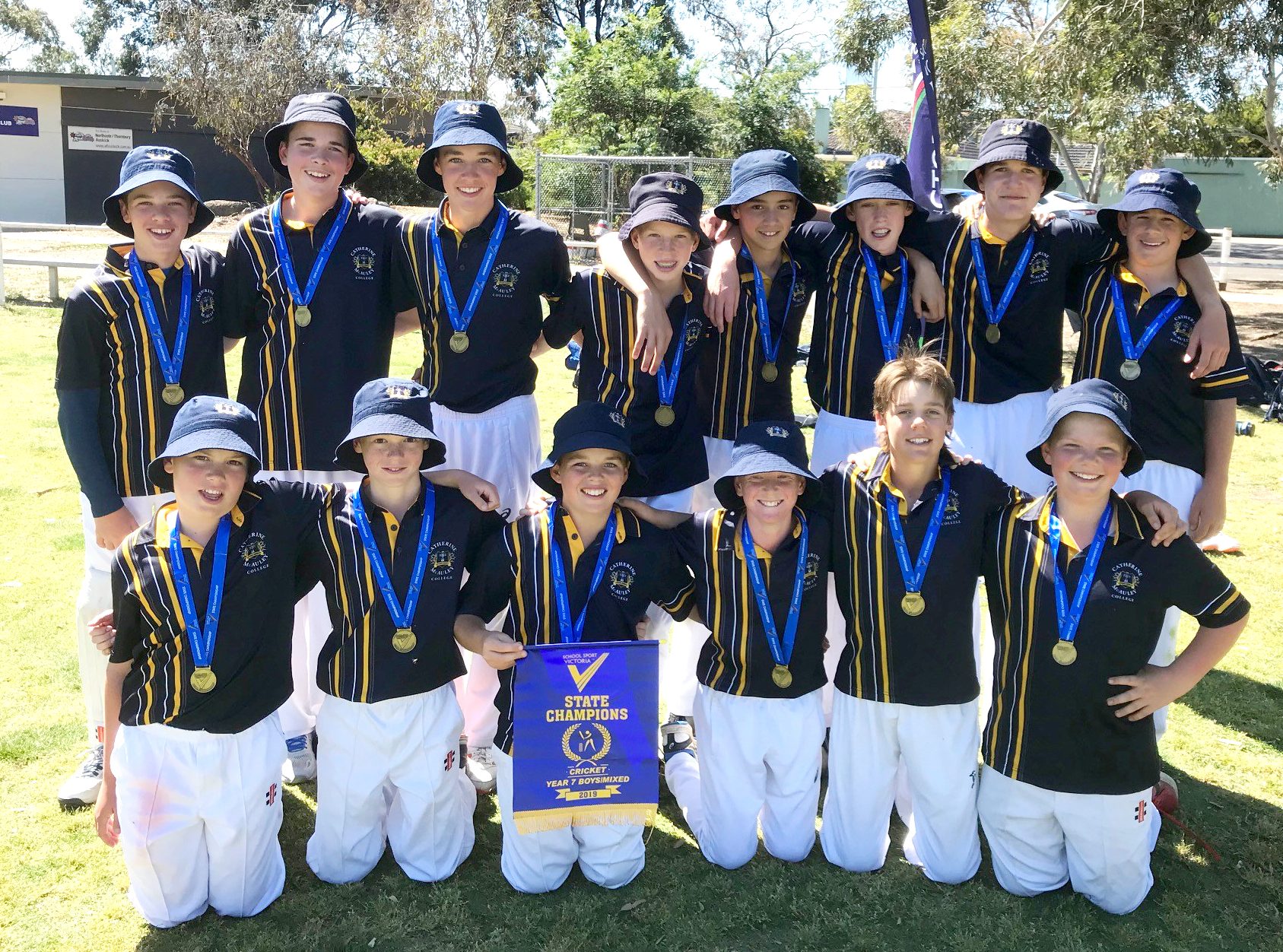 Back Row (L-R): Declan Stevenson, Jack McMahon, Will Pinniger, Toby Travaglia, Ollie Hannaford, Dan Noden, Jack Byrne, Ben Sherwood.
Front (L-R): Jasper Irwin, Ethan McMahon, Henry Edwards, Jake Austin, Billy Bassett, Logan Van der Hagen