Wet and wild at Athletics!
06/10/2022
SCHOOL SPORT VICTORIA – LODDON MALLEE REGIONAL FINALS
It was a fantastic effort by all our competitors at the Loddon Mallee Region Track and Field Championships in Bendigo on Thursday 6 October. Conditions were wet, windy and cold, but that didn't stop the students from competing with determination and enthusiasm and representing the College proudly.
The day saw our students competing against their peers from thirteen other Region Schools, so to have so many incredible results was amazing. Congratulations to all, we wish all the students that placed first in their events, the very best of luck at the School Sport Victoria State Championships on Monday 17 October at Lakeside Stadium.
Event Results
1st Place
Caitlin Evans 17yr Girls 400m & 200m
Jorja Morrison 16yr Girls 200m & 100m
Daniel Noden 16yr Boys High Jump
Genevieve Nihill 15yr Girls 3000m, 1500m & 800m
Kade Hutchinson 15yr Boys 1500m
Jose Uhan Romero 14yr Boys 100m
William Petersen 13yr Boys 200m & 100m
Shannon Storey 13yr Girls 80m Hurdles
Eliza Evans 13yr Girls Discus
Girls 12-13yr 4 x100 Relay – Shannon Story, Madisyn Morrison, Myah Humphrey, Tully Place
Girls 17yr 4 x100 Relay – Caitlin Evans, Jorja Morrison, Matilda Hall, Charli McInerney
2nd Place
Joshua Evans 17yr Boys Javelin
Jorja Morrison 16yr Girls Triple Jump & Long Jump
Charlie Bannan 14yr Boys 1500m
Sebastian Rossi 15yr Boys 1500m
Jose Uhan Romero 14yr Boys 200m
3rd Place
Daniel Noden 16yr Boys 400m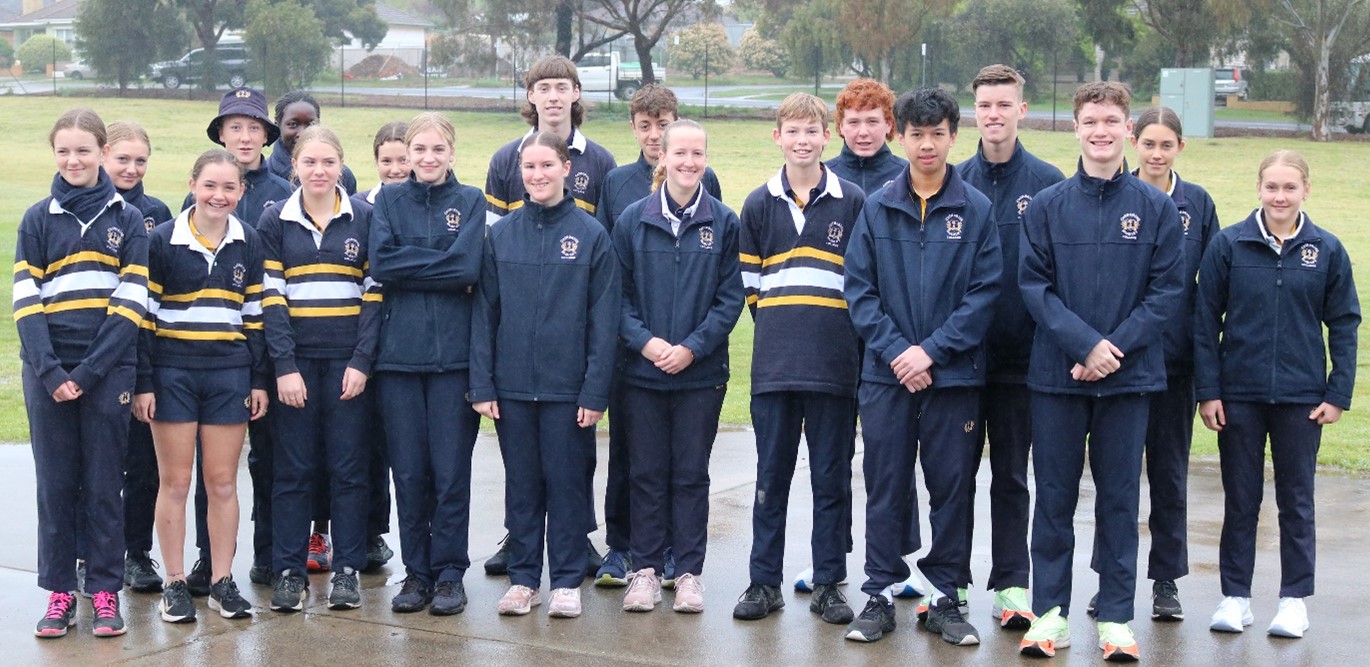 Team: Aydan Hand, William Petersen, Charlie Bannan, Kade Hutchinson, Sebastian Rossi, Jose Euhan Romero, Shannon Story, Eliza Evans, Tully Place, Myah Humphrey, Madisyn Morrison, Gemma Fox, Diana Napoleon, Genevieve Nihill, Matilda Hall, Charli McInerney, Daniel Noden, Caitlin Evans, Joshua Evans, Jorja Morrison
Missing: Charli McInerney