Top Australian researchers inspire senior science students
12/02/2020
Senior students Lily Giles, Deanna Duane and Cailin Green heard from some of Australia's top women in science at the Royal Women's Hospital in Melbourne this week to learn more about exciting and rewarding careers in science.
"We went to Melbourne for the Meet a Scientist event. Over the course of the morning, we were fortunate enough to have the opportunity to listen to some of the hospital's best female research scientists, who told us about the research they have done in their chosen field and their pathway to get to where they are now. We heard from a psychological scientist, a neonatologist, an epidemiologist as well as a reproductive biologist. It was really interesting and inspiring to hear their stories, to learn about different fields of medical research and about how you undertake a clinical research trial. Overall, it was amazing to see women succeeding in science and encouraging to know that there are opportunities out there for us. We would like to thank Ms Bradley for taking us down to Melbourne and for helping to make it a very enjoyable day." (Deanna Duane)
The annual Meet a Scientist event held by the Women's recognises the United Nation's International Day of Women and Girls in Science on Tuesday 11 February same day, and saw presentations and demonstration from staff at the hospital.
Dr Michelle Peate and Dr Sarah Carson talked students through their career path to being a decision scientist and a gynaecology researcher, respectively.
Lily Giles (Year 10), Deanna Duane (Year 11) and Cailin Green (Year 12) were fascinated by the demonstrations, as neonatologist Dr Louise Owen simulated how premature babies are ventilated and Dr Dorothy Machalek showed how women are tested for HPV.
The Royal Women's Hospital Chief Executive Officer, Dr Sue Matthews, says the event – now in its fourth year – is a great opportunity to inspire the next generation of women in science "This was a great experience and I loved learning about fields in medical research that I hadn't heard about before" (Deanna Duane).
"As a hospital focused on improving the health of women and girls, supporting vulnerable women and advocating for women's rights, we are passionate about inspiring the next generation of women to pursue a career in science, nursing, midwifery, allied health, biomedical technology, medicine, and research.
"The young women at our annual Meet a Scientist event heard from the Women's phenomenal researchers and doctors, who are making a real difference to the health of women and newborns. It's a great opportunity for the students to come to the hospital and think about the sort of impact they could have with a career in science.
"These students have some important decisions to make for their education and future career. Our hope is that we showcase a career in science as an exciting and rewarding one, and then, you never know – we could be employing these young women in years to come!" (Dr Sue Mathews)
"To see all those strong, smart and independent women presenting their own research and explaining their journey was a really inspiring experience."(Cailin Green)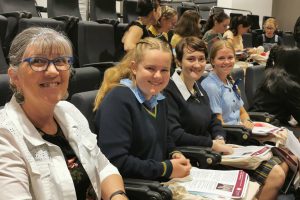 Catherine McAuley College students Lily Giles, Deanna Duane and Cailin Green with Ms Sue Bradley (teacher) at Meet a Scientist 2020