Tim Ledwidge Memorial Medal Vote 2022
20/10/2022
The Annual Tim Ledwidge Memorial Medal Vote Count made a welcome return on Wednesday 19 October in the Marian Theatre at Catherine McAuley College, after a two-year hiatus due to COVID. Votes are awarded across all games played in the Senior Netball and Premier League Football competitions, with the winner being the player with the most votes accrued in each competition.
Eight previous winners attended the Vote Count and another four sent apologies. It is wonderful to see the importance that these former students place on the award, as well as the connection they maintain with the College.
Votes in the Netball Vote were awarded across five days of competition in which the girls played a total of twenty-four matches. The distribution of votes was very well spread, with the audience enjoying the intriguing count as a number of players received votes consistently.
The medal winner was Ava Hamilton with 103 votes. Ava's accuracy in goals was an incredible highlight all year, as was her defensive pressure down the court. Her ability to nail a shot under pressure was outstanding and was one of the reasons the team did so well.
Charlotte Sexton finished second with 65 votes, with Amaya Schmidt in third, just one vote behind with 64. Both girls played some incredible netball this year. Charlotte was like a rock in defence, always making it hard for the opposition by intercepting or simply shutting down her opponent's ability to even get space in the goal circle.
Amaya was all class in every match she played and always gave 100%. Her ability to play in multiple positions was a highlight, and a great comfort to the coach, who knew that whatever she asked of Amaya, she would do.
The entire team played extremely well in all games, which was clearly reflected in their results. To make the State Finals in both the School Sport Victoria and Victorian School Championships is an outstanding achievement. As a group, they were simply incredible and a delight to associate with. Congratulations to our Senior Netballers on a great year.
The Football Vote Count was a close and entertaining contest, with votes counted across five games. Eli Pearce won the medal with 52 votes, just three votes ahead of Jacob Nihill, followed by the dynamic Riley Mulquiny in third place with 44 votes.
Eli was a deserving winner who always led from the front in every game he played, and whose attitude and form on the football field were reflected in his vote tally. The same could also be said for Jacob who was always consistent, would always be in the play and rucked meticulously to give our on-ballers the first possession from any stoppage where possible.
Jack McMahon and skipper Rowan Fox rounded out the top five votes and this sensational group of young men relished every opportunity to represent their College this year. They played with pride and were great advocates for the College – their attitude reflected the motto that "playing for the College is invaluable and that such an opportunity should be cherished and valued".
The reward of making the Grand Final of the SSV Premier League Competition was so very well deserved. While the ultimate flag eluded the team who finished as State Runners-Up, the achievement is not one to be too disappointed with. In all games, every player contributed to generating consistency and unity. The boys should reflect on and be proud of their ability to play as a team and for each other – opportunities that are never guaranteed and should be cherished.
We congratulate our winners on their achievements and acknowledge and congratulate all the players on their united performances in their respective sports.
It was a pleasure to have Simone, Liam, Travis and Eliza Ledwidge attend the celebration again this year. It is an absolute honour and a privilege that they continue to support this very special event on the College Calendar. Tim Ledwidge, whom this award honours, had a huge influence on all the College's sporting teams and players and his ongoing legacy encourages all students to be the best they can be.
It was fantastic to have many past winners and their families of this award in attendance. To see these past students and their families again and have them come back to relive what was an honour for them, simply reinforces the significance of this award and it also highlights that playing sport for your school and with your mates is something you cherish and remember forever.
Thank you also to the many families that attended this evening. It was wonderful to have so many parents attend and enjoy this night together with their children. The night was a great success and I thank you all for your patronage.
Mrs Maree Pearce
2020 winners, Ava Hamilton and Eli Pearce. 2022 winners with the Ledwidge family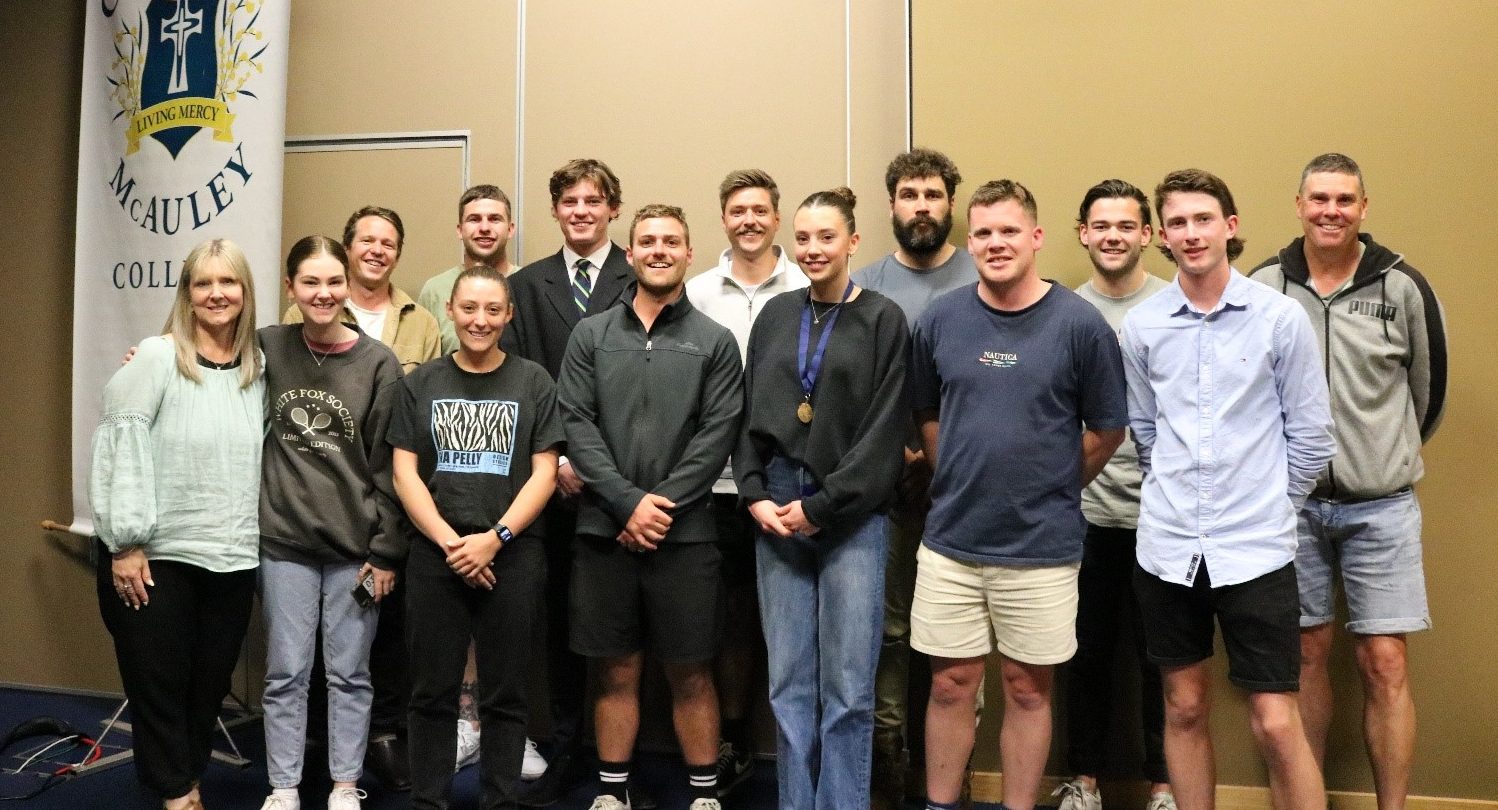 Back L-R: Lee Coghlan (2008), Lachlan Ross (2012), Eli Pearce (2022), Fergus Greene (2016), Thomas McCarthy (2006), Hunter Lawrence (2018), Travis Ledwidge
Front L-R: Simone Ledwidge, Eliza Ledwidge, Paige Ryan (2018), Sebastian Greene (2013), Ava Hamilton (2022), Xavier Walsh (2015), Liam Ledwidge
Apologies were received from:
Tim Brooks (2007)
Riley McIvor (2010)
Benjamin Worme (2019)
Chloe Watson (2012)