Terrific golf in challenging conditions
22/03/2021
SCHOOL SPORT VICTORIA: LODDON MALLEE REGION
Congratulations to Flynn Anderson, Campbell Boyd, Archer Day-Wicks, Jaidi Jackson-Leahy, Wil Tuohey, Noah Warfe, Bailey Warfe and Matthew Wilkinson who represented the College at the Loddon Mallee Regional Golf Day on Monday 22 March at the Bendigo Golf Club. All boys played in the Nine-hole Stroke event in what were rather wet conditions.
In the Senior Boys competition Matthew Wilkinson and Wil Tuohey hit the ball well all day. Their consistency enabled them to finish second and third respectively in their section. They both completed their rounds at just five over the card, with scores of forty-one. Campbell Boyd came in fifth at +7, along with Flynn Anderson who finished sixth. The Senior Results were rounded out with Noah Warfe who had a score of 47 (+9) to finish a very creditable ninth from 29 entries.
In the Junior Boys Competition, Jaidi Jackson-Leahy shot a brilliant round of +4 (40) to finish second on the day. Archer Day-Wicks also capped off a great round to finish at +10 (46) to finish in third place whilst Bailey Warfe shot a +13 and finished fifth.
All the boys played some terrific golf on the day in some challenging conditions. They are all to be congratulated for their efforts and representing the school with pride.
Well done on a fabulous effort all round.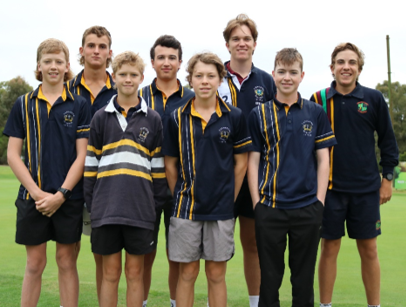 L-R: Noah Warfe, Archer Day-Wicks, Bailey Warfe, Campbell Boyd, Jaidi Jackson-Leahy, Wil Tuohey, Flynn Anderson, Matthew Wilkinson