Sunshine in Swan Hill
27/07/2022
SCHOOL SPORT VICTORIA – LODDON MALLEE REGION DIVISION
Intermediate Girls
The early morning trip North-West to Swan Hill started with only 18 players jumping on the bus. But with the squad we were taking across, there wasn't a lack of confidence amongst the team.
Our first match was against St Joseph's College Echuca with the girls putting in a solid warm up before the game. This strong professional mentality proved the difference with Catherine McAuley College being 27-point winners.
CMC 5.4.34 def St Jospeh's 1.1.7
Best Players: Stahlia, Lily, Sasha, Olivia, Neve, Jorja M
Goal Kickers: 2 Neve P, 1 Lily F, Ava S and Sasha
The second game had a bit of a wait but once again, the professional warm-up got the team switched on. Merbein P-10 College looked like the team to beat. The jumper clash in the previous game made it hard to know which was the stronger side. But we controlled what we could and put on a solid 5 goal first half. That effort saw the girls record another great win.
CMC 7.5.47 def Merbein 0.0.0
Best Players: Mackenzie, Maddix, Caitlyn, Tessa, Luci, Ava S
Goal Kickers: 2 Tessa, 1 Ava S, Ava N, Neve, Luci, Caitlyn
We had all the confidence going into the last game against Irymple Secondary College, with other match results making it very hard for us to not progress through to the next round. A few more changes in positions led to a convincing finish to the day.
CMC 7.6.48 def Irymple 0.0.0
Best Players: Amelia, Mayah, Eilish, Molly, Ava N, Ruby
Goal Kickers: 3 Amelie, 1 Ava N, Neve, Mayah, Tessa 
Congratulations to all the girls on an amazing effort on the day.  Despite being down on players, the girls were able to display great teamwork and work together in all games.
We wish them all the best for the upcoming State Quarter and hopefully Semi Finals on Tuesday 9 August in Ballarat. 
Thanks also to Jorja Sargeant & Taylah Petrusma for their valuable assistance on the day.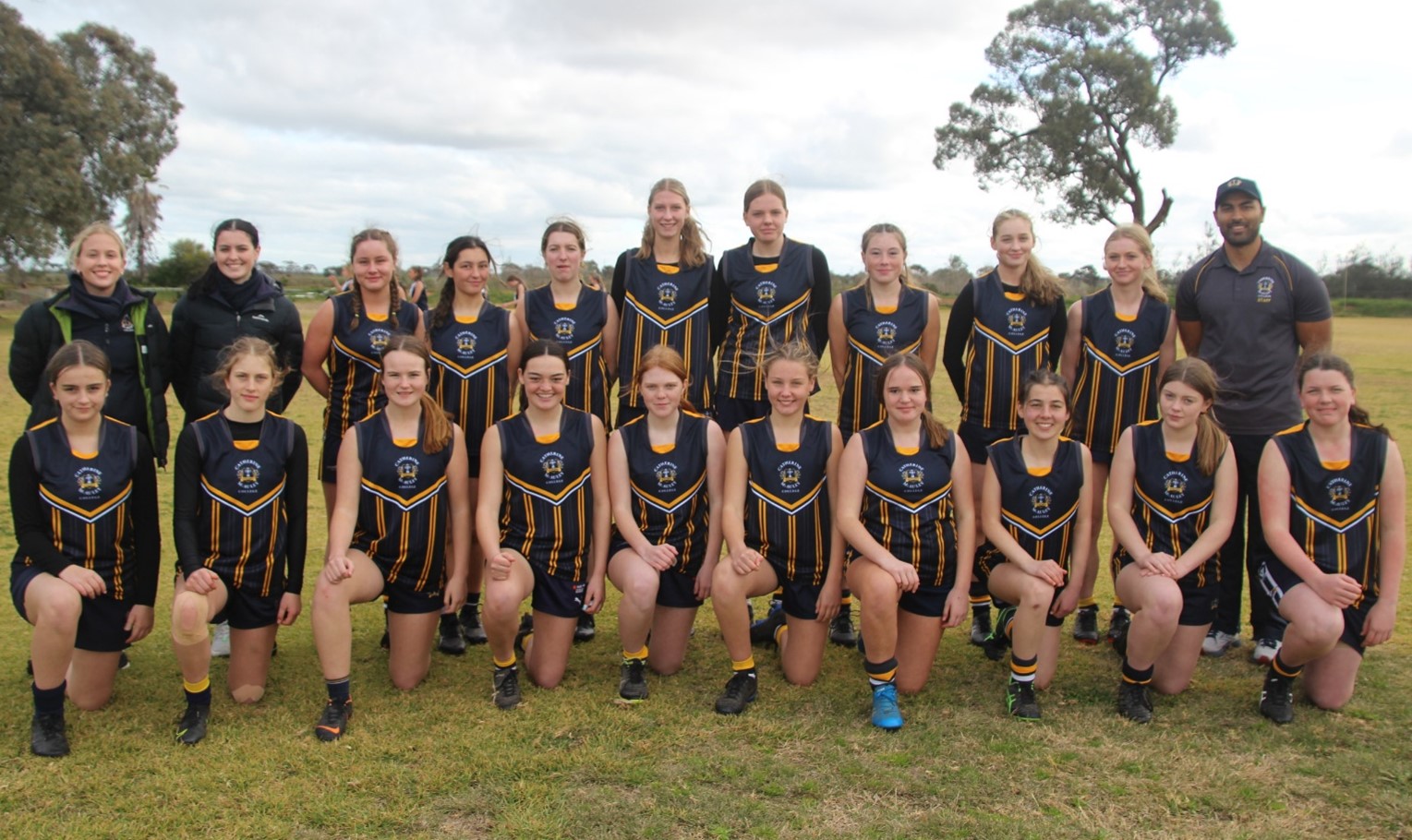 Back L-R: Tayla Petrusma, Jorja Sargeant, Lily Franklin, Stahlia Khong, Mackenize Allford, Sasha Pearce, Mayah Chilver, Ava Stewart, Jorja Morrison, Mr Alex Coad
Front L-R: Ruby Hilson, Olivia Lacy, Luci Kornmann, Amelie Haigh, Eilish Grieve, Neve Pinner, Molly Manton, Caitlyn Kelly, Maddix Dixon, Tessa Skipper
Year 7 Boys
Year 7 Boys Football team travelled to Swan Hill to compete in the Loddon Mallee Regional football tournament, playing two short games that consisted of ten-minute halves.
The Catherine McAuley College team defeated St Joseph's College Echuca 1.1.7 to 1.0.6 in the first game of the day, the early morning dew making for a tightly contested game with Xavier Horan volleying the winning goal in the final minutes.
In the second game, CMC was defeated by St Joseph's College Mildura 1.0.6 to 2.5.17.
CMC's best players for the day were Rylie Travaglia, Josh Kelly, Max Connick, Xavier Horan, Oscar Kleinert and Angus McNamara.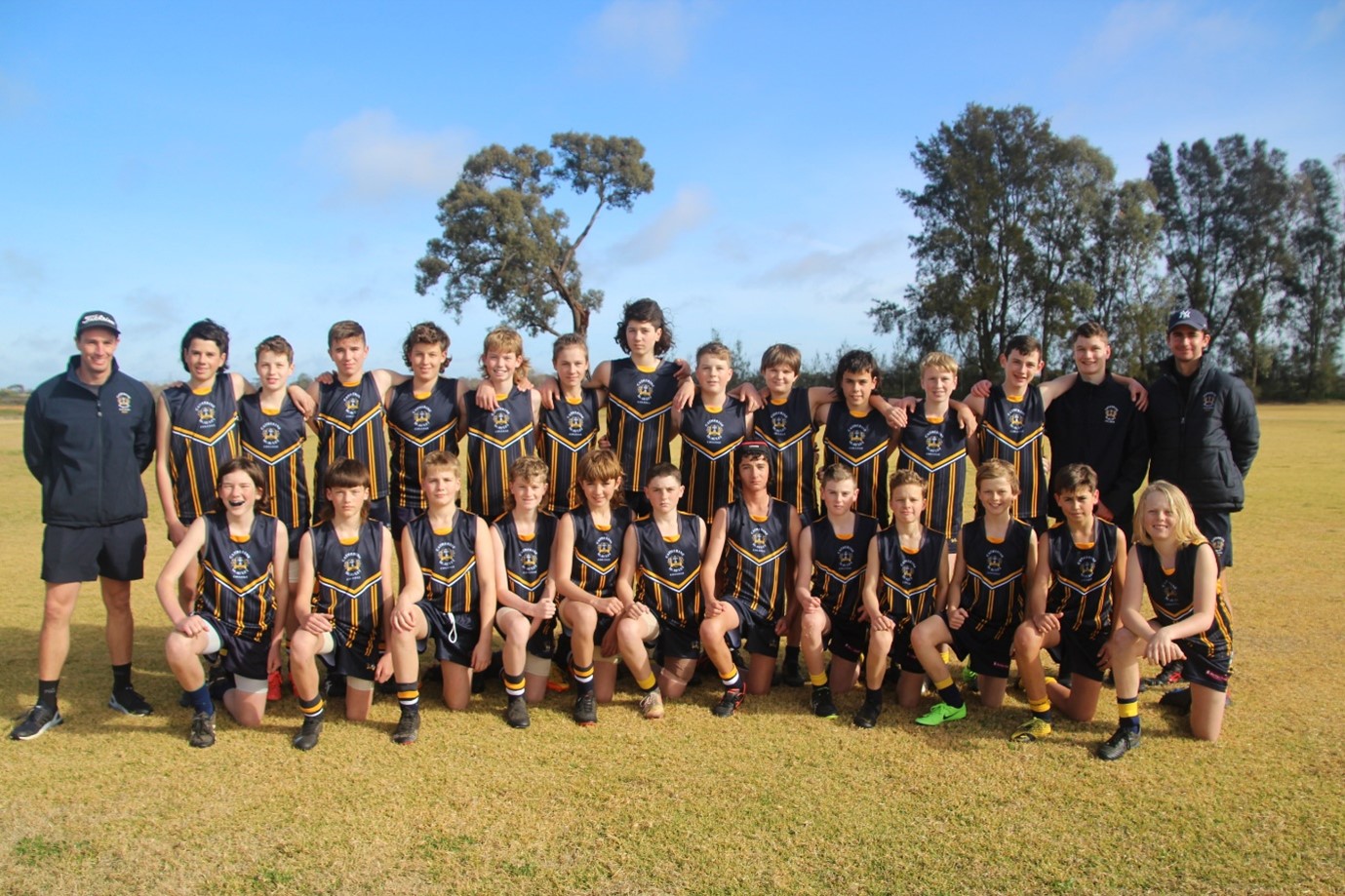 Back L-R: Mr Lachlan Murdoch, Griffin O'Shea, Harry O'Callaghan, Max Connick, Ryder Favaloro, Aydan Hand, Izaiah O'Meara, Nicholas Harvey, Angus McNamara, Mannix Grieve, Joshua Kelly, Riley Travaglia, Blaine Schelfhout, William Petersen, Mr Xavier Dunham
Front L-R: Owen Perry, Oscar Kleinert, Jack Cason, Xavier Horan, Taj Barry, Tyce Griffin, Baxter Billet, Max Kornmann, Sam O'Bree, Mitchell Bray, Maurice Nihill, Zane MacDonald
Junior Girls
Congratulations to the Junior Girls Football team on being undefeated in Swan Hill at the LMR competition. The girls played a great brand of football, applying pressure on the opposition, attacking the football and showing great skill and sportsmanship.
All the best for the upcoming State Quarter Finals and Semi Finals in Ballarat on Monday 10 August.
Game 1: CMC 3.0.18 defeated St Joseph's College Echuca 0.0.0
Goal Kickers: Lacey Nihill 2 and Dempsey McDonnell 1
Best: Lacey Nihill, Hannah Cochrane and Isabella Monotti.
Game 2: CMC 2.5.17 defeated St Joseph's College Mildura 0.0.0
Goal Kickers: Dempsey McDonnell 1 and Alysha Boyd 1
Best: Lacey Nihill, Lily Hope and Dempsey McDonnell.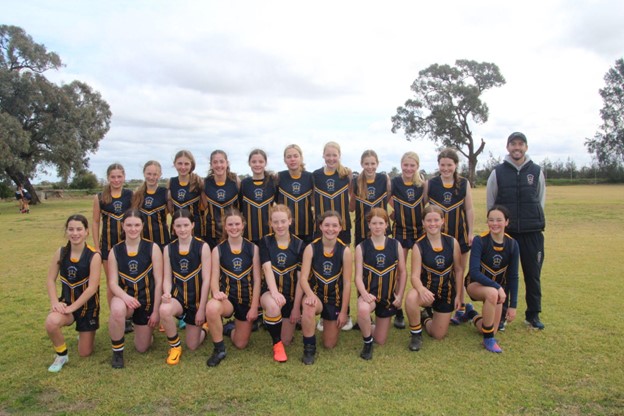 Back L-R: Milla Sherriff, Lilly Hope, Emmy Newlan, Hannah Cochrane, Lacey Nihill, Eve Kalms, Lexie Fennell, Dempsey McDonnell, Chella Fitzgerald, Gemma Fox, Mr Leigh Millard
Front L-R: Alysha Boyd, Lily Mansfield, Zarah Reynolds, Isabella Monotti, Rose McSweeney, Tully Place, Jordan O'Bree, Layla O'Brien, Zaidee Khong
Intermediate Boys
On a crisp and sunny day in the Mallee, our Year 9 and 10 boys were out to prove a point in the Loddon Mallee Regional finals in Swan Hill. The boys boarded the bus at the early time of 6:45am, ready for the 2-hour drive up the highway. Coach Mr Lee Coghlan, fresh from his 200th game for Sandhurst in the Bendigo Football League was ready to inspire the group and demand nothing but perfection. Ms Maree Pearce was up to her usual best, ensuing all groups were organised and even provided some coaching help on the day.
Game one saw the team take on the home side, Swan Hill College. The boys got off to a great start kicking three goals to none at the main break and dominating the play. Mr Coghlan praised the back 6 for their rebound off half back, which generated a lot of the team's score. The boys ran out eventual 35-point winners.
Finals score: CMC 5-5-35 defeated Swan Hill College 0-0-0
Goals: Will P 2, Logan K, Tobie T & Maddern G
Best: Archer B, Henry E, Tobie T, Deakin A, O'Malley P, Declan S
In game two the boys took on St Joesph's College Mildura, who took the big scalp of St Joesph's College Echuca in round one. Mr Coghlan pleaded for a team performance and to move the ball cleaner going inside 50. Our midfield gave the forwards first look and they were dominant around the contest. The backline again stood up when it counted, rebounding, and intercepting with class. In a hotly contested game, the CMC boys ran out 13-point winners to take them to the top of the table.
Finals Score: CMC 4 – 2 – 26 to St Joseph's Mildura 2 – 1 – 13
Goals: Madden Guthrie, Logan Kilcullen, Tobie Travaglia & Wil Pinniger
Best:  Deakin Andrews, Jadi Jackson-Leahy, Xavier Grant, Archer Billings, William Bassett, Wil Pinniger
Game three saw the team take on St Joes Echuca, who were the team to beat coming into the competition. Fresh off a small break, the Echuca boys came out firing, kicking 3 goals to none in the opening half. The second half saw the game level up, however the CMC boys couldn't capitalise on their inside 50's, kicking only 1 goal and 6 behinds. The Echuca boys eventually came out 8-point winners, leaving CMC, St Joes Mildura, and St Joes Echuca all on the same points going into the last round.
Final Score: CMC 1 – 6 – 12 lost to St Joseph's College Echuca 3 – 2 – 20
Goals: Tobie Travaglia
Best: Declan Stevenson, Joseph Artavilla, Gus Hay, Tobie Travaglia, Daniel Noden, Ethan McMahon
Game four saw the team take on Maryborough Education Centre (MEC), in a game that the boys needed to win by a large margin. After doing the maths, assistant coach Mr Jack Timmins delivered the message that the team needed to win by over 65 points to get enough percentage to progress to the next stage.  With the extra motivation, the boys came out on fire. At the major break, CMC was up by 46 points and dominated the play. After half time, the boys continued their form, booting another 7 goals and not allowing MEC to score at all. In a great team performance, the CMC boys ran out 89-point winners.
Final Score: CMC 13 – 5 – 89 defeated MEC 0 – 0 – 0
Goals: Madden Guthrie 5, Wil Pinniger 4, Hamish McNamara, Xavier Grant, Logan Kilcullen & Tobie Travaglia
Best: Charles Duke, Madden Guthrie, Hamish McMahon, Archer Billings, Tobie Travaglia, William Bassett
Congratulations to all the boys, they played with integrity and respect all day. We look forward to heading off to the State Semi-Finals on 11 August in Ballarat.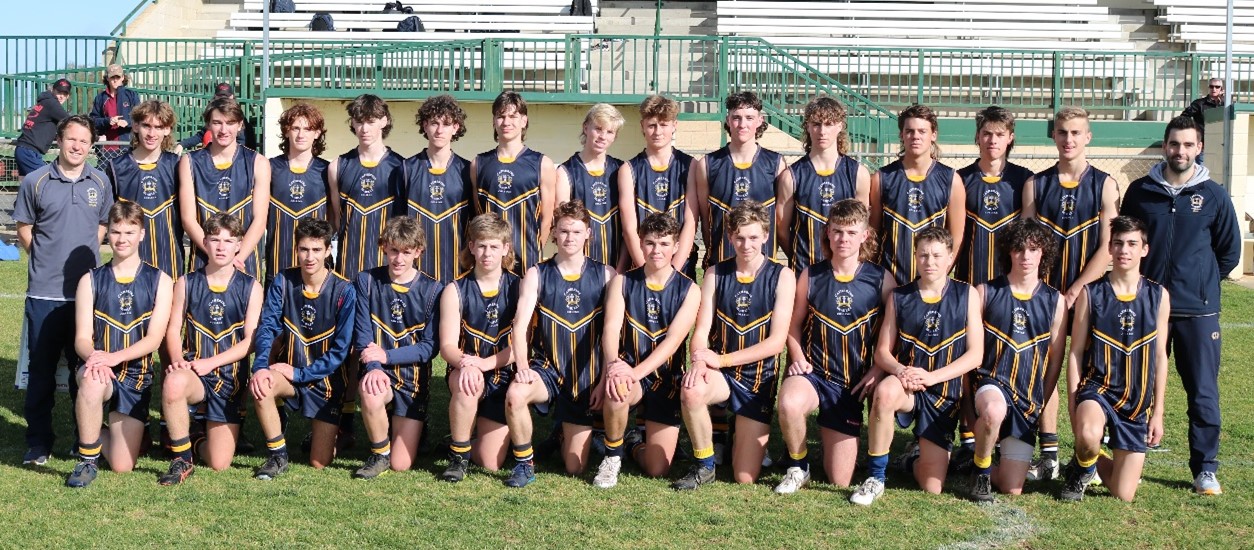 Back L-R: Mr Lee Coghlan (Coach), Nick Santas, Isaac Meersbergen, Archer Billings, Daniel Noden, Charles Duke, Zane Connick, Tobie Travaglia, Madden Guthrie, Wil Pinniger, Hamish McNamara, William Bassett, Declan Stevenson, Deakin Andrews, Mr Jack Timmins
Front L-R: Jasper Irwin, Logan Kilcullen, Isaac Tzouroutis, Oliver Edminston, Ethan French, Ethan McMahon, Henry Edwards, Gus Hay, Xavier Grant, Jaidi Jackson-Leahy, O'Malley Parker, Joseph Artavilla
Year 8 Boys
The Year 8 Boys Football team had a successful day at the LMR Competition in Swan Hill, with 3 wins against MacKillop College Swan Hill, St Joseph's College Echuca and Maryborough Education Centre as well as a draw against Irymple Secondary College. CMC played some fantastic football in their last two matches, which resulted in convincing wins whilst holding their opponents goalless. This was pivotal in CMC finishing the competition with a higher percentage than their other competitors and finish top of the table, to qualify for the State Quarter Finals.
Congratulations to all players on a fantastic day.
Back L-R: Ted Harrop, Ryan Brown, Ben Miller, Charlie Mortimer, Miller Nihill, Charlie Bannan, Hudson Banfield, Dash Daniels, Oliver Stewart, Chase Poyser, Jake Schubert, Mr Mitchell Winter-Irving
Front L-R: Carter Reid, Sam Gibson, Charlie Bombardieri, Lenny McNamara, Archie Eaton, Eamon Austin, Jack Oldham, Axel Drummond, Callum Whyte, Tom Smith, Finnegan Millar.