Sun Country Cup Football: brilliant display by 2nd XVIII
31/03/2021
On a delightful morning our 2nd XVIII Football team took on Bendigo Senior Secondary College (BSSC) in the first round of the Sun Country Cup Football Competition. A win would see the boys progress through to the next round, however a loss would mean their 2021 football journey would be over.
The start of the match was simply electric by the boys. Henry McCarthy put the first major on the board after just 4 minutes. Fletcher White then added 2 cracking goals within minutes of each other, and these were followed up with a goal to Coby Dunlop and the boys went into the quarter time break with a 25-point lead. The second quarter was much of the same as Josh Gillies blitzed in the forward 50 kicking 3 goals, whilst Dunlop added another one to his total. The back line was dominate, thwarting virtually every attempt Senior made going forward. Eli Pearce was a standout, he had the ball on a string as he dominated play, and racked up what seemed like hundreds of possessions. The CMC team went into the half time break 8 – 8 – 56 to Senior 0 – 3 – 3.
The second half saw coach Wild rest a few his stars and give everyone a good run on the ball. As the weather heated up, so did Senior, and for a period the CMC boys stopped their run and carry style of play. This slight pause enabled Senior to get a few goals on the board, but with Archer Patterson and Josh Gillies settling the team with a goal apiece, the third quarter ended with the boys still having a 34 point lead.
The last quarter was once again dominated by the CMC team. Goals to Mayman, Beens, Bynon & Arnold capped off a brilliant display. Again, the defenders shut down multiple attacking moves by Senior and the team ran out 47 point winners 14 – 12 – 96 to 7 – 7 – 49.
Best on ground for CMC was Eli Pearce.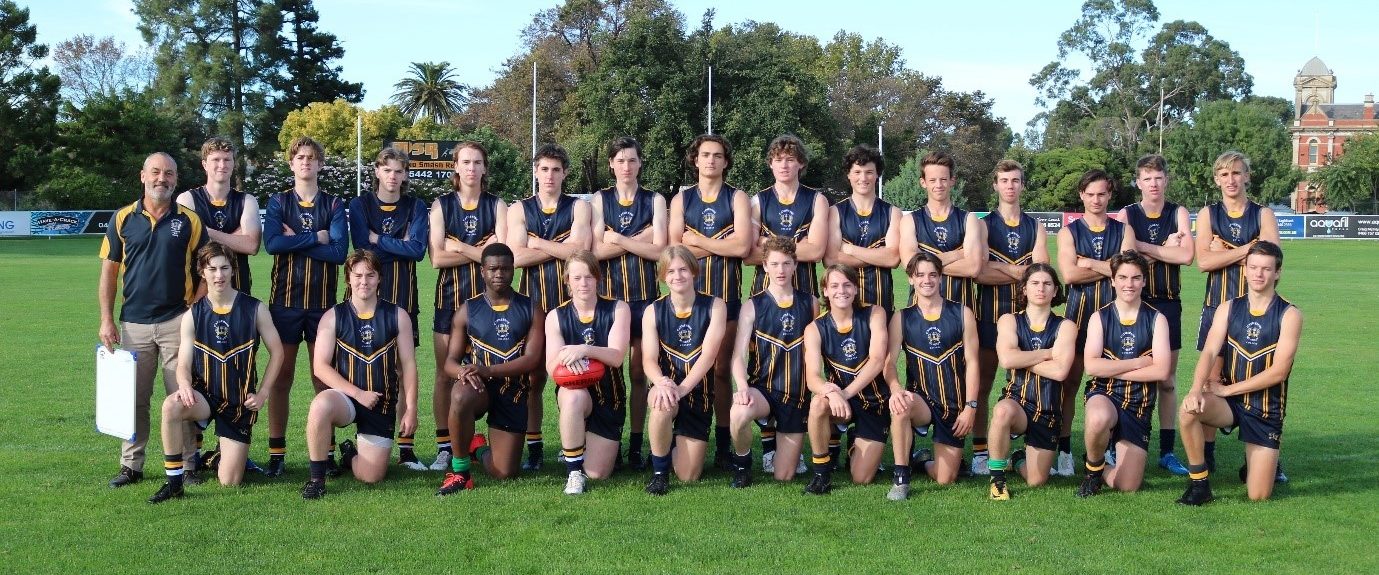 SECOND XVII BOYS FOOTBALL TEAM
Back L-R: Mr Andrew Wild (Coach), Flynn McGuckian, James Duke, Will Rodda, Oliver Mayman, Archer Patterson, Wilson Butler, Andrew Beens, Eli Pearce, Rowan Fox, Xavier Maher, Henry McCarthy, Jack Craig, Fletcher White, Coby Dunlop
Front L-R: Myles Livingston, Thomas Farrelly, Emmanuel Boboya, Joshua Gillies, Fraser Banfield, Liam O'Brien, Nicholas Sherriff, Fraser Bynon, Dylan Arnold, Sam Lewis, Rhys Bolton