Sun Country Cup Football 2022
03/05/2022
2nd XVIII
On Wednesday 6 April, our 2nd XVIII Senior Football Team competed in the AFL-run Sun Country Cup Football Competition at the immaculate QEO. It was a perfect day for football and the boys were very keen to have school footy back up and running.
The boys' enthusiasm was rewarded as they kicked the first goal for the match and were up and about early, playing some very determined and accountable footy. Bendigo Senior Secondary College (BSSC) responded soon after and drew level, and then their run-and-carry link-up style of play kicked into action.
Senior began to dominate around the ground and at the stoppages, with our boys seemingly always one step behind, and suffering a big case of the fumbles. Their endeavour, however, did not wane as they continued to chase and scrap through the first half. As the halftime siren sounded, BSSC had established a 58-point lead, but the CMC boys were not deterred and were keen to get back out on the park and have another crack.
The second half was much more competitive, and Senior were now having to work a lot harder to score. The contested pressure was outstanding, and the boys were now creating their own turnovers as they really focused on being more accountable and running in numbers. This change in gameplay saw our boys hit the scoreboard as they worked better and more cohesively as a team. The second half was a lot more competitive and a credit to the boys. Their attitude to play better footy and work for each other was great to see.
BSSC may have run out 74-point winners, but with their side stacked, our boys should be proud that they were able to restrict Senior to just 36 points in the half. The final scores were CMC 4-3-27 to BSSC 15-11-101.
Best Players: Wilson Butler, Jack Smith, Evan Cole, Joshua Harris, Dylan Arnold, Fraser Banfield, Joshua Gillies, Xavier Meersbergen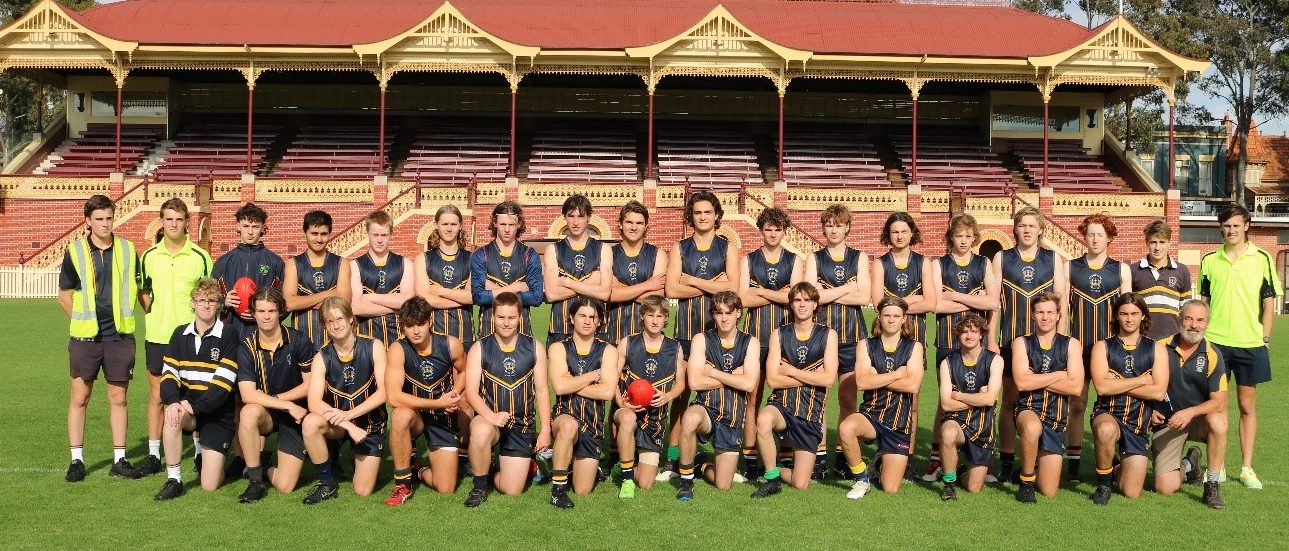 Back L-R: Jack McMahon, Archer Day-Wicks, Thomas Parkinson, Dev Singh, Joshua Gillies, Joshua Harris, Tim Long, Wilson Butler, Evan Cole, Andrew Beens, Toby Harrison, Louis Banfield, Callum Craig, Noah Warfe, Dylan Waters, Jack Smith, Will Stewart, Jason Gilbee
Front L-R: Ethan Yates, Jasper Cheesman, Fraser Banfield, Xavier Meersbergen, Tom Farrelly, Dylan Arnold, Benjamin McCarthy, Zavia Roberts, Hamish Goggin, Seth Boyd, Caleb Robson, Edward McCarthy, Nicholas Alexander, Mr Andrew Wild (Coach)