Successful Victorian School Campaign
09/08/2022
VICTORIAN SCHOOLS NETBALL CHAMPIONSHIPS
Senior Girls
Our first match against Balcombe Grammar School went to plan with all girls firing and a great win resulted 27 – 1.
The next team was Ave Maria College and with new combinations on the court, the team settled quickly allowing us to win 19 to 4.
Game 3 against LaValla Catholic College was a challenge with the uniforms clashing, so it took longer to settle into the game. LaValla applied some great pressure however a win was again secured. 13 to 8.
The next opponent was Methodist Ladies College who had Sharni Layton coaching them on the sidelines. It was fabulous to see our girls come out strong in the first half and extend their lead in the second half setting themselves up for an 11 to 5 win.
Coming up against Maribyrnong High School is never an easy feat, so we knew this would be one of the big battles for the day. The girls took them on with force, gaining a 5-goal lead in the first half that they maintained in the second half to win 17 to 12.
Our Lady of Mercy College was another team showing great strength and they were certainly a tough team to play. With scores even going into the break we were well placed and looking ok, however with a few quick turnovers our opposition got on a roll and suddenly we were playing catch up. Sadly, losing by 6 goals which made our chances of qualifying for the finals day near impossible.
With 2 matches left we hit our straps and regrouped against Presbyterian Ladies College winning 29 to 2, a fabulous effort with our goalers showing great form and barely missing an opportunity.
Our final game against University High School saw our players finish off the day well with lots of opportunities coming our goaler's way. Charlotte Sexton was even given a run as the Goal Shooter. She moved into the role seamlessly and with fabulous feeds from our centre-court players they were able to capitalise on the defensive turnovers and take away a win 27 to 5.
With all matches done and dusted it was time to turn our attention to the ladder to see the final result. With the top three teams finishing on the same number of points it came down to percentage and we were unfortunate to miss out, coming second. While this was not what we had hoped for it was a fabulous day of sport. All players were able to show why they were selected for the team, each excelling in any position they were placed in.
Each and every player was a pleasure to have on the day and they should be proud of the way they played and conducted themselves.
Thanks also to the parents and family members who supported the team coming to watch, it's always nice to have some extra cheering from the sidelines.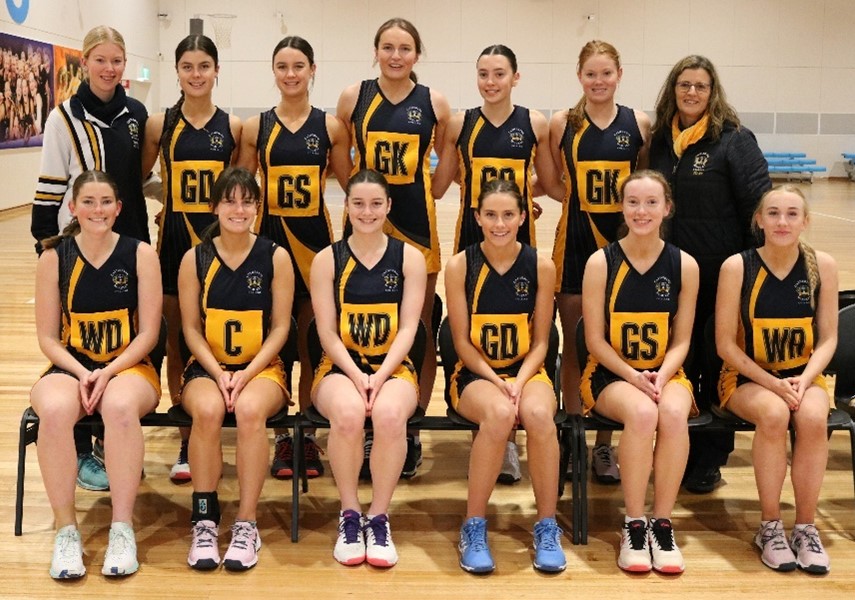 Back L-R: Siarne Cass, Katie Dean, Aimee Dean, Charlotte Sexton, Ava Hamilton, Maggie Burke, Mrs Kristine Rosaia
Front L-R: Sophie Giles, Maggie Keating, Tahlia Isaac, Bryde O'Rouke, Hannah Tyndall, Amaya Schmidt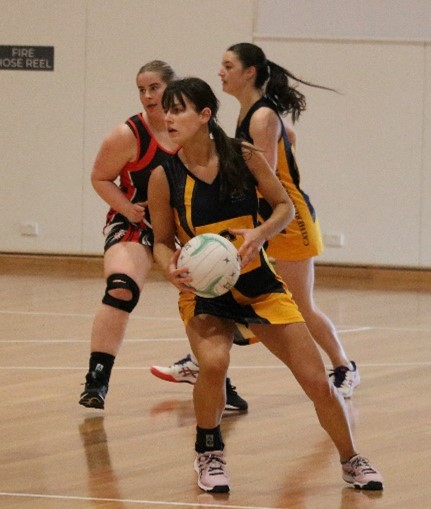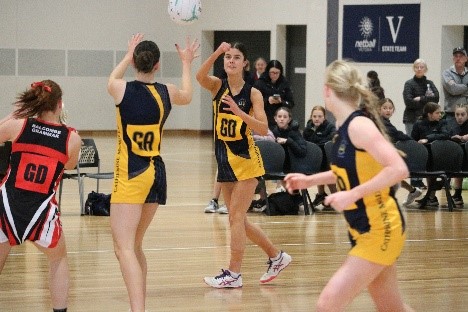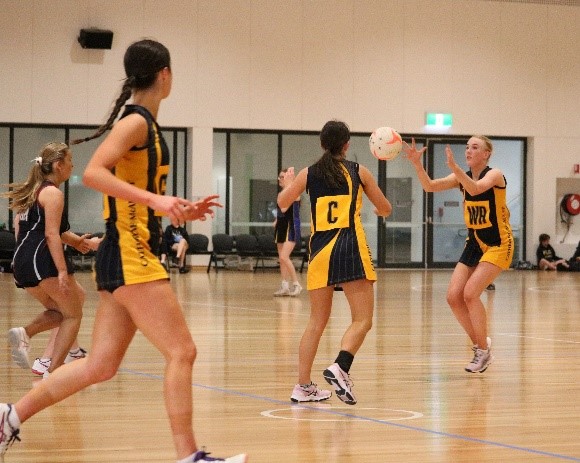 Year 10
Year 10 netballers performed very strongly at the Vic Schools tournament. Captains Sienna Eddy and Dakota Keanelly were exceptional leaders and had the team ready to go for each match. The team played 5 matches across the day and won all except one match. An excellent effort by a fantastic group of girls. Congratulations girls on a terrific day's play.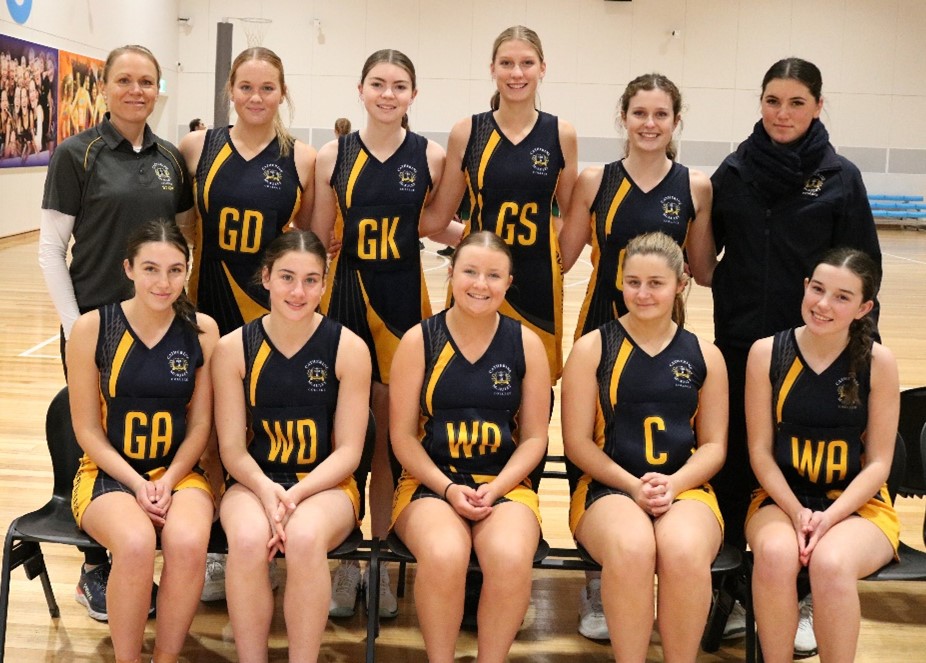 Back L-R: Mrs Clare Hope, Ava Broderick, Milana Whiteacre, Ava Nihill, Sienna Eddy, Georgie Butler
Front L-R: Emarnee Davies, Telani Bibby, Jessica Millar, Dakota Keanelly, Asha Griffin 
Intermediate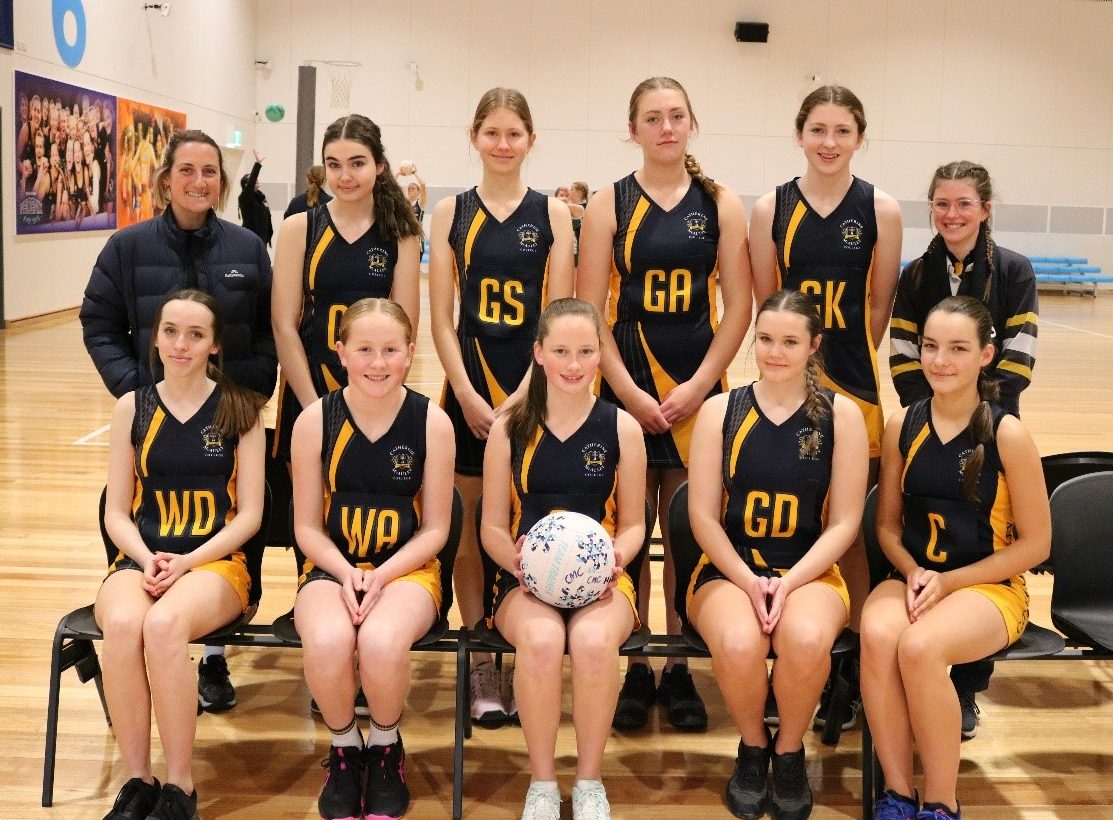 Back L-R: Ms Hayley Martiniello, Aubrey Holden, Annabelle Smith, Ciarah McDermottt, Harriett Whiteacre, Tarah Frawley
Front L-R: Tamzin Hayes, Ava Harris, Madalyn Nihill, Jorja Brown, Tess Mills
Year 8
On Tuesday 9 August the Year 8 girls went to Melbourne to play in the Vic sports Netball tournament. They had 5 games consisting of two 8-minute halves.
Our first game was against Lavalla Catholic College. It was a very close game. We were down by 1 at half time but better use of the ball after the break saw us come away with a 1 goal win. This was our toughest game of the day.
Our second game was against Presbyterian Ladies College.  All players made it on the court, contributing to a terrific win 27-3.
Our third and fourth games were against Our Lady of Mercy and St Monica's College respectively. The girls were again brilliant winning both games 13 – 1 and 20 – 4.
Our last game of the day was against Methodist Ladies College and it was challenging.  The first half was tight, however as the game progressed, we managed to force some turnovers with great full-court pressure and came away with the win 14-8.
We finished on top of our pool and have now qualified for the Finals day to be played on Thursday 8 September.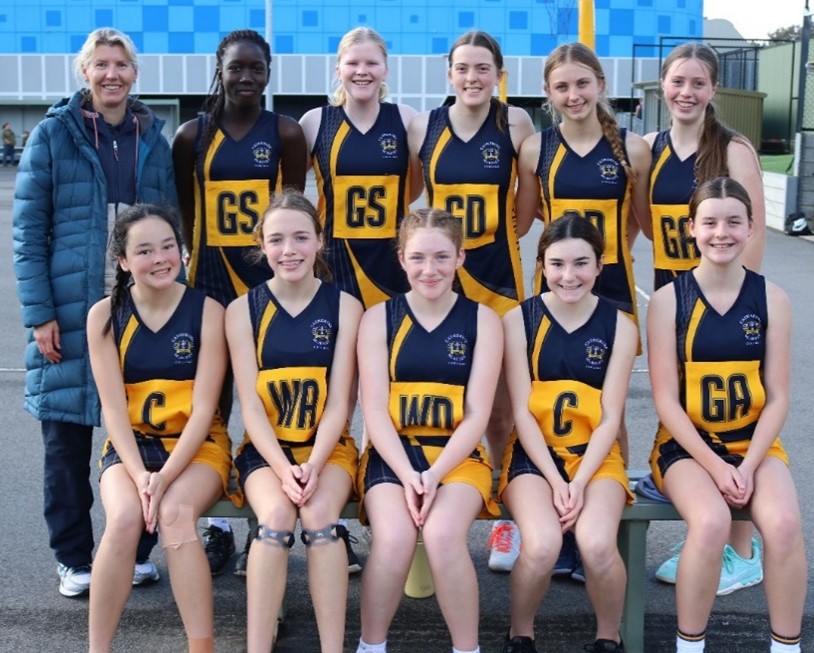 Back L-R: Mrs Julie Fennell, Diana Napoleon, Maeve Cass, Lila Kelly, Emersyn Newlan, Layla Pearce
Front L-R: Zaidee Khong, Charlize Pinder, Bella Clohesy, Charli McInerney, Lexie Austen
Year 7
On Tuesday 9 August the Year 7 Girls participated in the Victorian Schools Championships participating in the Junior Division Yrs 7 & 8 at the State Netball and Hockey Centre in Melbourne. After a very successful lead up, the girls were excited to see what teams they would come up against.
In our first game we played Methodist Ladies College (who were coached by a very familiar face and voice in Sharni Norder, ex-Australian Diamond Netballer). We hit the ground running, and won convincingly with a score of 21-6. 
We continued with a strong game against Our Lady of Mercy, winning 16-2. 
Our game against Braemar College saw us win 18-3. 
Our toughest game was next, with both teams undefeated. We came up against a bigger and physically stronger team in Balcombe Grammar. Changes in the lead, tough defending and accurate shooting saw a closely contested game, with our Catherine McAuley College girls being patient and disciplined, with the scores all tied up at 11 all at the final buzzer. This left us with one game to go and we needed a big win to boost our percentage and give us a chance of getting to the next stage. 
Our game against St Monica's College was played like the girls were on a mission – and they were! We scored at a fast pace, defended all over the court and in an 18 minute game, came away with the boost we needed, winning 36-0.
Everyone in the team of 11 represented the College so well – our defenders were reliable and courageous, our centre court players passed and defended beautifully and our goalers were strong and accurate. Our team members that played off the bench and those who didn't play on the day were also outstanding, helping to score, run warm-ups and showing great encouragement and leadership from the sidelines. Congratulations girls and we look forward to the Vic Schools Finals Day in September!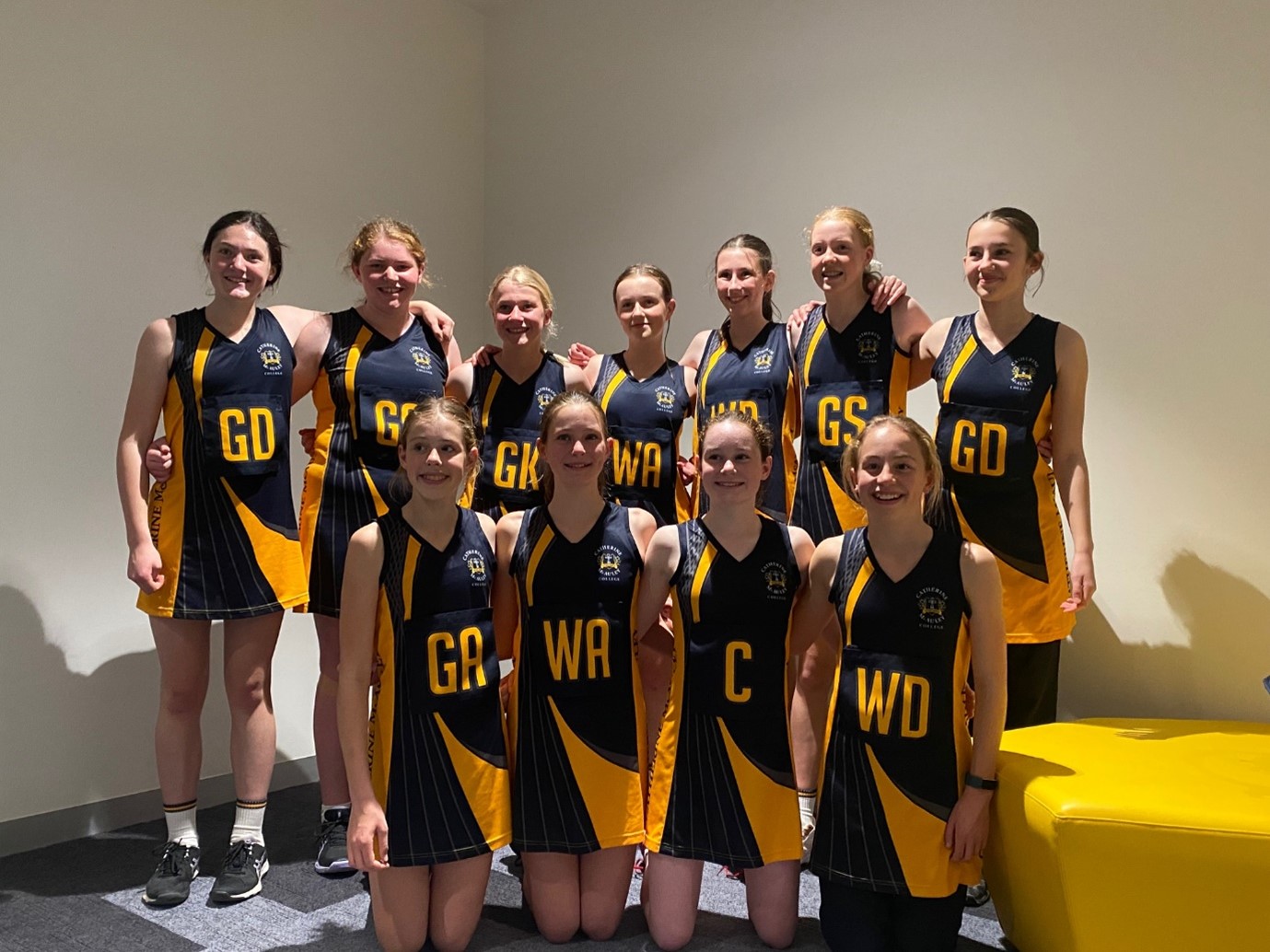 Back L-R: Lexie Brennan, Ginger Hay, Chella Fitzgerald, Shannon Storey, Bella Lalor, Lexie Fennell, Alyssa Mulder
Front L-R: Dempsey McDonnell, Juliet Hogan, Maggie Lamb, Grace Mulqueen