Success at Sandhurst Hockey
25/08/2022
SCHOOL SPORT VICTORIA – SANDHURST DIVISION
Intermediate Mixed
The Catherine McAuley College Intermediate Mixed Hockey team full of keen hockey athletes ranging from Year 7 to Year 10 arrived at the Bendigo Hockey Centre excited for a day full of action.
Bendigo South East College was their first opponent of the day. The team took to the field with anticipation, as they had never played together. In what turned out to be a great game, both teams had multiple chances to score. However, the scores remained at nil all until late in the second half where Luca Evans played a long ball from defence through to Caitlyn Brew who was in the forward third. She trapped the ball brilliantly and ran into the attacking D, avoided the keeper and scored the winning goal. It was a fantastic team performance and a great way to start the day. Final score was CMC – 1 defeated BSE – 0.
The second game of the day proved to be another entertaining one again Crusoe College Bendigo. All players contributed well in this game in another tight contest. Campbell Evans was terrific in goals and he was well supported by the defenders. Midway through the second half, the team moved the ball through the midfield and were able to slot a terrific ball off the stick of Blake Watson. The ball movement and skill of the CMC team proved critical, as they kept Crusoe at bay winning 1 to nil.
The third game saw CMC take on Weeroona College Bendigo. Once again, CMC played a terrific team game and created many scoring opportunities. Caitlyn Brew scored a fantastic goal in the first half and the team were dominating play all over the ground. Their ability to shut down any Weeroona forward bursts was impressive. It was early in the second half where Luca Evans and Caitlyn Brew teamed together to score the second goal of the match. Luca Evans then went on a scoring spree, scoring a further two goals. Weeroona were able to break through the defensive line late in the game and score, however the brilliant teamwork of CMC kept them in control with the final score being 4-1.
This win secured the team the overall victory of the day and they will now go on to play in the Loddon Mallee Regional Finals on Wednesday 19 October.
Congratulations to the players on an incredible day. To play all games with the minimum number of players was fantastic and that the team was made up of boys and girls aged from Year 7 to Year 10 who competed against predominantly Year 9 and 10 boys was impressive.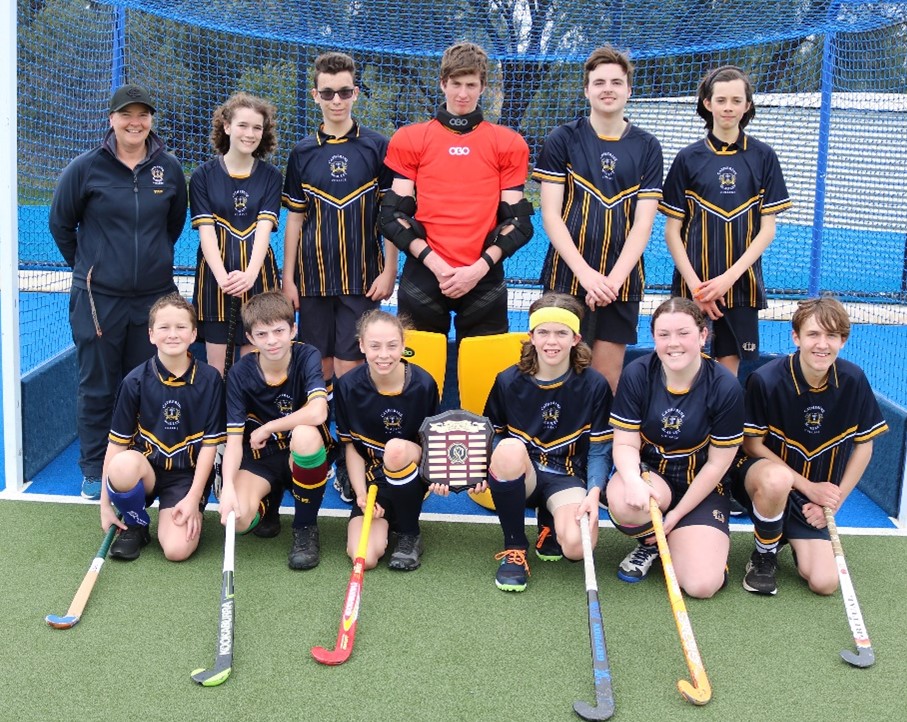 Back L-R: Ms Maree Pearce, Chloe Maher, Cooper Murphy, Campbell Evans, Noah Armstrong, Sebastian Stewart
Front L-R: Alexander Capuano, Blake Watson, Aaliyah Greenwell, Luca Evans, Caitlyn Brew, Rylan Angove