Student Voice – apply now to be a leader in 2022!
29/09/2021
The Student Leadership Team and the Student Representative Council (SRC) members are highly valued at CMC.
Gain valuable leadership experience and make a difference by supporting individuals and groups to create change, inspire action and share ideas and opinions.
Apply now to be a leader in 2022! The 2022 Student Leadership Application process opens on Monday 4 October and applications close on Friday 15 October 2021.
APPLY NOW FOR STUDENT LEADERSHIP IN 2022
The Student Representative Council (SRC) comprises students from all year levels and provides an opportunity for students to raise issues, make recommendations and improve understanding and communication between all members of the College.
Students are consulted about reGEN, significant developments and the future direction of our College.
The SRC is also involved in planning, organising and leading liturgies, assemblies and whole-school events such as Mercy Day and Caritas Ks.
Want to find out more? Talk to your Year Level Leader, or chat to a 2021 student leader for an insider's view on being a leader at CMC.
AVAILABLE POSITIONS 2022
Student Leadership Team
College Captains: 2 positions
Faith Captains: 2 positions
ReGEN Captains: 6 positions
Student Representative Council
Year 11: 6 SRC members
Year 10: 6 SRC members
Years 7 – 9: SRC members
TIMELINE 2021 – 2022
Term 4, 2021: for Years 8 – 12, 2022 Leadership
Week 1: Monday 4 October 2021 – Applications open
Week 2: Friday 15 October 2021 – Applications close
Week 3: Friday 22 October 2021 – Applicants notified of interview times
Week 4: Monday 25 – Friday 29 October 2021 – Interviews conducted (Student Leadership & SRC)
Week 5: Monday 1 November 2021 – Applicants informed of outcome and leadership appointments announced.
Term 1, 2022: for Year 7, 2022 SRC Members
The Year 7 SRC members election process will be conducted and successful candidates confirmed in Term 1, 2022, following the Year 7 Camp.
Apply now for a student leadership position in 2022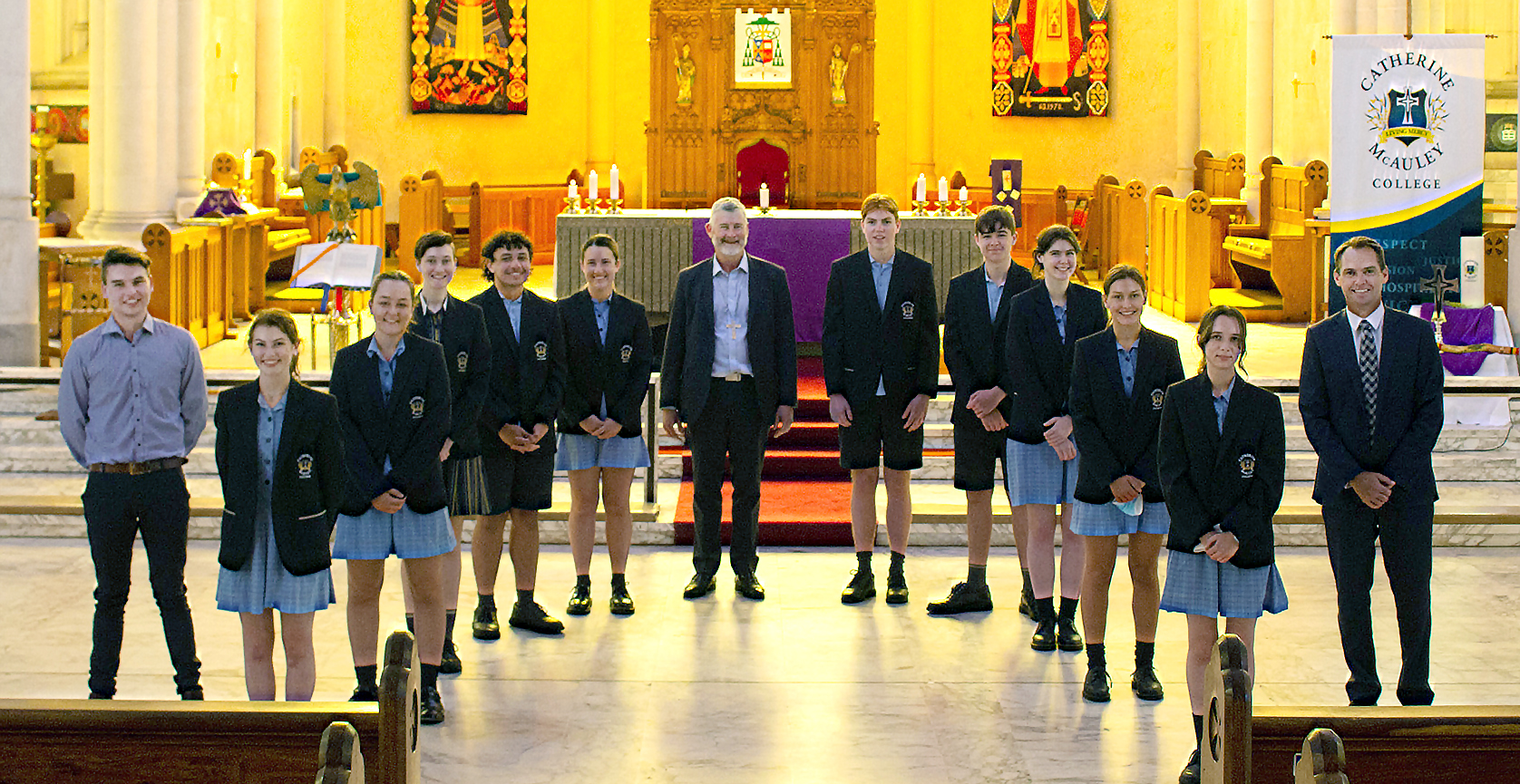 2021 Year 12 Leadership at Opening Mass