Student Leaders 2022
10/03/2022
Introducing the Student Leaders for 2022
Jonah Holland, Amber Smith – College Captains
2022 College Captains, Amber Smith and Jonah Holland are united in their goal to make a difference in their school community during the year ahead. Reinvigorating the connections between students fragmented by lockdowns and the cancellations of cherished school events will be their priority.
As well as the academic aspect of school life, socialisation and having fun are all important to ensure students feel included and develop as individuals. Participation in College events and traditions are such an important part of defining our unique College identity.
"I have high hopes that students will get the socialisation that they have missed out on in the last two years and we can do good for those who need it most." Amber Smith
The leaders hope to renew a sense of community after the lockdowns. "We want to create a network of support for our students so they can feel safer in our school and so they are able to have their own opportunities to engage with leadership." Jonah Holland
Jonah has a goal to develop a specific student-led program to give students the tools to identify and call out intolerance when they see it.
The opportunity to work with other like-minded people to achieve real change is a great motivation for both Amber and Jonah. They are looking forward to working together to develop a safer, more supportive environment for students.
"I am passionate about social justice and fighting for fairness in our world, I really enjoy creating change even if it's small." Jonah Holland
As well as being a voice for students, they want to ensure an optimistic atmosphere throughout the year, helping the College create many positive memories in 2022.
"I am passionate about including others and ensuring everyone has equal opportunities to be involved and enjoy their time at Catherine McAuley College." Amber Smith
Jack Osborne, Hser Way – Faith & Ministry Captains
As Faith & Ministry Captains, Hser and Jack are motivated by their faith to provide positive experiences for the students at CMC. They want to lead by example to live the Mercy values and be good role models for younger students. They see their role as connecting students to their faith and to each other through school activities.
"I aim to become the best possible leader I can be by practising honesty and possessing a clear sense of fairness. I want to inspire positive action within Catherine McAuley College." Jack Osborne
"I want to connect students to our school values and remind them of the importance of having faith in our lives." Hser Way
Layne Austen, Lily Giles, Maire Coleman, Dylan Arnold, Lara Bish, Isabella Rossi, Jason Gillbee – reGEN Captains
Following our College theme "Walking together in hope" our reGEN Captains for 2022 are filled with hope for the positive change they can be in the school community. They all bring a willingness to develop their leadership skills to help engage with the students in creating a safe and supportive environment.
"As a reGEN Captain, I am passionate about ensuring that CMC is doing everything that it can to be a sustainable community. As part of the global community, we must ensure that we are doing our part to reverse the negative environmental impacts of climate change." Lily Giles
Working together, the Captains will encourage participation and give students a voice to provide an inclusive and enjoyable environment. They intend to ensure closer connections between leadership and students, fostering both in-person and online interactions.
"As a leader at CMC I want to build connections with my peers so ultimately, we can create a school environment that actively encourages and helps students thrive, where we can work together to create a community that uplifts and advocates for one another." Layne Austen
"I am extremely passionate about ensuring that all groups are included and recognised within the community." Bella Rossi
At CMC, our reGEN initiative encourages students to implement activities that care for the environment, reduce our carbon footprint, minimise waste and work towards a more sustainable future. The reGEN Captains bring a new level of enthusiasm and optimism to the 2022 school year to ensure that the challenges of the past two years are put behind us.
"I want to be a role model and mentor for younger students. That can be rewarding as well as knowing you've helped with a problem or created ideas that further develop the school and community." Lara Bish
"I want to inspire people and have someone friendly that anyone can talk to about anything. I will represent students through building friendships with each year level, talking and engaging with them." Dylan Arnold
---
Student Representative Council (SRC) 2022
Year 12:

Dylan Arnold, Tahlia Backman, Lara Bish, Maire Coleman, Lily Giles, Jason Gillbee, Jonah Holland, 

Grace Reading, Isabella Rossi, Claudia Scott, Amber Smith, Hser Way

Year 11:

Jordyn Aldred, Layne Austen, Tyra Brauer, Elijah Cushing, Connor Milton, 

Jack Osborne, Benjamin Reid, Thomas Reid, Audrey Turner

Year 10:

Nathaniel Cawley, Trae Dreis, Stephanie Martin, Mikaela Monkhouse, Dervla Parker, 

Oliver Sexton, Thomas Sparrow

Year 9:

Mitchell Cakebread, Shell Lar Moo, Tristen McFarlane, Ariela Sea, Zahli Waugh

Year 8:

Charlotte Enever, Rose McSweeney, Sam Moloney, Amelia Paterson, Archie Short, 

Georgia Thompson, Chloe Vincent

Year 7:

Ruby Bath, Rex Bell, Madeline De Haan, Sadie Field, Rebecca Holdaway, Callan Orr
---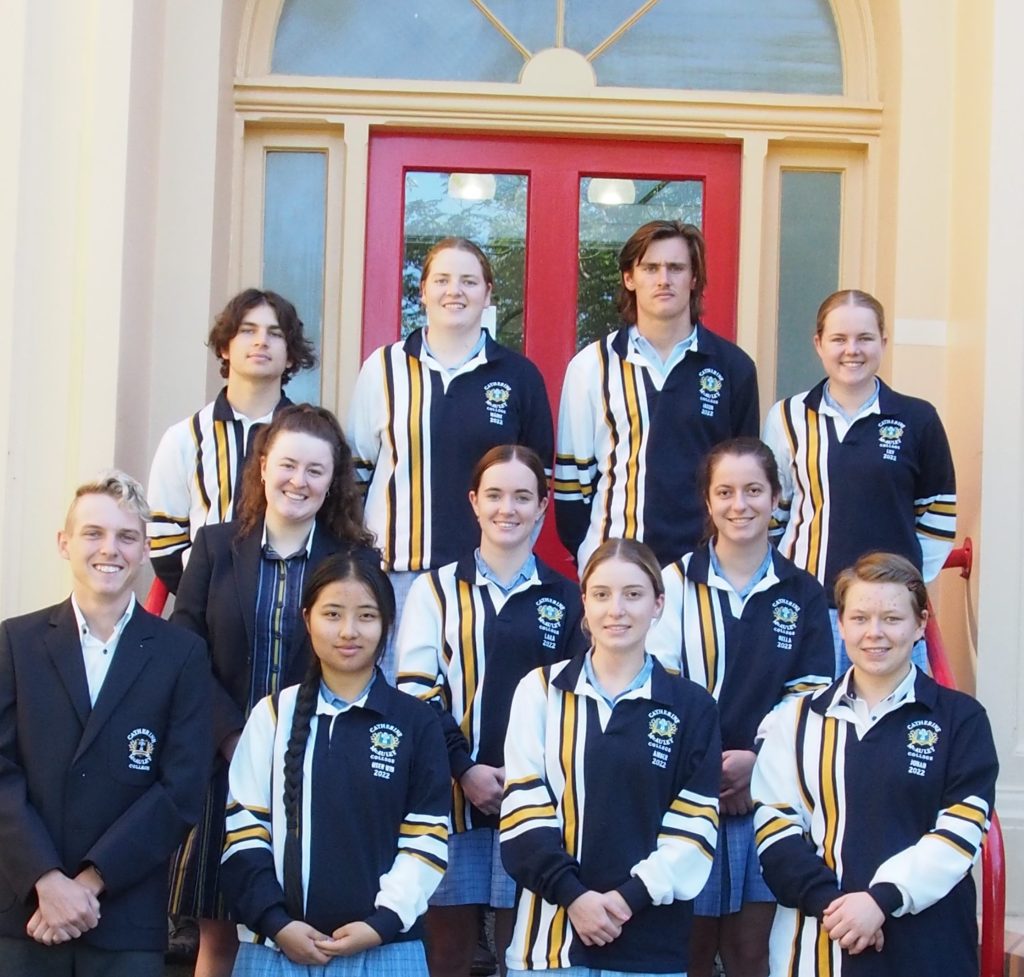 Back L-R: Jason Gillbee, Maire Coleman, Dylan Arnold, Lily Giles
Middle: Layne Austen, Lara Bish, Isabella Rossi
Front: Jack Osborne, Hser Way, Amber Smith, Jonah Holland