State Soccer Stars
06/09/2022
SCHOOL SPORT VICTORIA – SOCCER STATE FINALS
Junior Girls
It was an early rise for the Junior Girls Soccer team as they headed to the School Sport Victoria State Soccer Finals. The team played three tough games against quality opponents.
In the first game against Rowville Secondary College, where the opposition came out firing, making it difficult for the Catherine McAuley College defenders. Rowville scored a few early goals, however by the end of the first half the CMC team had settled and were more competitive. They were possessing the ball more and more as the game progressed and created a number of scoring opportunities, however the elusive goal did not eventuate. It was a great match and despite the 3 nil loss, it was a great start to the day.
The second was against Galen College Wangaratta, it was a great battle between two of the regional teams and a very entertaining game. It was goal for goal the entire match with a great high energy atmosphere. The game saw improvement from the team across the board, as they spread the play, created space and transitioned the ball from defence to attack with skill. The girls played a brilliant game and fought hard right to the end. The final result was a well-deserved 3 all draw.
Game three was against a highly skilled Maribyrnong Sports Academy. Maribyrnong game out hard and fast, making it difficult for the girls to contain their impressive ball movement as they raced to a 4 nil lead. With a change of focus in the second half, CMC were able to reduce the amount of space that Maribyrnong had early on and restrict them through the midfield to shut down their time in possession, keeping Maribyrnong to only 2 goals for the half. Some brilliant passing also led to a goal from Abbey Reid.
The girls' improvement over the day was so impressive, and all team members should be very proud of their efforts. To make State Finals is an incredible achievement and the way that they played with enthusiasm and determination is a credit to them. Special thanks to Will Chalkley and Samuel Jones who ran the line on the day and to Miss Cliff and Mrs Leahy for managing the team.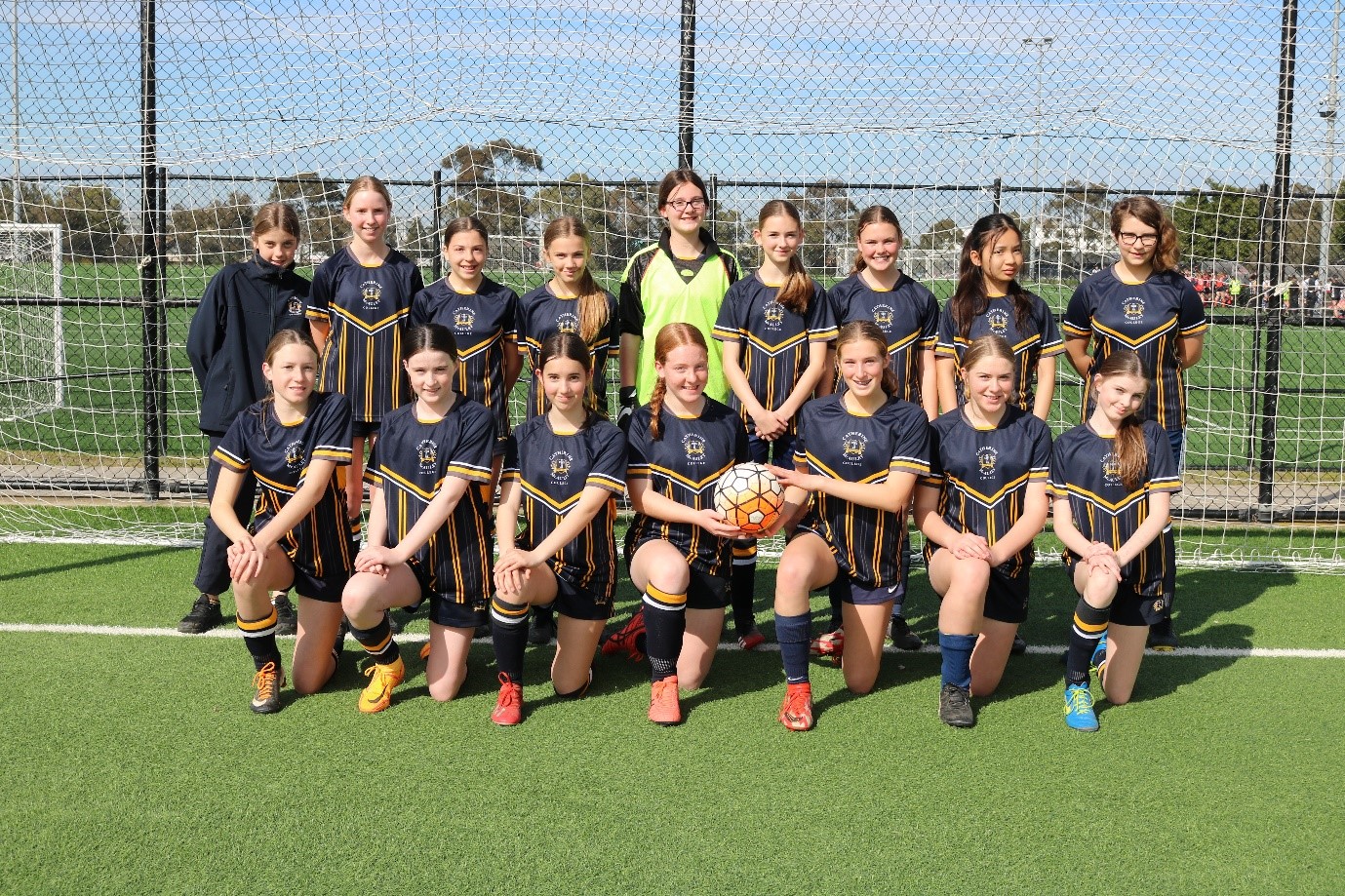 Back L-R: Ashlee Campbell, Louise Khodja, Madeline White, Lara Cockerall, Harper Lee-Basten, Rubi Phillips, Isabella Monotti, Rosie Meh, Chloe McCullough
Front L-R: Ava Dickson, Zarah Reynolds, Grace Clark, Rose McSweeney, Abbey Reid, Madi Morrison, Zoe Reynolds