State Finals Tennis
30/05/2019
SCHOOL SPORT VICTORIA
Intermediate Girls
On Friday 24 May our Intermediate Girls Tennis team headed down to the Boroondara Tennis Complex in North Balwyn to play in the Intermediate Girls State Tennis Championships. Having won the Sandhurst Division and the Loddon Mallee Region Championships all that was left was the State Finals.
It was a damp start to the day with games delayed for an hour as the inclement weather passed over. Although the team was missing Tiahna Leader who was on Camp, the girls were very keen to do well.
First up they played Maribyrnong Sports Academy. This was a tough match, but the girls pushed their opponents all the way, with most games proving to be a challenge to win for their more fancied opponents. Maribyrnong may have won the match, but our girls played some great tennis.
In round 2 the girls came up against the team from Brentwood Secondary College. This was another tough contest, and all players played exceptionally well. Again, the opposition played at a high standard and the girls were right in most sets winning several games. In the end, although they lost the match, their determination and sportsmanship was terrific.
Unfortunately, round 3 was a bye as Eltham College forfeited when they failed to turn up on the day. However, this meant that the girls got to go home early and were able to enjoy their much-anticipated stop at McDonalds.
Congratulations girls on firstly making the State Finals and then competing brilliantly. Thanks to Mr Chalkley for his lighthearted entertainment throughout the day.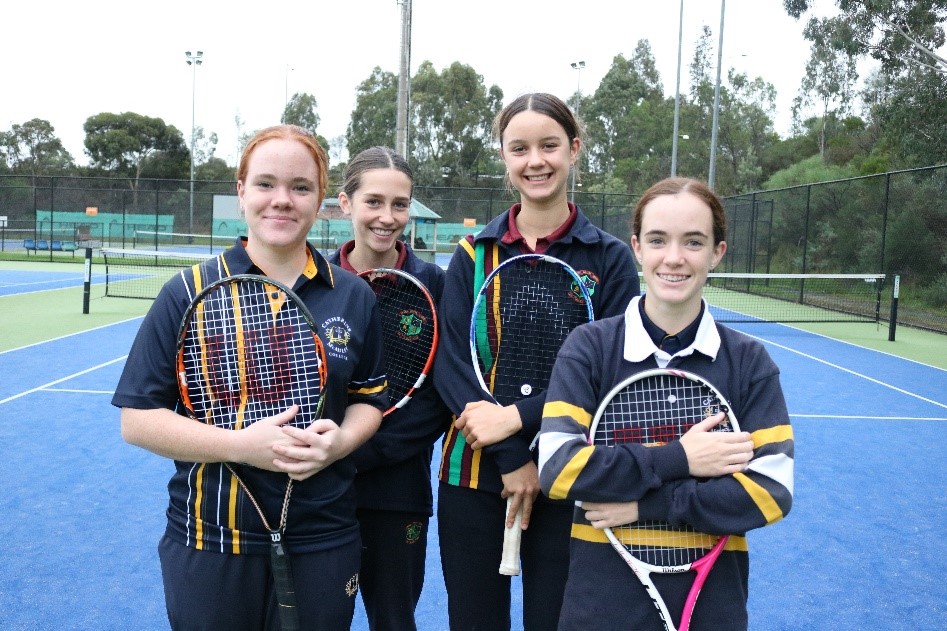 L-R: Jorja Bish, Isabel Nihill, Aimee Dean, Lara Bish