State and National Swimming Achievements
28/05/2018
SSV STATE CHAMPIONSHIPS
GEORGINA HOPE FOUNDATION AUSTRALIAN AGE SWIMMING CHAMPIONSHIPS
The School Sport Victoria (SSV) State Championships were held on 18 April in Melbourne. All seven students representing Catherine McAuley College came home with a medal.
Layla Day won four gold and two silver; Katerina Pizzo one gold, one silver, one bronze; Michell Sherlock one gold, one silver; Maggie Burke one silver; and Varlee Nihill, Aimee McMahon, Arkie Donnelly and Layla Day won silver in the 4 x 200m Medley Relay.
On 21 – 28 of April when Year 9s were on their Outdoor Education Experience, Layla Day, Katerina Pizzo and Varlee Nihill travelled to Sydney to compete in the national championships, representing Bendigo East Swimming Club. The girls raced competitors from all around Australia. Layla and Varlee competed in a 200m Medley Relay and place ninth overall. Layla raced in six individual events and came home with a bronze medal in 100m Backstroke. Katerina competed in eight events in the S7 classification; she successfully achieved bronze in 50m and 100m Breaststroke and a gold in 100m Butterfly, breaking a national record.
Well done to all swimmers.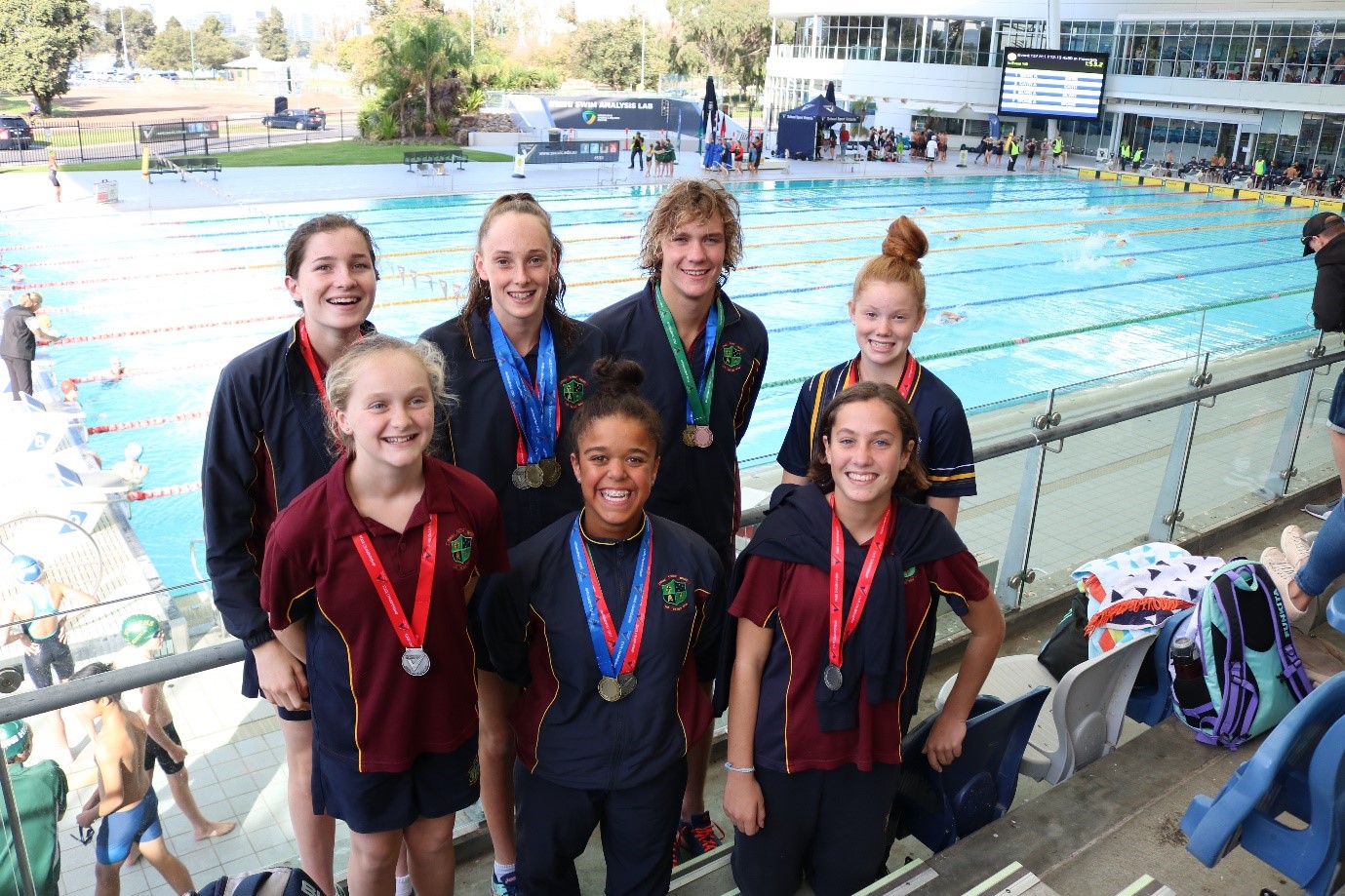 STATE SWIMMING TEAM
Back Row L-R: Varlee Nihill VT1, Layla Day VT3, Mitchell Sherlock JR8, Maggie Burke MK4
Front Row L-R: Aimee McMahon BK3, Katerina Pizzo VT4, Arkie Donnelly MK1