Star Readers announced
30/03/2018
Our students from Years 7 – 10 are registered with the Renaissance Reading Program. This program allows student to choose reading material at their comprehension level, which helps build growth.
Once the students have completed their novel they take a 10-question quiz and their results are graphed to show word count and growth.
Congratulations to these students on their commitment to building their comprehensions skills and congratulations also to all students who have increased their reading throughout Term 1.
Term 2 will see the introduction of a Million Word Club – will you become a member?
Mrs Karen McDougall, Literacy Coordinator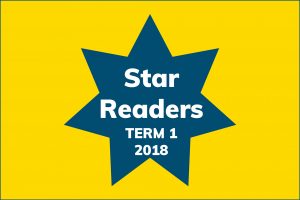 Top 10 Star Readers for Term 1, 2018 (words read)
Samuel Breene: 1,122,799
Kai Lim: 964,361
Caitlin Buchanan: 794,004
Tamara Duane: 792,012
Deanna Duane: 729,414
Sarah Duane: 688,411
Toby Costigan: 505,829
Elizabeth Harper: 470,137
Rhiannon Binks: 447,089
Alek Deng: 442,165