SSV Intermediate Cricket
15/11/2018
School Sport Victoria: Loddon Mallee Region
The Loddon Mallee round of the SSV Intermediate Cricket tournament was held on Monday 29 October at Club Court against St Mary of the Angels (SMOTA) who won the toss and elected to bat.
Our bowlers hit their line and length early and our fielding made it difficult for their batsmen to find the gaps. Nick Wallace was the pick of the bowlers, taking 2/16 whilst Sam Conforti (1/5) and Liam Nihill (1/18) also picked up a wicket as SMOTA finished 5/92 from their twenty overs.
A wicket off the first ball put the pressure on our boys, however some quick running between the wickets from Matt Wilkinson (19) and Noah Walsh (18) helped us to 2/30 from five overs. SMOTA tightened their bowling over the next ten overs and we were unable to score as freely. We lost 3/9 and needed to score eighteen runs from the final two overs to win the game. We managed to score six off the 19th over, needing twelve to win. Some power hitting from Nathan Walker (18) and Nick Wallace (12) tied the game with one ball left. Wallace picked out the fielder at mid-off but a dropped catch allowed our boys to take a single and win the game off the final ball.
The State Quarter Finals were played on Wednesday 7 November against Montmorency Secondary College. We won the toss and elected to bat first. Our boys batted superbly, led by a captain's knock by Abe Sheahan of 43 from 34 balls. He was supported by James Barri (18 off 15) and Cooper Smith (14 off 25) as we managed to score 7/117 from our twenty overs. Our bowlers made it difficult for the Montmorency batsmen to score, holding them to 0/16 from the first seven overs. Our fielders were electric, causing two run outs and creating many chances, however some dropped catches kept Montmorency in the game. Nathan Walker (1/2), Nick Wallace (1/24) and Sam Conforti (1/24) all took wickets as we restricted Montmorency to 5/101 from twenty overs.
With that win, the boys have now qualified for the State Finals to be played in Melbourne on Friday 16 November – we wish them every success.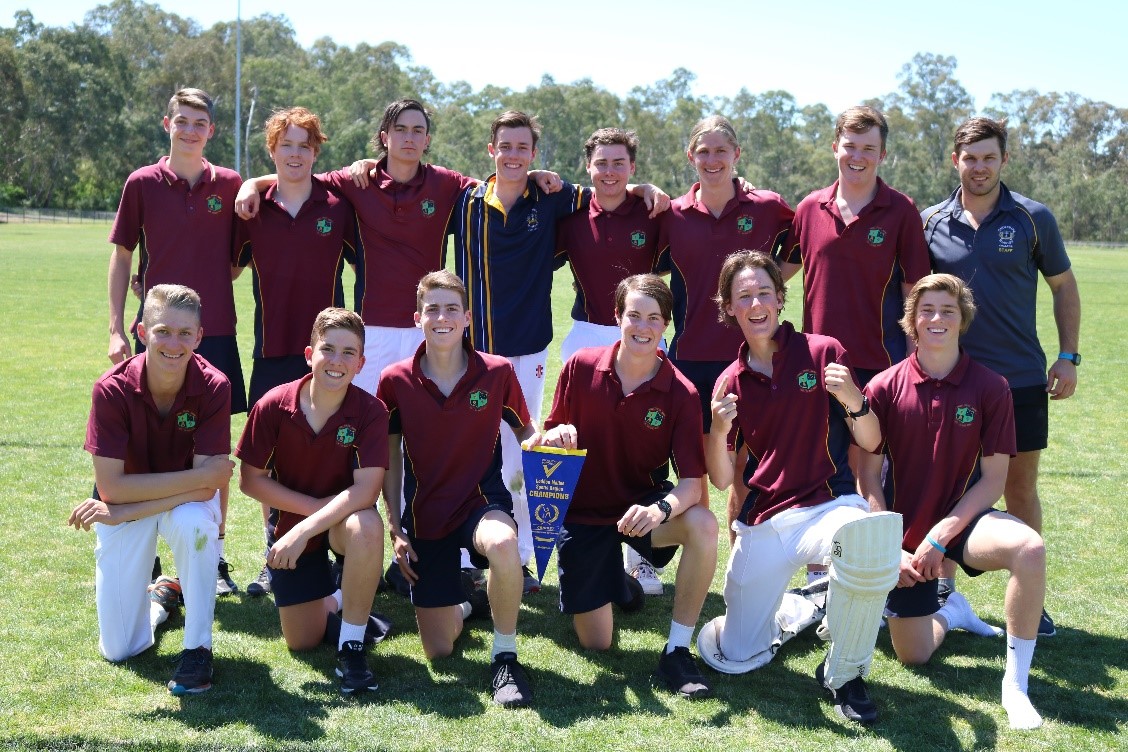 Back Row L-R: Liam Nihill CH11, Noah Walsh CH8, Abe Sheahan BK8, Cooper Smith JR7, Nathan Walker BK11, Ethan Featherby JR3, Wil Tuohey MY2, Mitch Winter-Irving (Coach)
Front Row L-R: Jai Featherby JR1, Matthew Wilkinson VT3, Jack Keating CH4, James Barri MK3, Nicholas Wallace MK10, Samuel Conforti BK11