Soccer Tournaments
SCHOOL SPORT VICTORIA: SANDHURST DIVISION
INTERMEDIATE SOCCER
The Sandhurst Intermediate Soccer Day was held on Tuesday 11 May.
INTERMEDIATE GIRLS
The girls started the day in Pool B along with teams from Weeroona College and Marist College Bendigo. Game 1 was against Weeroona. The girls were a tad stunned at the start of the game as they tried to settle into what was an unfamiliar sporting field for most. However, they soon started to attack the play head on.  Weeroona scored early, but the equalizer came soon after from Ella Kirby.  Weeroona managed another goal in the second half and hence won the match 1 – 0.  In Game 2 the girls had built up their confidence and skills and were brilliant against Marist and the 3 – 0 score line reflected that.
This ensured the girls a spot in the semifinals where they played the very strong team from Bendigo South East College (BSE). Despite their best efforts the girls went down in a great contest 3 – 0.  Congratulations to all the girls who took on board every instruction and tried their hardest all day. You were all amazing!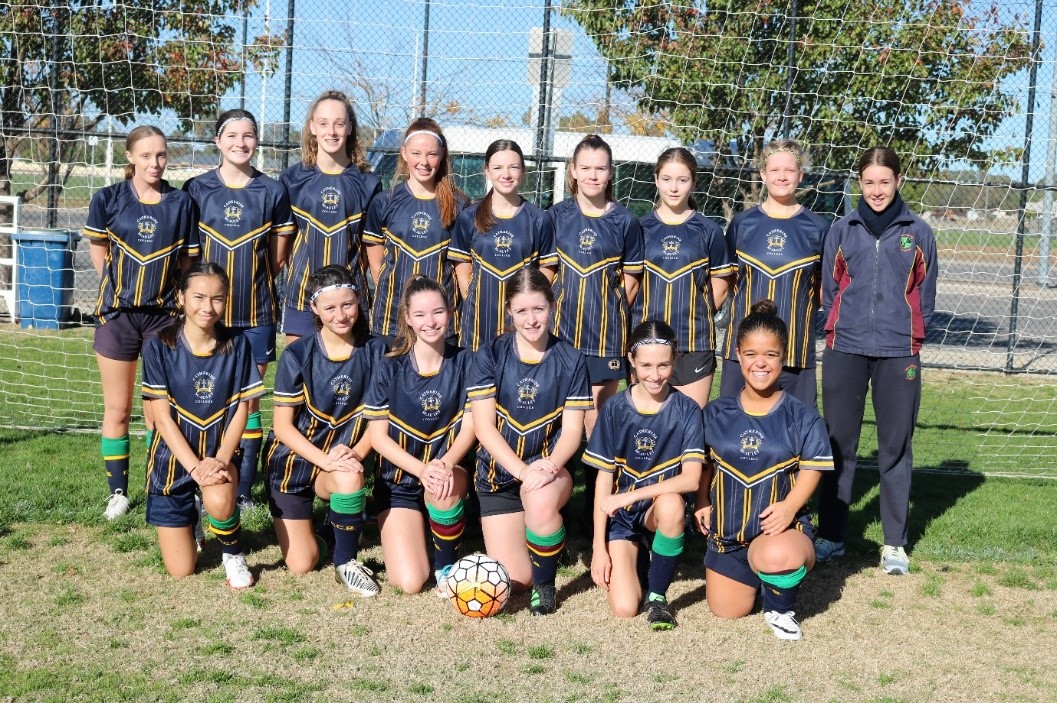 Back Row L-R: Montana McNamara MK9, Varlee Nihill VT1, Layla Day VT3, Emily Collins MK4, Zoe Painter MK9, Mackenzie Marsh BK9, Madelaina McGrory, Ella Kirby VT4, Ellie Vlaeminck MK1
Front Row L-R: Alyssa Fabie MK4, Molly Hicks MK3, Alexandra Goggin MY2, Polly Hughes MY2, Isabel Nihill CH2, Katerina Pizzo VT4
INTERMEDIATE BOYS
The boys team started strongly in the group stage, with a nil-all draw against BSE, then defeating Eaglehawk Secondary College 7-0 and Crusoe College 4-0. This placed Catherine McAuley College (CMC) on top of their pool without conceding a single goal, thanks to fantastic saves by goalkeepers James Barri and Tanner Nally. Tom Coleman, Zachary Roberts and Thurah Maung were strong in defence and helped keep the opposition goalless. CMC headed strongly into the semifinal with Brayden Roberts, Ma Kor Hser Thay, Riley Joss, Jonah Graham and Will Edwards leading the attack. Unfortunately, Weeroona got through our defence and scored, defeating us 1-0. Kaw Ku Loe and Kwe Kaw Tha were key players for CMC in this game. The boys kept their heads high after the defeat knowing they had played well throughout the tournament.
James Worme VT2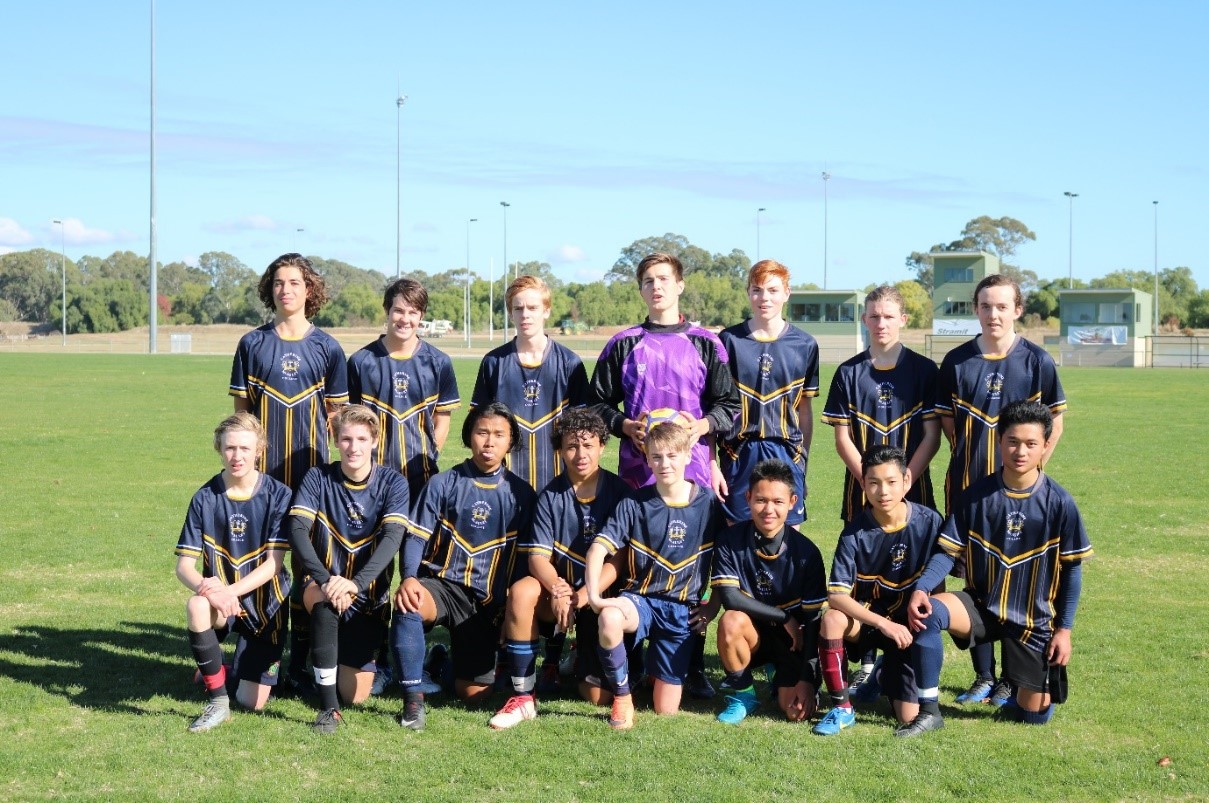 Back Row L-R: James Worme VT2, James Barri MK3, Riley Joss MK2, Tanner Nally CH7, Tomas Coleman BK3, Oscar Bradshaw BK7, Zachary Roberts MY9
Front Row L-R: Brayden Roberts CH7, Will Edwards BK10, Kaw Ku Loe BK10, David Mill BK1, Jonah Graham BK4, Ma Kor Hser Thay CH4, Kwe Kaw Tha BK9, Thurah Maung BK10
SENIOR BOYS
The Senior Boys played in a 3-team competition on Thursday 17 May at Shadforth Park.  After a couple of solid training sessions, expectation was high.  In the first game the boys took on the might of Bendigo Senior Secondary College (BSSC).  It was a brilliant start as the boys burst forward from the kick off with some scintillating passing and the shot on goal by Luke Burns was met with a foul tackle from the BSSC defender and a penalty resulted.  This was slotted home with precision by Luke.  The boys were up and about and the play was even for most of the first half, but a slight error in defence saw BSSC get a shot on goal and score. At the half time whistle the scores were level.  The second half was intense as Senior upped the ante and really pressed forward. A very unfortunate breakdown in communication saw BSSC get a second goal and take the lead. From there the boys tried everything to get a goal back, but sadly ran out of time and went down in a skillful and entertaining game 2-1.
Game 2 was against Marist College Bendigo.  This was a more carefree match, with both sides enjoying their time on the park.  A few positional changes also saw the dynamic of the team change.  Lewis Merriman and Win Boe scored for CMC in the first half. The second half was very entertaining, with the boys slotting through five more goals (Lewis Merriman 2, Win Boe, Flynn Hartigan and Seth Feeney all 1) as the younger Marist team tired. The highlight reel kep growing as even the Keeper, Kester Jansen, pushed forward to try and score when the opportunity presented.
It was a great day and the boys played exceptionally well.  Congratulations to all involved with special thanks to Mr Richard Graham for coaching.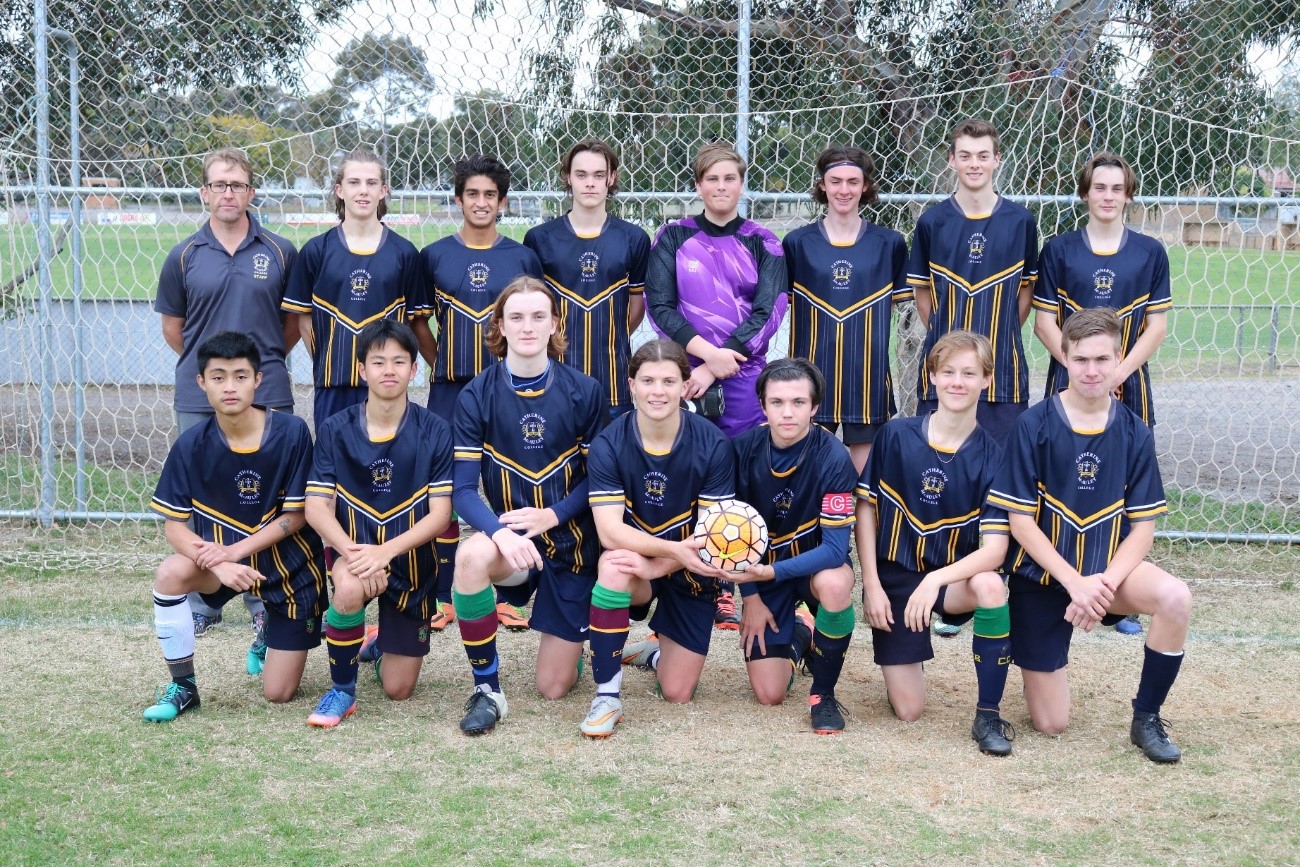 Back Row L-R: Mr Richard Graham (Coach), Flynn Hartigan BK10, Seth Feeney BK7, Joshua Long BK7, Kester Jansen BK9, Nathan Dohnt MK9, Lachlan Kelly MY8, Lewis Merriman BK11
Front Row L-R: Win Boe JR10, Harvey Lay CH10, Connor Hicks CH10, Jesse Matthews MY10, Luke Burns MK8, James Pattinson VT10, Harley Bourke MK10