Seth Feeney's 'World Engine' selected for VCAA Top Designs 2020
15/05/2020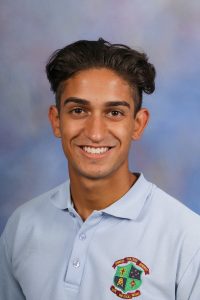 The College was very proud to hear the news that 2019 graduate Seth Feeney will have his work exhibited in this year's Top Designs exhibition as part of the VCE Season of Excellence 2020. This is an exhibition run by Victorian Curriculum and Assessment Authority, held in the Melbourne Museum.
Seth's Systems Engineering project was one of a select few chosen from over 1200 entries from schools throughout Victoria. This is a testament to Seth's consistent efforts and application to his work in Systems Engineering, both in and out of class throughout the year. We congratulate him on this outstanding achievement and wish him the best in the future.
Read about Seth's project below and you can visit the Melbourne Museum website to see all the designs: https://museumsvictoria.com.au/melbournemuseum/learning/top-designs-2020/systems-engineering/
Mr Matthew Angove, Director of Learning & Teaching – St Mary's
Seth Feeney, Catherine McAuley College, Bendigo
Seth Feeney's 'World Engine', device designed to collect and filter water during the return journey from a natural water source for developing nations where drinking water is not readily available.
Source: Victorian Curriculum and Assessment Authority (VCAA).
World Engine
Steel tubing, 29-inch wheel frames and tubes, plastic containers, cloth tape, znter batteries, wires, battery snaps, lifestraw filter, cable ties, magnetic strips, switches, arduino, wood, hose connectors, hose valves, plastic tubing, heat shrink wires, plastic plates, foam, bearings, steel tube, dynamos, 3d printed parts.
"My idea for the World Engine was to design an affordable humanitarian aid device for the developing world, that was capable of filtering unsafe drinking water in a sustainable way. My prototype filters the water during the return trip from the source and can hold more water than an average person can comfortably carry. After extensive work this year, the result is a cheap-to-make prototype that functions as intended." (Seth Feeney)
---
Part of the VCE Season of Excellence, Top Designs 2020 showcases some of the brightest VCE and VCE VET students from across Victoria. With over 1000 submissions, the final selection of 88 works offers a glimpse into the future of Australian design.