Senior Soccer
07/05/2021
SCHOOL SPORT VICTORIA – SANDHURST DIVISION
On Friday 7 May our Senior Soccer teams competed in the Sandhurst Division Competition against Bendigo Senior Secondary College.  Both our boys' and girls' teams played extremely well despite the limited training time.
SENIOR GIRLS
The Girls Team consisted of a few experienced players, with the rest of the group made up of those new players who were 'very keen and excited' to have such an opportunity to represent the College.
The girls started well and pushed forward on several occasions, resulting in Ellie Vlaeminck getting a couple of shots on goal.  Bendigo Senior Secondary College counter-attacked and managed to score.
The rest of the game played out in a similar fashion until Ellie Vlaeminck kicked a ripper corner and Carissa Brook managed to bump it into the goals, only for it to be disallowed due to a handball.  BSSC was the better team on the day winning 4-0, however, the CMC girls displayed some great skill and improved enormously over the course of the game.  Alek Deng was a standout, playing keeper in the second half and making a number of brilliant saves.  The girls had lots of fun and were a credit to the College.
Well done girls on a terrific match.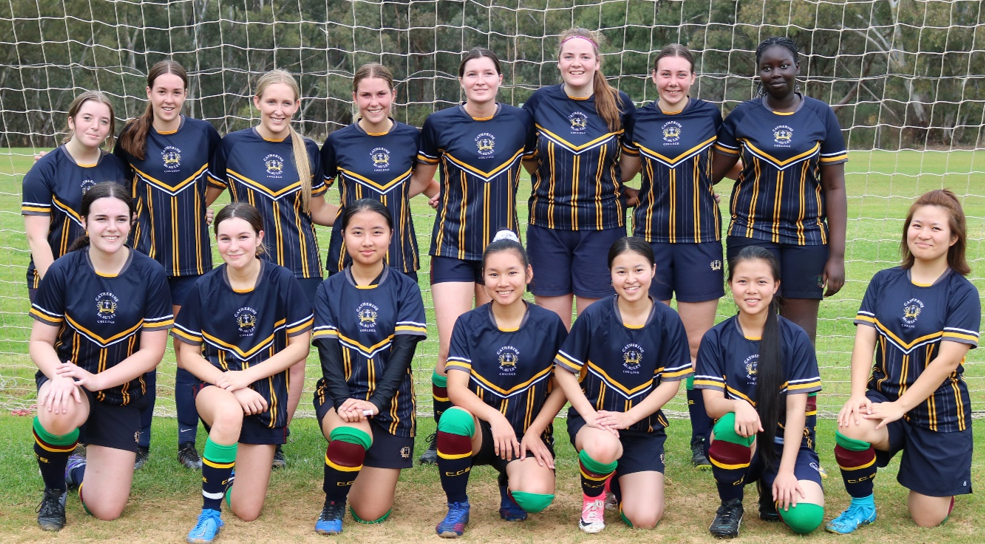 Back Row L-R: Rebecca Niclasen, Ellie Vlaeminck, Tahlee O'Keefe, Carissa Brook, Varlee Nihill, Maire Coleman, Grace Reading, Alek Deng
Front Row L-R: Chelsea Tobin, Emily Pengelly, Hser K-Kwei Way, Ma Cho Pyin, Day Day Bleh Dah Moo, Thaw Myint, Eh K'Mwe Paw Myint
SENIOR BOYS
The Senior Boys Team ventured to the Spring Gully ground to take on the best that BSSC had to offer. Both teams started cautiously with BSSC having some good chances. The CMC defence held them out under the leadership of Luke Morrison in goals, and Tomas Coleman and David Mill in the centre of defence. BSSC took the lead after a fortunate deflection landed at the feet of their striker and he slotted the ball into the back of the net.
CMC had a couple of breakaway chances near the end of the half. Poung Shu looked to be in on goal until a defender brought him down illegally. The resulting free-kick sadly amounted to very little leaving BSSC one goal up at half-time.
CMC started the second half well with some great attacking play orchestrated by Dylan Arnold and Jonah Graham in defence, combining with Riley Joss and Will Gee in the midfield. The BSSC defence was too strong and prevented CMC drawing level. BSSC scored a second goal against the run of play as CMC moved players forward. The final score was BSSC defeated CMC 2-0.
The CMC team deserve to be very proud of their effort against a highly experienced opponent.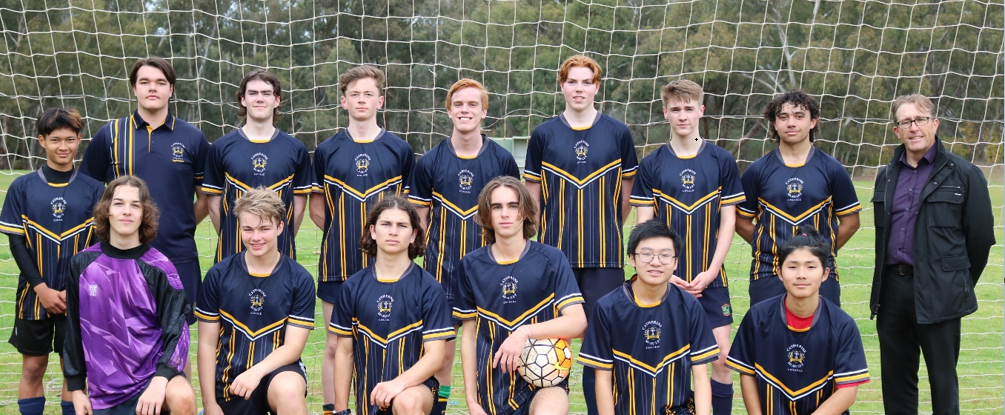 Back Row L-R: Poung Shu Thay, Hunter Loy, William Gee, Lachlan O'Brien, Riley Joss, Tomas Coleman, Jonah Graham David Mill Mr Richard Graham (Coach)
Front Row L-R: Luke Morrison, Kyenan Probert, Dylan Arnold, Hamish Goggin, Ninh Duy Huynh, Hay Nay Tha