Senior Girls Football
SCHOOL SPORT VICTORIA: SANDHURST DIVISION
On Friday 11 May, our Senior Girls Football Team travelled the short distance to Weeroona Oval to compete in the Sandhurst Division Senior Girls Football Competition. Their opponents for the day were Bendigo Senior Secondary College. With a number of familiar faces on the opposition, including some sibling rivalries, the girls had to put that aside and take the field in what was proved to be a tough contest.
The first half was hotly contested, with our back six holding up under constant pressure to only concede two goals, with Ellie Wilson, Matisse Perez and Matisse Appleby holding up strong and bringing the ball to ground.
The second half saw the opposition get the better of us, dominating the midfield clearances and having a number of scoring opportunities. Again, our defenders did well to rebound many opposition attacks, with some dominant displays from Bridie Semmens, Emmie Banfield and Lucy Membrey who provided plenty of pressure around the ball.   Despite their best efforts, the girls unfortunately went down 8-5-53 to 0-2-2.
A big thank you to all the students who volunteered their time to assist with the running of the day. Our central umpires Joshua Hamilton and Zaccariah McDonald, Ms Maree Pearce the highly-animated goal umpire and Will Tobin for assisting with running messages and water.
Miss Kylie Henriksen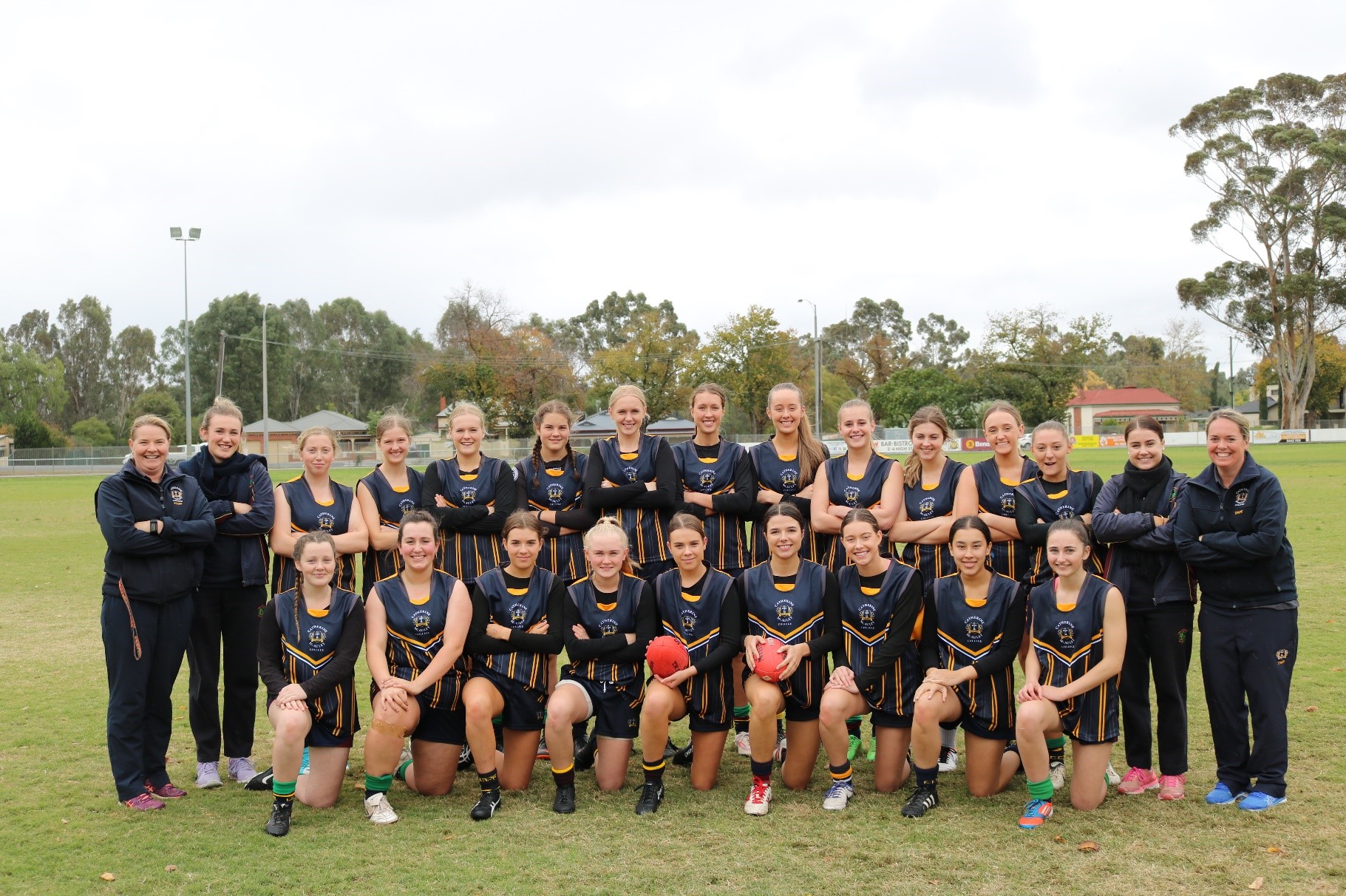 Back Row L-R: Ms Maree Pearce (Goal Umpire), Keeley Jones CH10 (Water Girl), Alice Bailey MK10, Meg Layton MK11, Grace Beckmans VT8, Matisse Appleby JR7, Emmie Banfield VT11, Bridie Semmens CH10, Kaitlyn Morgan JR7, Ellie Wilson JR10, Maddison Ledwidge JR9, Elizabeth Collins MY8, Paige Ryan MK11, Tayla Hayton CH10, Miss Kylie Henriksen (Master Coach)
Front Row L-R: Zali Smith MY9, Paris Borserio JR10, Jessica Kopp MK11, Jessica Pilling JR8, Kate Kopp MK11, Sarah Bouwmeester MK8, Matisse Perez JR10, Elizabeth Jan JR11, Lucy Membrey VT7