Senior Girls Cricket – State Finals Runners Up
16/10/2019
SCHOOL SPORT VICTORIA – STATE FINALS
Senior Girls Cricket
On Tuesday 15 October, the Senior Girls Cricket Team travelled to Northcote to play in the SSV State Championships. Our first game was played against Frankston Collage where we lost the toss and were put in to bat first.
The opening partnership of Cailin Green and Abby Powell ended sooner than expected. This sent Bridie Semmens and Holly Ryan in to bat together where they put on a partnership of 118 runs collectively, with Bridie ending up on 61 and Holly on 31. The final score for CMC's batting innings was 5 for 175.
It was then our turn to bowl. In a great display by, all we managed to bowl Frankston College out for 33 runs. Abby Powell ended up with 2 wickets and a run out, Bridie Semmens with 3 wickets, Cailin Green 2 wickets, Chelsea Furlong 1 and Abbey Clohesy pitched in with an unreal catch.
That meant that we were into the state final against Koonung Secondary College. After losing the toss again, we were made to bowl first. Although we kept our heads held high, Koonung's opening partnership punished us and sent the ball to the boundary many times. Once again Abbey Powell and Bridie Semmens were the pick of the bowlers with two wickets each.
Chasing 189 was always going to be tough but there was a great deal of determination from the group. Abby Powell and Cailin Green opened the batting once again and, as in the first game, things were not looking good as we lost a few quick wickets. Mackenzie Nally came in to steady the ship, making a handy 53 not out. Unfortunately, we were unable to get over the line, falling short in the run chase with a total of 98.
Despite the result, we still finished as the School Sport Victoria State Runners Up – a pretty good achievement!
Well done girls, we will get them next year!
Thanks to Jack Keating and Matthew Wilkinson who travelled with us and did the scoring and the umpiring. Also, a big thanks to Miss Henriksen for being a super and supportive coach.
Bridie Semmens & Cailin Green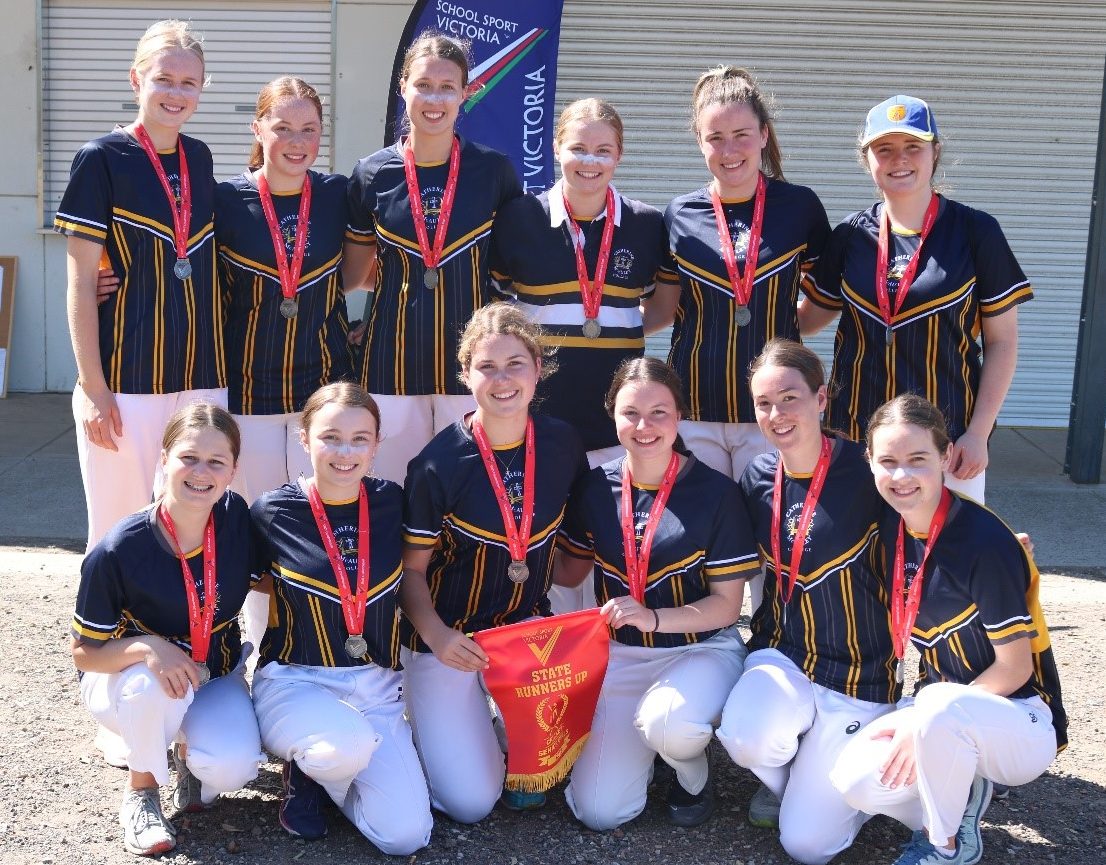 Senior Girls Cricket Team 2019
Back Row L-R: Emmie Banfield, Emily Collins, Bridie Semmens, Cailin Green, Abbey Clohesy, Mackenzie Nally
Front Row L-R: Holly Ryan, Eva Burtonclay-McMahon, Carissa Brook, Chelsea Furlong, Ellie Vlaeminck, Abby Powell