Senior Boys Cricket
21/02/2019
SCHOOL SPORT VICTORIA: SANDHURST DIVISION
On Monday 18 February the Senior Boys Cricket Team took on Bendigo Senior Secondary College (Senior) in the final of the Sandhurst Senior Boys Competition. After winning the toss, captain Nicholas Gladman decided to bat.  Openers Sheahan and McIvor were off to a fast start, hitting thirteen runs off the first two overs and were looking settled until Sheahan hit one in the air and was caught out for eleven.  Gladman was then in and out for a duck and when McIvor was also caught soon after for just two it was three for twenty-five off five overs.  Nicholas Wallace steadied the ship with a brilliant display of batting making thirty-one until an unfortunate run-out saw him head back to the bench.  Thirteen extras and eleven from Liam Nihill and ten from Ben Worme were the only other double-figure contributors.  The boys did manage to crack the hundred mark finishing with a total of 103, giving them something to bowl at.
The second innings started with Senior hitting a four off the first ball, but some brilliant bowling followed and Reardon McIvor's slick hands behind the stumps saw Burke take the first wicket in the first over. Liam Nihill then backed up that brilliant beginning in the second over, taking the prize wicket of O'Keefe for just four. The boys had done just what they had hoped for – taken quick wickets early. From there however, Senior slowly took control of the game knocking the ball around and taking easy singles as well as hitting the odd boundary to keep the score ticking over. The combination of Wallace and Walker did see the run rate slow and the pressure on Senior grew.  Wallace took a wicket in the ninth over and finished with the figures of one for nineteen off his four overs, whilst Walker took two wickets in his last over finishing with two for twenty-two.  Blake Barri and Ben Worme bowled two tight overs each with Worme taking a wicket and the game was now just that little bit more interesting. By the eighteenth over Senior were five for 98, and at the nineteenth they were six for 101, needing two runs from the last over. Senior did make the runs, but not without a fair bit of nervous tension. Alas, it was not the result the boys had hoped for with Senior reaching the required total of 104 with four balls to spare. It was a good match, but the loss results in our boys being eliminated from the competition.
Thanks to Ms Julieanne Hewitt for scoring on the day and to Mr Mark Mattinson for his assistance and the supply of Staminade.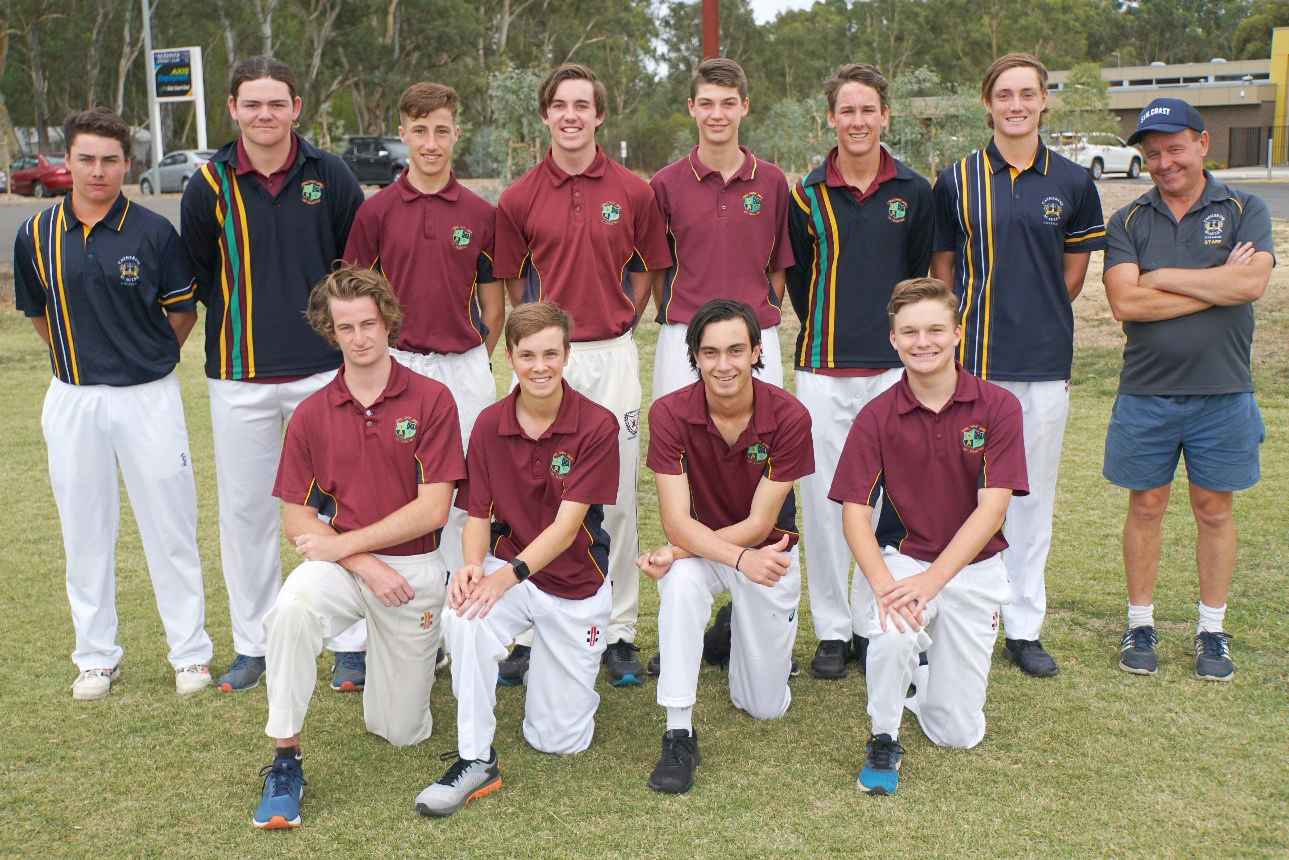 SENIOR BOYS CRICKET TEAM
Back Row L-R: Nathan Walker, Lachlan Horan, Harrison Burke, Nicholas Gladman, Liam Nihill, Nicholas Wallace, Benjamin Worme, Mr Mark Mattinson
Front Row L-R: Reardon McIvor, Blake Barri, Abe Sheahan, Declan McMahon