Senior Boys Cricket
19/02/2020
SCHOOL SPORT VICTORIA – SANDHURST DIVISION
Senior Boys
GAME 1 vs Girton Grammar
The boys won the toss and elected to bat. With the fall of Tuohey in the first over it was time to settle. Barri and Sheahan added a valuable 40 runs in good time before Sheahan departed for 26. The runs however still continued to tick over at a reasonable rate with James Barri finishing as the top scorer with 44. Scores of 10 from Walker and Wallace and 9 from Wilkinson and McKinley helped the team set a good total of 119 off their 15 overs.
Girton started their innings well making it through the first 5 overs without losing a wicket and adding 38 runs. Wallace was then introduced into the attack with immediate success as he forced a sensational run-out off his own bowling – it was that wicket that turned the match. Girton then lost a wicket per over for the next 5 overs and by the end of the 10th over they were 6 for 57. A few more runs were added and a few more wickets fell and Girton finished their innings at 9/76 off their 15 overs, giving the CMC team a 43 run win. Best of the bowling was Nicholas Wallace 3/10, James Barri 2/7 and Jack Keating 2/14
GAME 2 vs BSSC (Final)
The boys again won the toss and decided to bat – and just like Game 1 they made a steady start, despite the loss of Barri for just 1 run. Tuohey (32) and Sheahan (37) went about putting together a solid foundation, taking the score to 60 before Tuohey hit out. The flow of runs then slowed as a couple of wickets fell. However it was a great cameo from Nicholas Wallace (27), Ethan Maltby (11) and Nathan Walker (7) that saw the boys get to a reasonable total of 122 after their 20 overs.
Bendigo Senior Secondary College (BSSC) started their batting innings with a bang, surging to 17 off just 2 overs, before they lost their first wicket. The bowling then tightened up just a tad, and the pressure was very slowly starting to rise, however BSSC were punishing the loose ball and finding the boundary with relative ease. By the 10th over BSSC were sitting on 3/64, and looking the goods. Nick Wallace then took 2 key wickets and Jack Keating 1 and by the 15th over Senior were in trouble, but still very much in the game at 6 for 80.
Barri joined in the fun with a wicket of his own and when Ethan Maltby chimed in with a brilliant patch of bowling that saw him take 3 for 6 off just 2.2 overs – it was the match winning move. BSSC crumbled to be all out for 113 in the final over. It was a terrific finish to a fantastic match.
Congratulations to the entire team on an amazing result. The boys have now qualified for the Loddon Mallee Regional Finals that will be played here in Bendigo on Tuesday 10 March.
Thanks to Fletcher White who filled in on the day at the very last minute and thanks to Mr Mark Mattinson for assisting the team and umpiring.
A very special thanks to Ms Julieanne Hewitt for supplying the lollies and scoring for the team.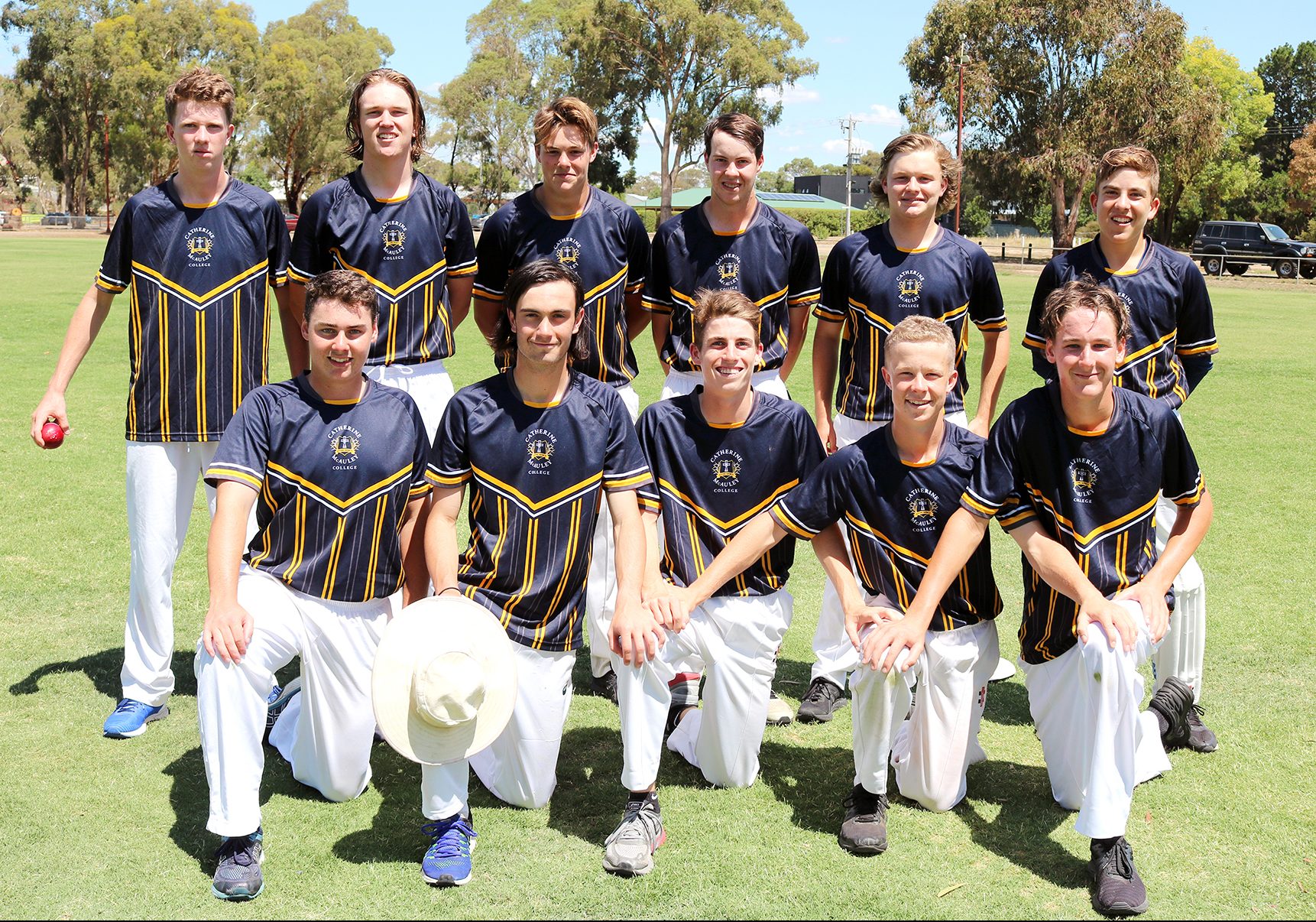 Back Row L-R: Fletcher White, Wil Tuohey, Ethan Maltby, James Barri, Declan McMahon, Matthew Wilkinson
Front Row L-R: Nathan Walker, Abe Sheahan, Jack Keating, Harry McKinley, Nicholas Wallace