Senior Boys Basketball Team going all the way
01/08/2018
Our Senior Boys Basketball Team are going all the way to State Finals following a brilliant day on the court in Echuca.
SCHOOL SPORT VICTORIA LODDON MALLEE REGION
On Thursday 26 July our Senior Boys Basketball Team travelled to Echuca to compete in the Loddon Mallee Region Basketball Finals. It was a cool day, but inside the Echuca Basketball Stadium it was like an ice chest, so the boys were more than happy to get play underway and a bit of warmth into their bones.
Game 1: The first game was against Maryborough Education Centre. This was a tough match and the scores see-sawed all the way through. In the end the game finished in a draw –16 points apiece.
Game 2: The second game was against McKillop College, Swan Hill. The boys were up and about early and got off to a great start. The player rotation then became a priority and the boys always had control and ran out winners, 34 to 20 points.
Game 3: Game 3 against Rochester Secondary was like Game 2 with the boys establishing an early lead and taking control of the game. Again, our substitute coach, Zack Shelton, used his bench wisely, enabling all players to get some game time as well as some rest. The final score was 29 points to 16.
Game 4: Game 4 was in essence a Grand Final, with the winner assured of top spot for the day. Taking on the strength of Mildura Secondary College, the boys knew that they needed to be up and about right from the start. The tactics of working the ball around the key and only taking the shot on goal when an opening occurred was a genius stroke. Mildura did not know how to handle the structured, off beat, slightly timid play as they were more about physical and dynamic style. The scoring by the CMC boys was brilliant and the lead blew out, as most of the boys' efforts when attacking the basket were successful. Add in their amazing defence and ability to rebound and the game was virtually over by the half. However, the boys did not let up and went on to record a resounding 27 to 14 win.
They were crowned champions on the day and and earned themselves a place in the State Finals to be played at the Melbourne Sports and Aquatic Centre (MSAC) on Tuesday 18 September.
Congratulations to all involved. Thanks to Zack Shelton, who although was unable to play due to injury stepped into the vacant coaching role like a pro. Thanks also to Mr Schmidt who was master at the scorers desk all day.
Senior Boys Basketball Team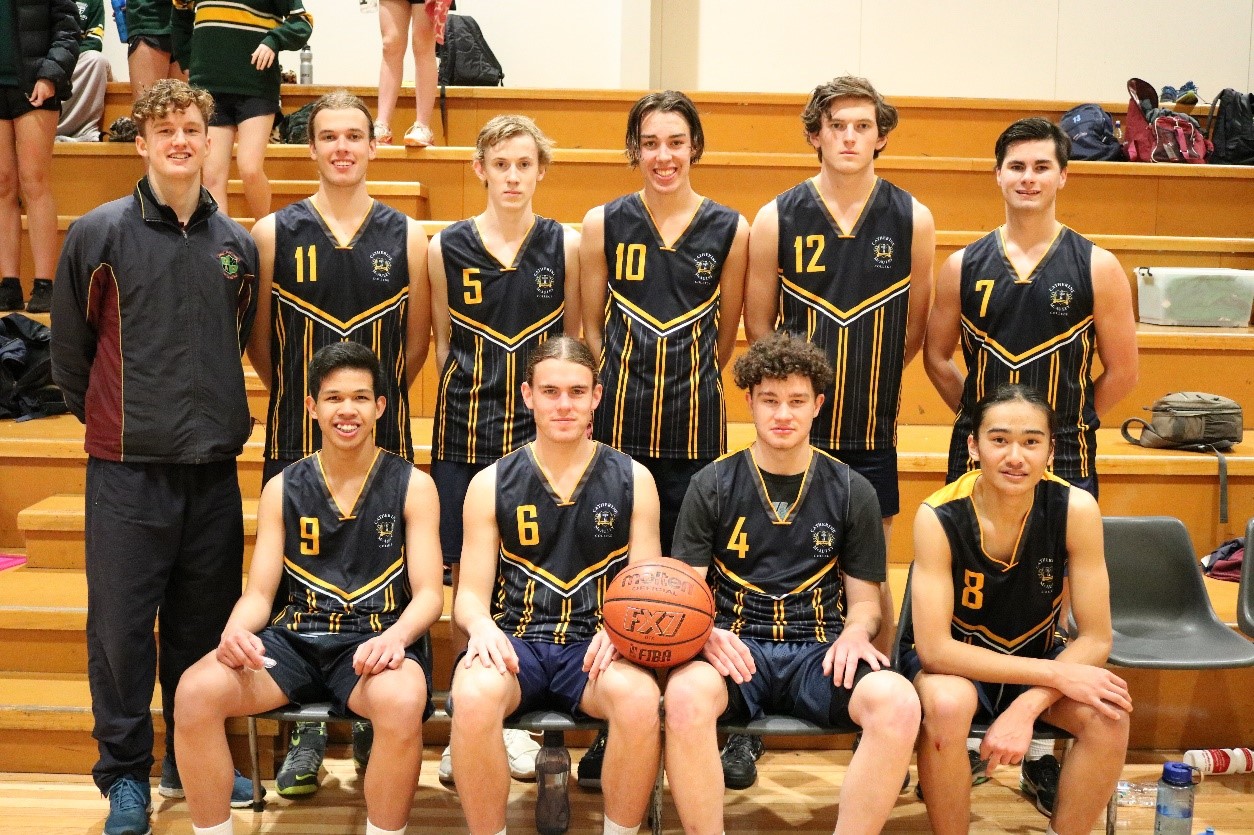 Back Row L-R: Zack Shelton CH8, Nathan Vincent JR7, Kobe Schmidt MY8, Connor Mayman CH8, Connor Sexton JR8, Kyle Symons VT10
Front Row L-R: Eujohn Romero BK9, Lachlan Baker MK11, Brody Brown VT10, Carlos Ly BK9