School Sport Victoria Athletics
16/10/2018
Sandhurst Athletics
On Friday 14 September, the Catherine McAuley College Athletics team attended the Sandhurst Athletics Carnival. It was a magnificent day and everyone who participated performed very well, with many earning ribbons. Congratulations to the following students who won their event and hence qualified for the Loddon Mallee Regional Finals to be held on 11 October – in Term 4.
Patrick Hannaford – 13M 90m Hurdles
Holly O'Brien – 13F 200m
Bryde O'Rourke – 13F 400m
Aimee Dean – 14F Javelin
Jordan Metcalf – 14M Shot Put
Charlotte Sexton – 14F High Jump
Lewis Merriman – 17M 200m
Mitchell Sherlock – 17M 3000m
Caleb Connick – 16M Triple Jump
Peter Shearman – 16M Discus
Lachlan Perdon – 17M 1500m, Shot Put
A big Congratulations to Caitlin Evans and Caleb Connick who were Age Group Champions for their respective age groups.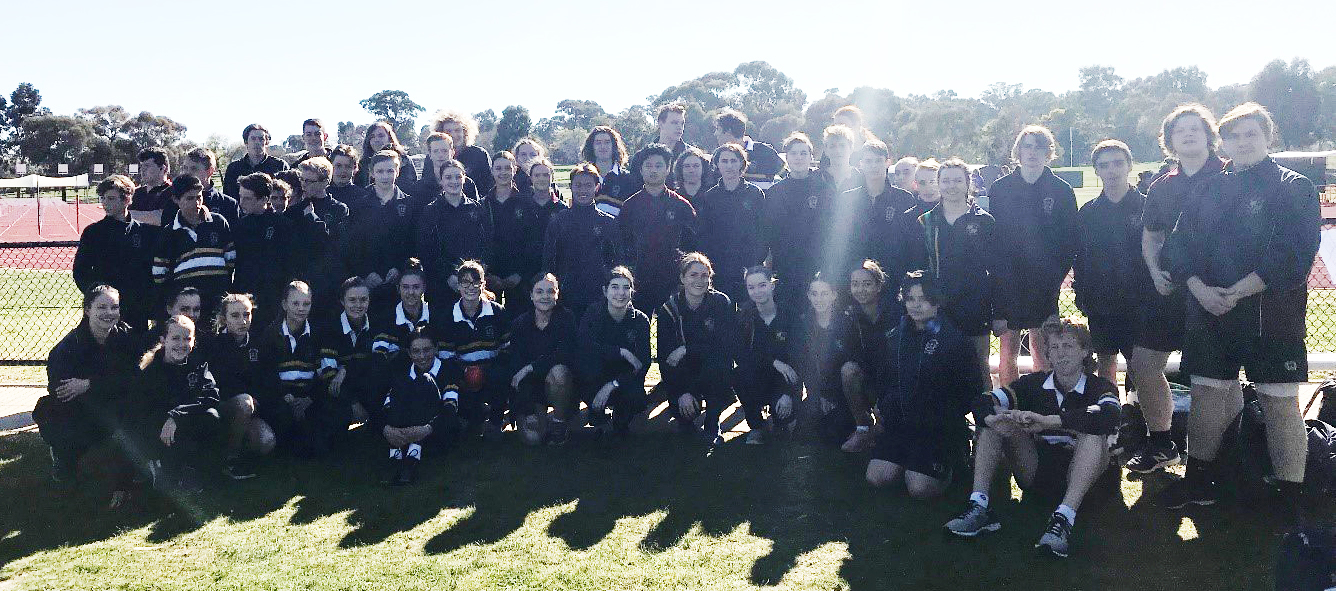 TEAM: Harry Roberts VT4, Ethan Yates MK1, Tait Poyser JR3, Bernard Nihil CH3, Patrick Hannaford MK3, Deklan Samuel MK1, Xavier Austin JR3, Taije Shelton JR1, Laura Pinder VT3, Holly O'Brien VT2, Bryde O'Rourke JR4, Caitlin Evans JR4, Maggie Keating CH5, Ella Raco JR2, Emma De Bruyn MY2, Amity Thorpe BK4, Eli Pearce VT4, Matthew Noden MK1, Hayden Waterworth MK2, Flynn Wade-Roberts CH2, Jordan Metcalf BK4, Caleb Robson VT4, Hugh Morris CH5, Tahlia Isaac MY2, Marnie Wakefield CH5, Jordan Franks MY1, Aimee Dean VT1, Charlotte Sexton JR2, Bianca Maritz VT4, Mason Costall VT1, Thomas Turner MK1, James Worme VT2, Harrison Wrigglesworth MY2, Jackson Fletcher MK1, Eli Fox VT4, Ma Kor Hser Thay CH4, Isabel Nihill CH2, Tiahna Leader MY3, Eilish Mulqueen MY4, Carissa Brook MK3, Alexandra Goggin MY2, Jayde Siddle CH4, Matisse Appleby JR7, Oscar Bradshaw BK7, Caleb Connick MK11, Chelsea Furlong JR7, Bryce Laird JR11, Thurah Maung BK10, Sophie McLean JR11, Montana McNamara MK9, Lewis Merriman BK11, Aengus O'Regan BK10, Lachlan Perdon VT11, Ryan Shaw CH11, Mitchell Sherlock JR8, Peter Sherman BK7, Lachlan Shiell JR7, Dylan Turner VT9, Zane Wilson MK9.
Loddon Mallee Region Athletics
On Monday 11 October our small contingent of Athletes headed out to the Bendigo Athletics Track for the Loddon Mallee Regional day, keen to back up their great performances from the Sandhurst day last Term. The day was perfect with the sun shining and the wind light.
All competitors put in great performances with most finishing with a medal. Results are as follows:
1st Peter Shearman – 16 boys Discus
1st Lewis Merriman – 17 boys 200m
2nd Aimee Dean – 14 girls Javelin
2nd Jordan Metcalf – 14 boys Shot Put
2nd Ryan Merriman – 15 boys 100m
3rd Bryde O'Rourke – 13 girls 400m
3rd Liam Gay – 14 boys 200m
3rd Mitchell Sherlock – Open boys 3000m
Congratulations to Peter Sherman and Lewis Merriman who have both qualified for the State Finals on 22 October at Lakeside Stadium in Melbourne – we wish them the very best of luck.