Sandhurst Division football teams all make the Grand Finals
10/08/2018
SCHOOL SPORT VICTORIA SANDHURST DIVISION
Our three Sandhurst Division football teams all exhibited great teamwork and sportsmanship as they competed in the Sandhurst Division football competition. All teams made it through the matches to compete in their respective Grand Finals. The Year 7 team and the Intermediate team will both be moving on to the next stage of the competition.
Year 7 Boys
Game 1 – CMC 6.4 (40) def Marist College 0.0 (0)
The boys were very keen to begin their CMC football careers and it showed with our first match against Marist College. Our skills were exceptional and our ball movement from half back was fantastic as we linked up with some great team passages of play and hit the scoreboard regularly. The midfield showed their class from the beginning of the game all the way through to the final siren and we ran out 40-point victors.
Game 2 – CMC 14.12 (96) def Crusoe College 0.0 (0)
Again, the boys were on from the first bounce and had no trouble creating an early scoreboard buffer against Crusoe. We continued producing great passages of play and any forward entry by the opposition was rebounded and quickly sling shot down to our forwards. The most pleasing aspect of this game was the persistence of our defenders who ensured that we did not concede a score.
With a week to prepare for the Grand Final the boys were keen to perfect their game plan, so we hit the training track hard during lunchtimes at school before the big clash.
Grand Final score CMC 6.5 (41) def Bendigo South East 0.0 (0)
The Grand Final – The key words for the day were pressure and ruthlessness and the boys showed these qualities for the entire match. We got the big "W" again, and the boys did everything they were asked to perfection. Not only did we win the match, but again we kept our opposition scoreless. The midfielders regularly won the ball from stoppages, the forwards made the most of their opportunities and the defenders set up a brick wall ensuring that the Bendigo South East (BSE) Dragons did not stand a chance. It would be a ridiculous task to name the best players as everyone was awesome! Congratulations Boys
We now look forward to the Loddon Mallee Regional day to be played in Swan Hill on Wednesday 8 August!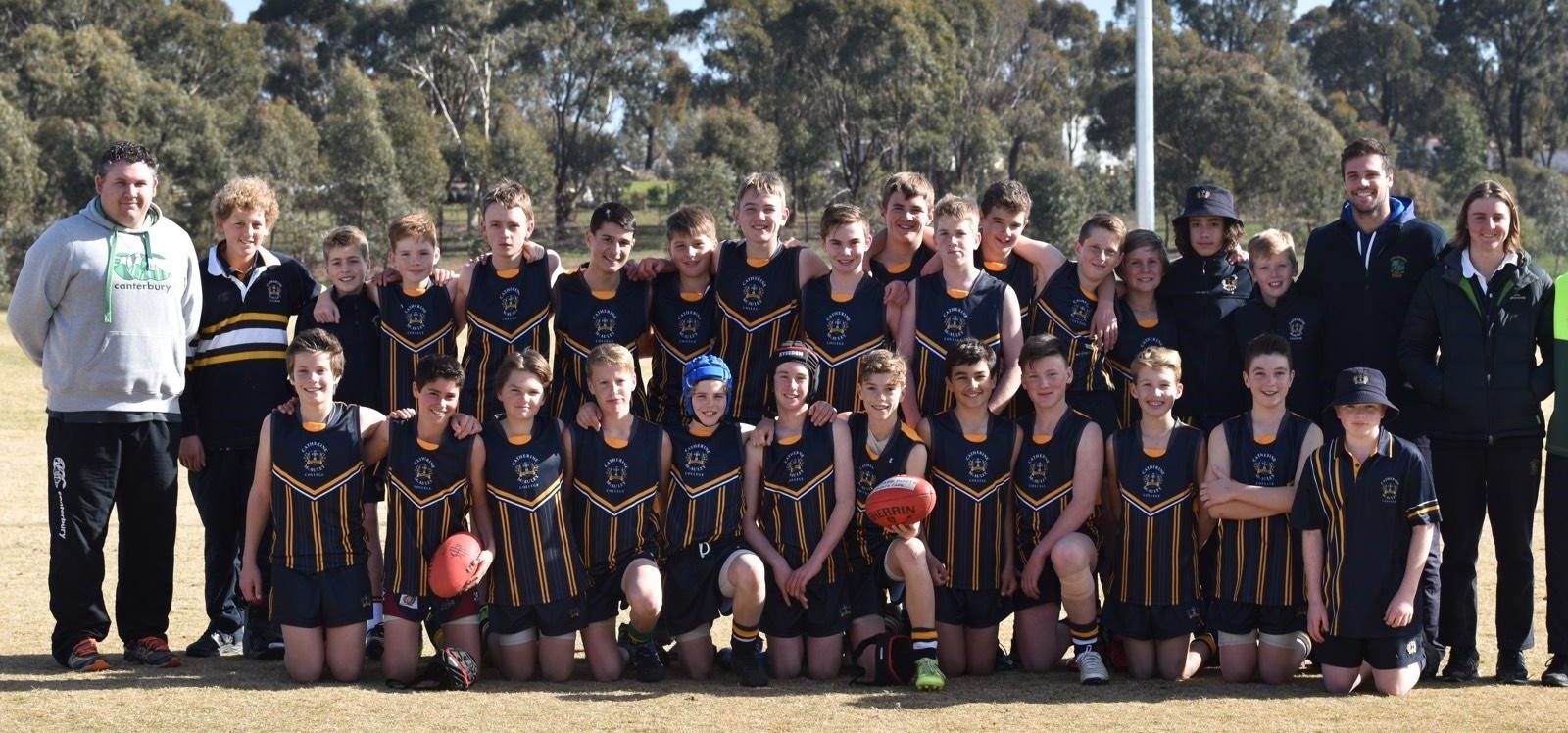 Back Row L-R: Daniel Arnott (Coach), Maxwell Harris BK2 (Helper), Will Stewart CH4 (Helper), Louis Banfield VT1, Jimmy Tuohey CH4, Blake Fazzalori MK4, Darcy Lawler CH2, Tait Poyser JR3, Kade Mulquiny BK1, Evan Cole MK4, Riley Mulquiny MY2, Toby Harrison BK3, Rory McCrann-Peters CH2, Lachlan Kelly MY4, Zachari Tarr CH2, Noah Warfe CH4, Nathan Fitzpatrick (Assistant Coach), Connor Moore BK2 (Helper)
Front Row L-R: Jasper Cheesman MK3, Bernard Nihill CH3, Zac Grieve BK1, Max Cahoon MY1, Tommi Turner CH1, Xavier Austin JR3, Patrick Hannaford MK3, Harrison Kelly MK3, Jack Lacey JR1, Samuel Pinder JR1, Charlie Edwards MK2
Year 8 Boys
On Friday 20 July, the Year 8 Football team made their way to Marist College in Maiden Gully. The morning was frosty and the ovals were soggy but the team were full of spirit. The boys played great footy and defeated Marist, Crusoe and Castlemaine Colleges to make their way to the finals. Some outstanding players of the day were: Oliver Mayman, Jake Nihill, Sam Lowes, Mason Hartland, Tom Farrelly and Henry McCarthy.
Wednesday 25 July was Finals Day and the team played an extremely confident BSE team. The game was exceptionally close and unfortunately ended with a loss for CMC. Some stand out players for the final were: Hugh Morris, Henry McCarthy, Sam Lowes and Xavier Fiske-Kealy.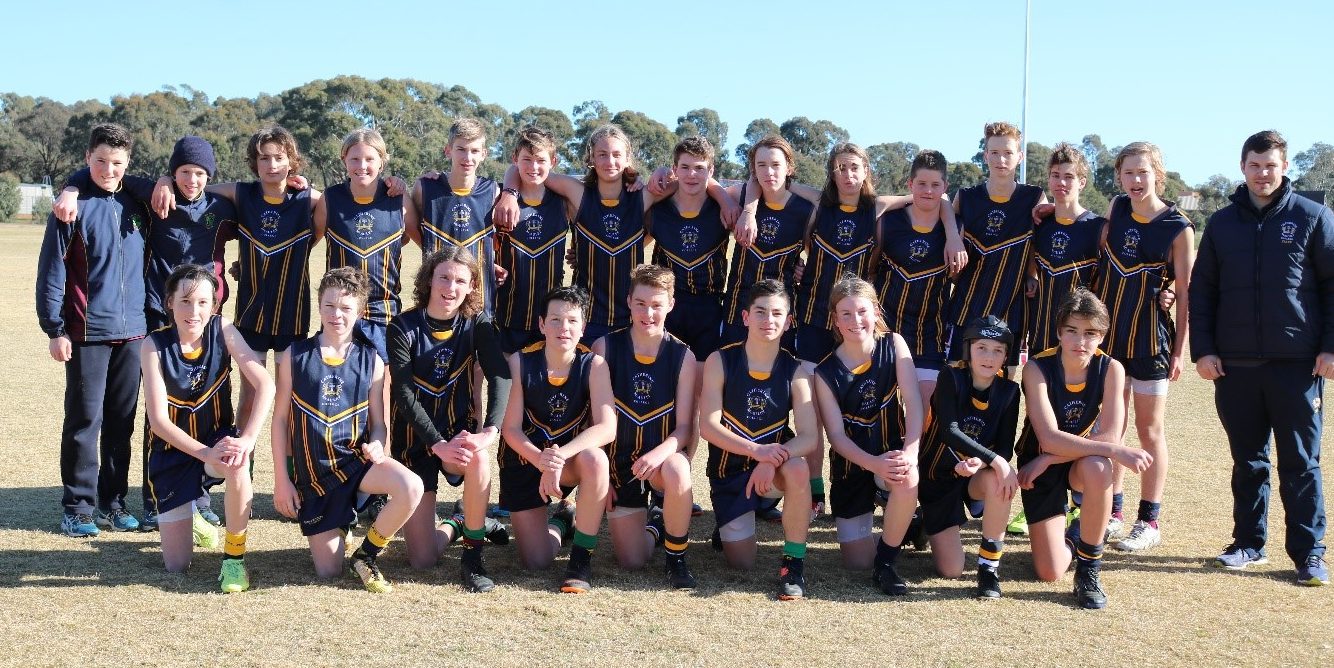 Back Row L-R: Rowan Fox MY1, Tim Long MK3, Andrew Beens MK4, Toby Naughton MY4, Jake Nihill CH5, Eli Pearce VT4, Xavier Fiske-Kealy BK3, Liam Gay BK1, Oliver Mayman CH4, Hamish Goggin MK3, Mason Hartland BK4, Hugh Morris CH5, Henry McCarthy BK3, Joshua Harris JR3 and Coach Mr Mitchell Winter-Irving.
Front Row L-R: Wilson Butler MY2, Matthew Noden MK1, Samuel Lowes BK1, Lachlan Appleby JR1, Thomas Farrelly MK1, Dylan Arnold MK2, Fraser Banfield MY3, Mitchell Griffin JR1 and Xavier Meersbergen BK1.
Intermediate Boys
The day began in cold blustery conditions, and not much changed weather wise all day. In Game 1 the boys came up against Crusoe College. The boys played a fantastic game with Noah Walsh, Isaac Carracher and Mason Wakefield among the best. Final scores were CMC 6-13-49 to Crusoe 1-0-6
Game 2 was against Girton and this match was a game of total domination. Everyone did their bit and followed the coach's instruction in this match with Brodie Hartland, Campbell Rowland and Lincoln White all standouts. The final score was CMC 12-5-77 to Girton 0-2-2
Game 3 was against Marist College and what we thought would be our hardest match for the day. It was a tough contest, but the skills of the group outshone Marist and again it was a whole team effort that got the boys the victory. Best for CMC were: Abe Sheahan with 3 goals, Joseph Fiske-Kealy, Harvey Gallagher and Harrison Welch.
Final – vs Bendigo South East.
The final was held a week after the preliminary rounds and was played at Marist College. The boys were up and about early and with the inclusion of Cooper Smith and Samuel Conforti the team was confident of bringing home the win. The match was scrappy from the outset as both team put players behind the ball. It was however, the class of CMC that began to shine as the scoring shots were 5 to 0 in the first half. Inaccuracy was the enemy as it was CMC 1-4-10 to BSE 0-0-0 at the half time break. The lead was good, but definitely not enough.
The boys came out with much more determination and cohesion in the second half and started to run the ball better. 2 more goals sealed the match, as BSE couldn't get the ball past the brilliant defensive unit led by Tanner Nally. It was a 23-point to 0 victory, and a place in the Loddon Mallee Regional Finals was well earned. Congratulations to all players on a brilliant win.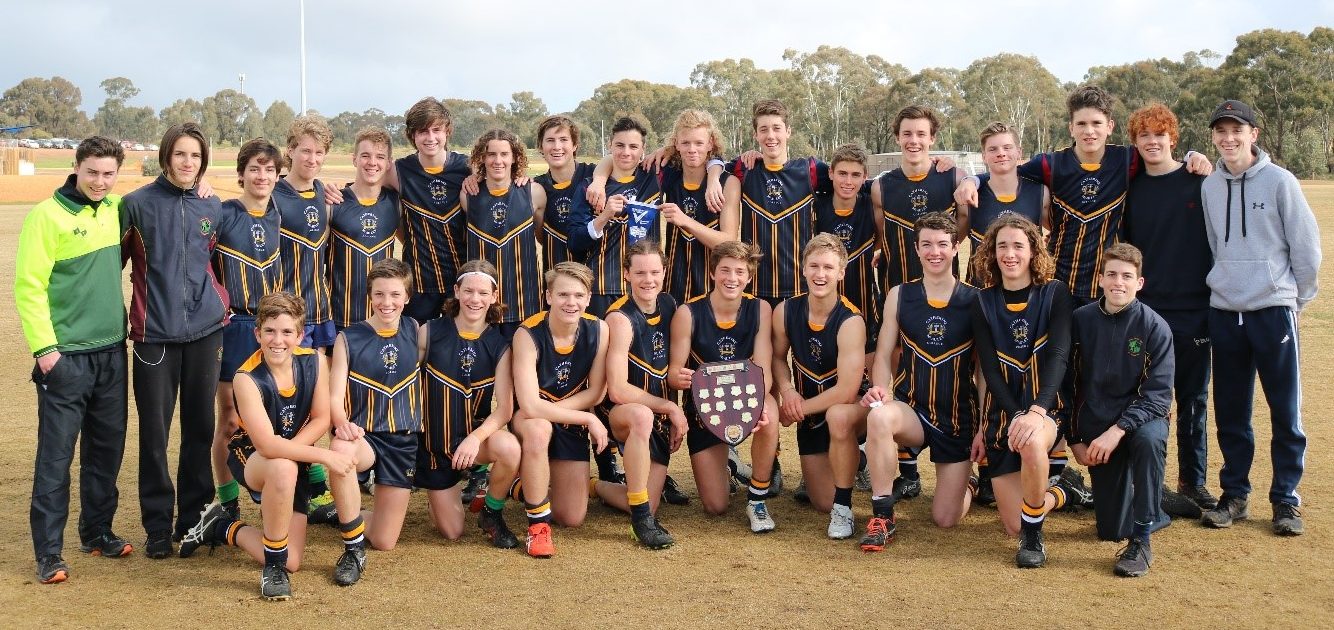 Back Row L-R: Nathan Walker BK11, Nicholas McKinley BK9, Ethan Arnold MK11, Bryce Laird JR11, Harrison Welch BK2, Timothy Hosking CH9, Thomas Bennett CH4, Tanner Nally CH7, Conor O'Farrell MY10, Kyle Jones CH11, Brodie Hartland BK10, Tyron Papallo CH7, Cooper Smith JR7, Isaac Carracher CH9, Campbell Rowland CH10, Noah Walsh CH8, Darcy Mulquiny MY11
Front Row L-R: Matthew Wilkinson VT3, Harvey Gallagher MY4, Liam Shiell JR11, Thomas Hartley JR11, Mason Wakefield CH11, Samuel Conforti BK11, Joseph Fiske-Kealy, Daniel Murray MY9, Lincoln White VT1, Jack Keating CH4
Absent from Photo: Abe Sheahan BK8
It was amazing to see such incredible support from so many parents and families. The vibe, especially on the finals day was terrific and great to be a part of, so thank you to everyone that supported all the teams on all the competition days.