Reflecting on the Premier's Award Winners
Kate Boon and Lileigh Rivett, VCE VET Allied Health
Receiving Premier's Awards is a reflection of Kate and Lileigh's dedication and hard work in VCE VET Health, not only in the lead up to the exam but throughout the entire year. Both students completed numerous practice exams, mini quizzes and they took on feedback to continue developing their understanding of the topics.
As part of the VCE VET Health subject at Catherine McAuley College Kate and Lileigh completed hospital and aged care placements. This allowed them to transfer their knowledge into practice whilst also allowing them to recall this experience when answering case study questions.
As their VCE VET Health teacher I would like to congratulate Kate and Lileigh on their achievements and winning the Premier's Award and I wish them well in their future.
Mrs Aleisha Gill
Luke Harris, Computing: Software Development
A wise philosopher once wrote that "success at anything will always come down to focus and effort, and we control both". These exact traits are why Luke Harris is a Premier's Award winner.
His major School-Assessed Task project, a garden rotation program, showed extreme dedication and continual problem-solving over six long months. Luke squeezed every minute out of every class, always improving by fractions of a percentage, using feedback to the fullest and developing ideas to their maximum possible output before moving on to the next item of learning.
It has been an absolute honour to do my small part in helping Luke achieve his potential and I encourage others to use Luke as a model of success.
Mr Darren Scott
Matthew McDonald, VCE Drama
Matthew McDonald committed himself to every aspect of his studies in Drama, excelling in both the practical and theoretical aspects of the course.
Receiving a Premier's Award is a testament to Matthew's determination to seek out every opportunity, embrace every challenge and implement feedback. This ensured Matthew was able to develop and refine his skills, deepen his knowledge and achieve his very best. Matthew was always innovative in his approach to Drama, bringing enthusiasm, passion and creative flair to every performance and written task.
On behalf of all his teachers, I want to congratulate Matthew on his outstanding achievements including Dux of the Catherine McAuley College and his Premier's Award for VCE Drama.
Mrs Lisa Darlow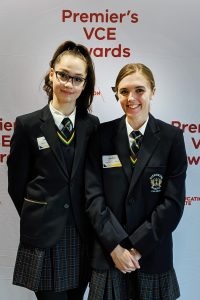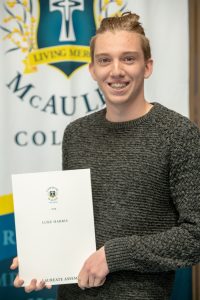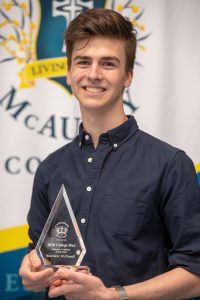 Lileigh Rivett, Kate Boon, Luke Harris and Matthew McDonald