Project Compassion, Shrove Tuesday & Ash Wednesday
21/02/2019
Shrove Tuesday & Ash Wednesday
Fr Rob will join our community for Ash Wednesday Liturgies. The public launch of Project Compassion is on Shrove Tuesday, 5 March, in Hargreaves Mall, Bendigo. urgies on 6 March.
Project Compassion
The theme for Project Compassion 2019 is based around HOPE and giving Lent 100% in the name of hope. Hope is one of the three pillars of Christian virtue. The other two being faith and charity. It is a powerful force for good and helps to transform lives.
Based on God's love for all, HOPE helps us face life's challenges and sustains us as we work alongside the most marginalised and vulnerable to shape a better future for their communities.
Project Compassion Launch
Students from Catherine McAuley College will support this launch by handing out pancakes and being part of the musical performances from local Catholic schools.
Caritas Guest Speaker
Each year we are fortunate to have a Caritas Lenten visitor in the Sandhurst Diocese.
The visitor is Super Dube, Coordinator of Caritas Hwange, who features in the main film about Thandolwayo and her community in Zimbabwe. He will speak to the Year 8 students on 15 March which will tie in with the unit they are currently studying in Veritas …A Just World. Click here to find out more.
Students are encouraged to consider ways they can support Caritas.  Caritas encourages sharing of the five facts below with friends and then donating $5, which is what many would spend on a coffee each day.
Mrs Trish Schofield, Deputy Principal – Faith and Mission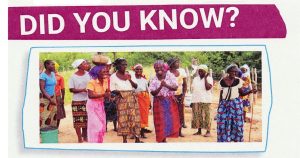 WALKING FOR WATER: In Zimbabwe, each morning some children have to walk 7 kilometres, at risk of crocodile attack, to collect water. Then they go to school exhausted!
TRAVELLING FOR LIFE: In Bangladesh, many mothers die giving birth and nearly 30 in 1,000 newborn babies die. Many more are born suffering malnutrition and have a low birth weight. Pregnant women often have to travel 11 kilometres on foot to their nearest clinic for vital, pregnancy-related medical care.
CYCLING 20km TO MARKET; In Vietnam, many people have to cycle up to 20km balancing their crop of fruit and vegetables, or sometimes even livestock, on their bicycle to get it to market.
EDUCATION; Students in the Solomon Islands walk several kilometres in search of clean water, in the middle of their school day. Because of this, many students miss class or even a day of school.
SWIMMING TO SAFETY; In the Philippines, when a typhoon hits, many people have to swim a long way to get to safety. Extreme weather events are a common occurrence in this country.
Share these 5 facts with 5 friends – perhaps for $5 – and raise funds for our neighbours who have to cover many kilometres to access fresh water, food, safety, or attend school.