Principal's Update
16/11/2018
Year 12 Graduation
We look forward to congratulating all the 2018 Graduates at Thursday's Graduation Mass and Celebration; I am sure it will be a fitting conclusion to an outstanding year. The exam experience can be one of great anxiety for many, so well done for getting to the end. We pray that you will be justly rewarded in the coming weeks. Congratulations to the growing number of students who have already accepted and are about to commence apprenticeships.
Remembrance Day
This week Australians celebrated the 100th Anniversary of Armistice Day, an event we celebrate as Remembrance Day. The information cited below is from the Australian Government.
Australian casualties
Almost half the eligible male population of Australia enlisted during the war.[34] The impact of the war on the population of Australia, which in 1914 numbered just under 5 million, can be gauged from the number of casualties outlined on the Australian War Memorial's website:
The First World War had been a long and destructive conflict for all the nations involved. Throughout the course of the war, of the 330,000 Australian soldiers who saw active service, approximately 60,000 were killed, 82,000 were wounded in battle, and a further 88,000 suffered a variety of illnesses and injuries. By December 1918, 104,000 Australian soldiers had returned from service as invalids.[35]
In his 2005 Remembrance Day speech, the former governor-general, Major General Michael Jeffery, summed up the terrible human toll:
In the course of the war 416,809 [Australian] men had enlisted for service overseas, of whom 331,000 actually left Australia. At the war's end there were 95,951 men in France, 17,255 serving in the Middle East, and a further 58,365 in depots, bases and hospitals in Britain. Total casualties were 60,000 dead, 166,811 battle casualties, 4,098 prisoners of war and missing, and 87,865 sick from other causes. We lost nearly 6,000 killed and wounded in one day at the battle of Fromelle [sic]. It was an enormous effort; proportionately we suffered the highest casualty rate of any army in the war.[36]
Tragically, the legacy of physical and mental trauma claimed as many Australian lives within the following decade as were lost during the war itself. Of those who returned to Australia, 60,000 died within ten years of their return because of '… the maiming effects of poison gas, what was termed shell shock and other serious physical disabilities. Then there was the insidious toll taken by alcoholism, violence, broken marriages and suicide'.[37]
Read more: https://www.aph.gov.au/About_Parliament/Parliamentary_Departments/Parliamentary_Library/pubs/rp/rp1819/RemembranceDay
When one thinks for the sacrifice and reads the reports of extreme losses in so many rural communities it is staggering to fathom how these families and small places managed to survive such grief and suffering, let alone loss of manpower in a time of the horse and bullock in regional areas.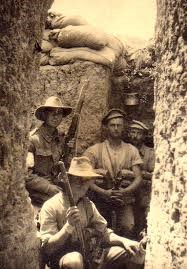 As the years meander on it is important that we remember their sacrifice – Lest We Forget. In a time where we prefer short snippets of information, it might be worth stopping and reminding our students and children of this massive contribution that was dedicated to our freedom and democracy. Sometimes, in certain circles, the notion of the Anzac Spirit is regarded as devisive and a little too patriotic.  As a grandson and great grandson of Diggers I can still remember the stories and the utter loss that those generations endured for our benefit.
On the eleventh hour of the eleventh day in the eleventh month of the year 1918, an armistice was signed, ending the "war to end all wars" – World War I. November 11 has therefore been set aside as Armistice Day, a day to pray for those who have died serving their country. 
Prayer of Remembrance
Let us pray for all who suffer as a result of conflict, and ask that God may give us peace: 
For the service men and women who have died in the violence of war, each one remembered by and known to God; May God give peace, God give peace For those who love them in death as in life, offering the distress of our grief and the sadness of our loss; May God give peace. 
For all members of the armed forces who are in danger this day, remembering family, friends and all who pray for their safe return; May God give peace, God give peace
For civilian women, children and men whose lives are disfigured by war or terror, calling to mind in penitence the anger and hatreds of humanity; May God give peace. 
For peace-makers and peace-keepers, who seek to keep this world secure and free; May God give peace, God give peace. For all who bear the burden and privilege of leadership, political, military and religious; asking for gifts of wisdom and resolve in the search for reconciliation and peace. May God give peace. 
O God of truth and justice, we hold before you those whose memory we cherish, and those whose names we will never know. Help us to lift our eyes above the torment of this broken world, and grant us the grace to pray for those who wish us harm. As we honour the past, may we put our faith in your future; for you are the source of life and hope, now and for ever. 
Amen
Mr Brian Turner, Principal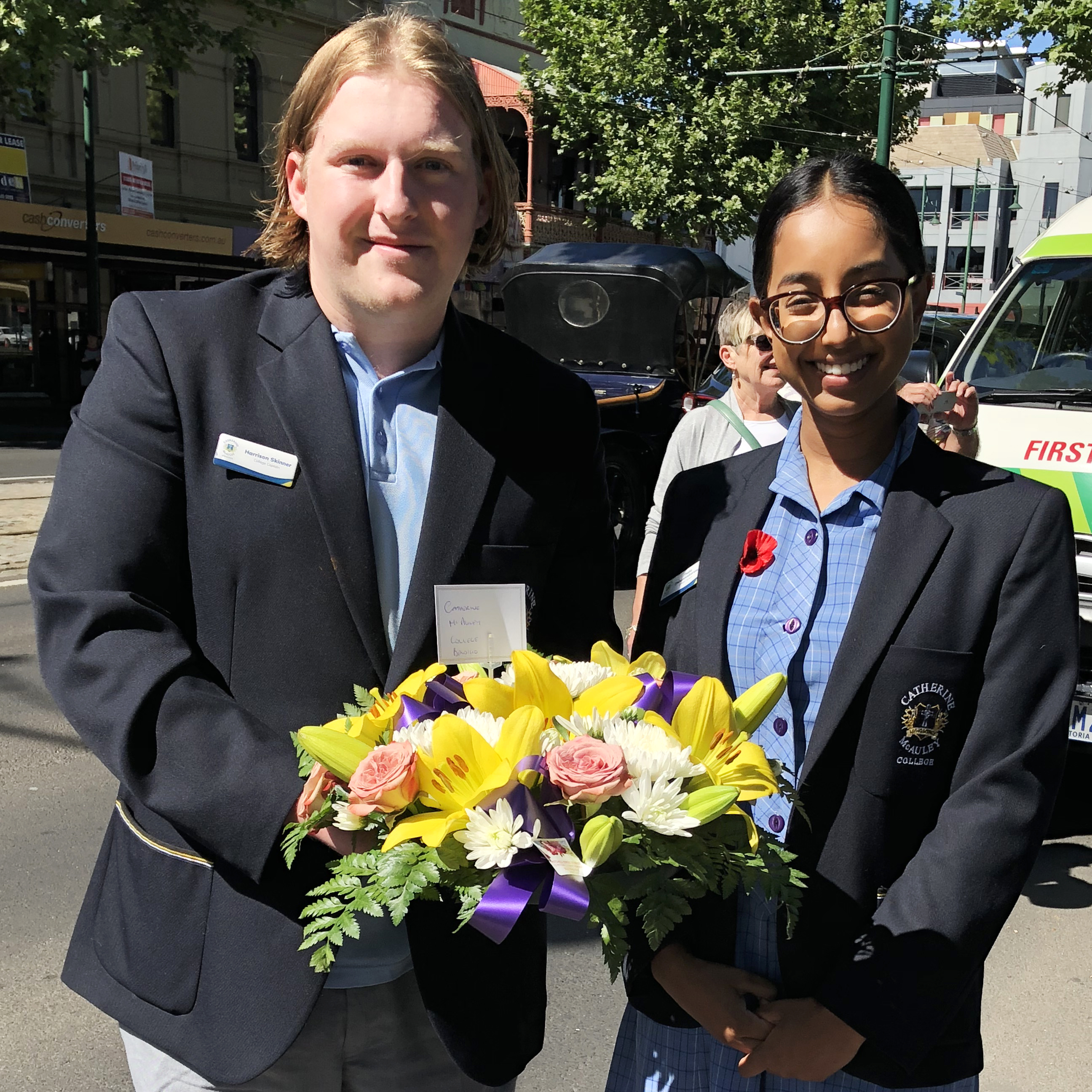 Our 2018 College Captains Harrison and Thalia represented Catherine McAuley College at a beautiful Remembrance Day service on Sunday morning at the Soldiers' Memorial in Pall Mall.