Principal's Update
15/11/2019
Remembrance Day
This week Australians celebrated the 101st Anniversary of Armistice Day, an event we celebrate as Remembrance Day. In reflecting on the day, I have sourced some detail from the Australian Government.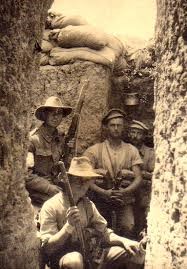 "Lest We Forget"
As the years meander by, it's important that we do not forget the sacrifices. In a time when we prefer short snippets of information, it is worth stopping and reminding our students and children of this massive contribution that was dedicated to our freedom and democracy. Sometimes, in certain circles, the notion of the Anzac Spirit is regarded as divisive and a little too patriotic.  As a grandson and great grandson of Diggers I can still remember the stories and the utter loss that those generations endured for our benefit.
On the eleventh hour of the eleventh day in the eleventh month of the year 1918, an armistice was signed, ending the "war to end all wars" – World War I. November 11 has therefore been set aside as Armistice Day, a day to pray for those who have died serving their country.
Prayer of Remembrance
Let us pray for all who suffer as a result of conflict, and ask that God may give us peace:
For the service men and women who have died in the violence of war, each one remembered by and known to God; May God give peace, God give peace For those who love them in death as in life, offering the distress of our grief and the sadness of our loss; May God give peace.
For all members of the armed forces who are in danger this day, remembering family, friends and all who pray for their safe return; May God give peace, God give peace For civilian women, children and men whose lives are disfigured by war or terror, calling to mind in penitence the anger and hatreds of humanity; May God give peace.
For peace-makers and peace-keepers, who seek to keep this world secure and free; May God give peace, God give peace. For all who bear the burden and privilege of leadership, political, military and religious; asking for gifts of wisdom and resolve in the search for reconciliation and peace. May God give peace.
O God of truth and justice, we hold before you those whose memory we cherish, and those whose names we will never know. Help us to lift our eyes above the torment of this broken world and grant us the grace to pray for those who wish us harm. As we honour the past, may we put our faith in your future; for you are the source of life and hope, now and for ever.
Amen
Future Directions
Over the past months the College has continued to develop and refine our Future Direction document and associated strategic directions for the next five years. It was presented to the College Advisory Council this week and to the staff. A parent evening was held at the end of last term.
Please review the Future Direction 2020-2024 document from this link. If you wish to make comment please do so as you scroll through the various Pillars, Mission Statements, Strategic Aims and Annual Actions.
2019 Graduands
Congratulations to all of our 2019 Graduands. The exam experience can be one of great anxiety for many, so well done for keeping going to the end. We pray that you will be justly rewarded in the coming weeks and hope that Thursday's Graduation Mass and Celebration will be a fitting conclusion to an outstanding year. Congratulations to the students who have already accepted and are about to commence apprenticeships and start employment.
Staff Appointments for 2020
I am pleased to announce and welcome the following staff who will be new to our College next year:
Director of Learning and Teaching – Coolock: Mr Michael Goss
Applied Learning Coordinator: Ms Mary-Ann Tonini
Teacher Librarian – Coolock: Ms Cathy Samson
I extend congratulations to the following staff who will be taking on new roles next year:
Director of People and Culture: Ms Kristen Simpson
Faith and Formation Interdisciplinary Learning Leaders: Mrs Sarah Cody and Mrs Lisa Darlow
Year Level Learning Leader: Mrs Sharna Frawley
Learning Diversity Leader: Mrs Tammy Goggin
Head of Library – St Mary's: Mrs Sharon Wallace
Mr Brian Turner, Principal
A prayer for Our Country, in fire and drought.
Our heavenly Father, creator of all things and especially the creator of this land and its original peoples, we call out to you in these desperate times as we see the first catastrophic fire warnings for New South Wales, as fires have already swept across several parts of our land.
Our hearts cry out to you in desperation for those whose properties are affected by ravaging fires and whose very lives are in danger.
Father we pray, in your mercy, restrain the forces of nature from creating catastrophic damage; in your mercy protect human life.
Guard those who selflessly step into the breech to fight these fires. Guide police and authorities who help evacuate and shelter those who are displaced.  Bring comfort and healing to all who suffer loss.
Remembering that long ago you extended your hand through your servant Moses to stop the waters and then to return the waters to their normal course, so we pray for rain.
In your mercy, we pray for drenching rain.
We pray that despite the forecasts, in your miraculous power you would bring forth rain to quench these fires and to bring life back into the earth, so that crops may grow and farmers may bring forth the harvest of the land again.
We bring these requests before your throne, in the name of your Son, who died and rose again for our deliverance,
Amen.