Principal's Update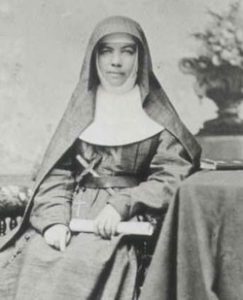 This is a significant week for the Catholic Church in Australia. As a nation we celebrate the Feast Day of Saint Mary of the Cross MacKillop, Australia's first and only saint. It is fitting that the birth of Mary MacKillop is celebrated in a week when our nation and communities reflect on the plight of the homeless and poor, attempting to reconcile and acknowledge their needs.
One of the most quoted, motivating and well-known sayings of Mary MacKillop is "Never see a need without doing something about it." (1871)
In Mary's time the response to the needs of the day just grew and grew. Within four years of beginning the work in Penola, Mary had established forty schools and had 120 other young women join her in the mission.
She had in this time also established three refuges – one for women coming out of prisons, one for the aged and one for orphans.
Twenty years after Mary began there were 169 Josephite communities spread across the colonies of South Australia, Queensland and New South Wales. By then, Mary had also responded to the call to go to the South Island of New Zealand.
Mary's legacy has gone well and truly beyond the beginnings in Penola. Sisters of St Joseph today are a robust group of women working in Australia, New Zealand, East Timor, Ireland, Peru and Brazil and follow in Mary's footsteps doing a wide variety of works, revealing to all the hospitable heart of God.
Ever generous God,
You inspired Saint Mary MacKillop
To live her life faithful to the Gospel of Jesus Christ
and constant in bringing hope and encouragement
to those who were disheartened, lonely or needy.
With confidence in your generous providence
and through the intercession of Saint Mary MacKillop
We ask that you grant our request……………….
We ask that our faith and hope be fired afresh by the Holy Spirit
so that we too, like Mary MacKillop, may live with courage, trust and openness.
Ever generous God hear our prayer.
We ask this through Jesus Christ. Amen.
Mary's legacy still impacts today through the incredible work of the Josephite Sisters and the numerous Schools that celebrate the Josephite charism and the story of their Founder. For those who have had exposure to the Josephites the common theme or mission is the call to action.
When one thinks of the growing issue of homelessness here locally and nationally we need to be reminded of Mary's work and legacy.
Read more about St Mary of the Cross MacKillop https://www.sosj.org.au/our-foundress-mary-mackillop/legacy
McAuley Services for Women visit to Coolock
This week at the Coolock Assembly and at a forum with the Year 10 students, Ms Tanya Mathias from McAuley Services for Women, Footscray, spoke of the support they provide for women who are homeless or victims of abuse. One challenging aspect of their service is the number of women from country Victoria who end up in Melbourne to escape violence or because there is a lack of housing and support networks and agencies. As a community that is something that we can work at changing.
On Mercy Day this year we will be acknowledging the work of this team, learning more about their work and raising awareness and funds to support that great work.
When we think of McAuley, Vincent, Champagnat, MacKillop and Backhaus they were all similar in their service and closely model and reflect the values of our community, Compassion, Justice, Courage, Respect, Hospitality and Service. Although it is not always easy or popular to show the courage to care, it is our role as adults to support our sons and daughters in identifying a modern need and responding as Mary MacKillop did.
Have a great week.
Mr Brian Turner, Principal