Principal Update to Parents & Carers (COVID-19)
02/06/2020
UPDATED 3 June 2020
Catholic Education Sandhurst has sent this message in recognition of the way in which our CMC community has faced the COVID-19 challenges. In turn, we thank them for their ongoing support and advice throughout this this time.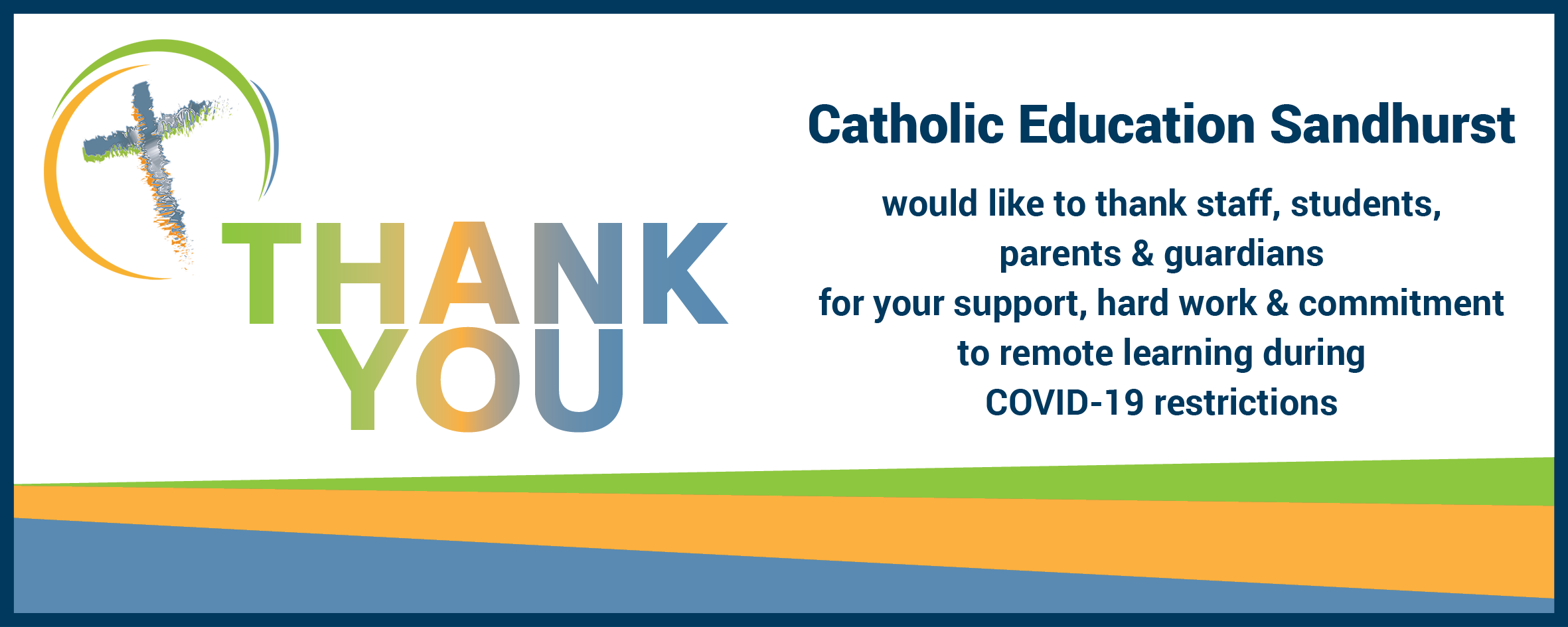 UPDATED 1 June 2020
Years 7 – 9 Return to School on Tuesday 9 June
Thank you for your support during the period of remote learning. We have worked together to support our students as a College community and we should all be proud of this partnership. Your feedback over the past seven weeks has been well received, and we hope that we have been able to continually adjust to support our students.
Following advice from the Chief Health Officer, all students from our Coolock Campus can return to on-site learning from Tuesday 9 June.
Please read the full communication below, which clarifies the position of the College on various important matters. Further information is also provided under the 'Frequently Asked Questions (FAQs) section at the end of this letter…
CMC-Year 7-9 Return to School Information for Parents-2 June 2020
UPDATED 27 May 2020
Re: Year 10 Immunisations 2020
Please read in full this important information regarding Year 10 Immunisations from the City of Greater Bendigo, on behalf of Catherine McAuley College.
"Due to the ongoing requirements to maintain social distancing and enhanced hygiene requirements associated with COVID -19, the City of Greater Bendigo Immunisation service has decided not to attend schools to administer Year 10 Immunisation of Meningococcal ACWY. Instead we are offering the Year 10 immunisation at Strathdale Community Centre, 155 Crook Street, Strathdale…"
Download full letter below for instructions.
Year 10 Immunisation of Meningococcal - from COGB on behalf of CMC - 27 May 2020
UPDATED 21 May 2020
Re: Years 10-12 Return: Thank you for all your support during the period of remote learning. Your ability to adapt to a totally new way of schooling has shown your remarkable resilience and adaptability.
Further to our previous communication, following advice from the Chief Health Officer, schools can begin a phased return to onsite schooling. As we continue to receive updates, we hope this letter provides you with clarification on a number of points.
In the first stage, our senior students at St Mary's will return to school from Tuesday 26 May. All Year 10, 11 & 12 classes will be run from their timetabled classroom starting Tuesday 26 May. Most Year 10 students will be present in these classes as they will be onsite in order to attend their acceleration classes. Year 10 students who aren't attending onsite can join Year 10 classes via Google Meets…download letter below for full information…
… We really look forward to seeing you in person next week and know that we will continue to support each other as we learn and adapt to this next stage of the COVID-19 challenge. Please note that Mr Tim Edwards will be communicating similar information prior to Coolock students returning on site on Tuesday 9 June.
Mr Ben Fitzpatrick, Deputy Principal – St Mary's
Download the Years 10-12 Return to School Information 21 May 2020
UPDATED 13 May 2020
Thank you for all your support during these past few weeks of remote and flexible learning.
Following advice from the Chief Health Officer, the Victorian Government and the Catholic Education Commission of Victoria Ltd (CECV) have advised that schools can begin a phased return to onsite schooling. Sandhurst Catholic schools will adhere to this advice…
Download the COVID-19 Principal Letter 13 May 2020 to Parents and Carers - Return to classroom learning
UPDATED 1 May 2020
Mr Paul Desmond, Director of Catholic Education Sandhurst has written to the CMC community today:
"I write to extend to you my sincere thanks for the manner in which you and your children have met the challenges presented to education by the Coronavirus and to commend you upon the support you have given to your school's leadership and staff.
"This has been a strange time, but one that is also unsettling. The education of our young is a very high priority for us all. They are the future of our nation. They deserve the best we can possibly give them. I am very much aware that Catherine McAuley College continues to deliver quality learning during this period, even in these difficult circumstances. Your support of the Principal and Staff is crucially important as we move through this period of remote learning….
Catholic Education Sandhurst - Director Letter 1 May 2020 to Parents and Carers
UPDATED 24 April 2020
College Fees – Catholic schools have a long tradition of offering school fee relief and assistance to families facing financial difficulties. Catherine McAuley College keeps fees as affordable as possible, but we know many families will be facing serious financial difficulties during this challenging time…
Parent Financial Letter COVID 24 April 2020
UPDATED 16 April 2020
We have started Term 2 and are making some great progress as we try to understand how this is all going to work. The most important thing to remember for the next term is please be patient, be flexible and try not to be reactive. There will be mistakes and criticisms of decisions made right through the term. We will try and be reflective and anticipate as many of these concerns as we can. Some students and families want more contact and communication, some want less, some have not read anything. It is a real balance to keep everyone happy. What has been noticeable is the level of tension and anxiety that is across the board…
Download the COVID-19 Principal Letter 16 April 2020 to Parents and Carers
UPDATED 8 April 2020
Yesterday an announcement was made by the Victorian State Government outlining that all schools will be working remotely for Term 2, and still providing an opportunity for students of parents who are providing essential services to attend school…
Read the full Principal's Update of 8 April 2020
UPDATED 5 April 2020
As we celebrate Palm Sunday and the commencement of Holy Week I hope that you are safe and well. The past few weeks have been very challenging at a range of levels and we pray that everyone is safe.
Since our last communication, Catherine McAuley College staff have been busily preparing for a remote learning setting and determining the logistics of how that will function. At this point we do not know what the exact details are for the start of term two. We are waiting to be advised by the State Government and by the Catholic Education Commission of Victoria of the contingencies and directions. We expect this announcement to be circulated early this week.
What we do know is that the staff will be working either remotely or on site from next Tuesday 14 April and students will be doing something similar from Wednesday 15 April. Once we have been directed, we will send further information to students and families.
Through the break we have received updates every day, a final direction will be a blessing so we can prepare and know of the specifics. At the moment the general consensus is that students and staff will be working remotely at the start of the term. Even today media channels discuss further measures being planned by the Victorian Government to restrict the risk. So, one would assume that will be the situation for schools through the coming weeks.
Once again when we know the detail you will be informed and the planning and preparation for a remote learning environment can be activated.
Please stay safe and remember those who are vulnerable and suffering in your prayers through Holy Week.
Regards
Brian Turner
Principal
UPDATED 23 March 2020
In line with the State, we will be concluding Term 1 classes today, Monday 23 March 2020, and commencing the school holidays early. This short notice may cause inconvenience for families, but we need to follow State advice…
05_COVID-19 Principal Letter 23 March 2020 to Parents and Carers
UPDATED 21 March 2020
Dear Students, Parents and Carers
The State Government has declared this coming Friday (27 March 2020) and the first day of Term 2, Tuesday  (14 April 2020)  to be student-free days so that teachers can prepare for remote learning.
The Catholic Education Commission of Victoria, Mercy Education Ltd and the Sandhurst Diocese are supporting this positive initiative.
Please keep track of these ongoing changes and thank you for your great support through very trying times.
If you need further information please email principal@cmc.vic.edu.au
Regards
Brian Turner
Principal
UPDATED 20 March 2020
Dear Parents, Carers and Guardians of students from our Mercy Education Ltd schools,
Mercy Education, on behalf of the Institute of the Sisters of Mercy of Australia and Papua New Guinea, is the governing authority for twelve Mercy schools, including your child's school. Mercy Education undertakes this role with your Principal in leading this school and supporting the dedicated staff in partnership with the Catholic Education Office…
04_COVID-19 Mercy Education Letter 20 March 2020 to Parents and Carers
UPDATED 19 March 2020
Today there are well in excess of 300 students who are absent across both campuses and there are a growing number of staff who are also absent…
03_COVID-19 Principal Letter 19 March 2020 to Parents and Carers
UPDATED 17 March 2020
My apologies for the constant flow of information. Making sense of it can be a real challenge and we can only imagine the confusion for our children, let alone for adults. Firstly, I want to thank the numerous members of our community who have made individual choices to isolate their families to reduce the risk of infection. Some families have taken extraordinary measures to protect others and have been in open communication with the College. Communication, clarity and facts are the most important details we need….
02_COVID-19 Principal Letter 17 March 2020 to Parents and Carers
02_2020 Calendar - Cancellation List at 17 March 2020
UPDATED 16 March 2020
I write to update you on how Catherine McAuley College is responding to the extraordinary situation unfolding regarding COVID-19 (Coronavirus). This is evolving, we will keep you updated as things change. Our first priority remains the health and safety of our school community…
01_COVID-19 Principal Letter 16 March 2020 to Parents and Carers