Premier League through to Semi-Final
01/06/2022
PREMIER LEAGUE FOOTBALL
ROUND 3 CMC VS HALLAM SENIOR COLLEGE
In the final round clash of the SSV Premier League Football competition, CMC came up against Hallam Senior College, in a clash that saw the first team pitted against the fourth in Pool A of the SSV Competition. A win would secure the team top spot in the pool and guarantee them a home Semi-Final on Wednesday 15 June.
From the very first bounce, and kicking with the wind, the boys dominated play, with Hallam constantly chasing the player and the ball. The boy's ability to link up their play and get run-and-carry through the midfield was impressive as they piled on nine goals in the first quarter. They were also dominant in defence, limiting Hallam's time in possession, and hence keeping Hallam scoreless in the first quarter.
The second quarter told a similar story, with CMC kicking another six goals, however Hallam were able to make use of the breeze, kicking two majors for the quarter and getting themselves on the scoreboard.
In the third quarter, CMC once again dominated as they made the most of the wind again. The only downside to this quarter was the inaccurate kicking as the boys added eight goals and eight points. Hallam were again at a loss to get the ball past the halfway mark and were again scoreless for the term.
In the final quarter, CMC finished off the game full of run and improved their accuracy as they kicked seven goals one, whilst Hallam added just two behinds. It was a game that gave the coach an opportunity to play around with the magnets, and try players in different positions as he plots his course for the Semi-Final.
It was a dominant performance all over the field by a very well drilled team who ran out 185-point winners.
Final Scores: CMC 30-19-199 to Hallam 2-2-14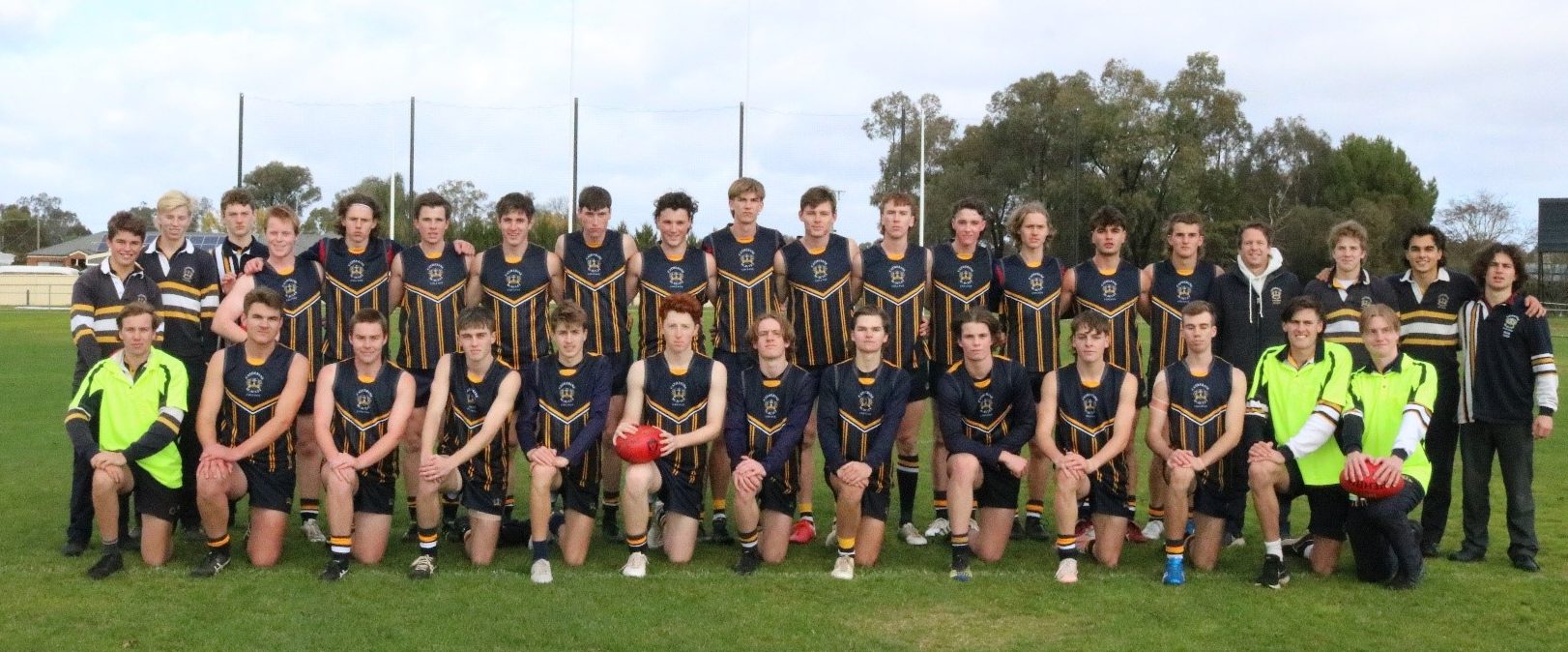 Back L-R: Henry Edwards, Tobie Travaglia, Liam O'Brien, Joshua Gillies, Tim Long, Jack McMahon, Archer Patterson, Wilson Butler, Rowan Fox, Jacob Nihill, Eli Pearce, Oliver Mayman, Wil Pinniger, Joshua Harris, Xavier Meersbergen, Archer Day-Wicks, Mr Lee Coghlan (Coach), Riley Mulquiny, Harrison Kelly, Dylan Arnold
Front L-R: Edward McCarthy, Evan Cole, Tom Farrelly, Zavia Roberts, Will Stewart, Jack Smith, Darcy Edmiston, Zac Grieve, Jasper Cheesman, Nicholas Sherriff, Henry McCarthy, Jason Gilbee, Fraser Banfield