Premier League Semi-Final thrilling win
20/06/2022
Catherine McAuley College defeated Rowville Secondary College in a thrilling Semi-Final of the Premier League to nab a spot in the Grand Final.
PREMIER LEAGUE FOOTBALL
SEMI-FINAL CMC VS ROWVILLE SECONDARY COLLEGE
Catherine McAuley College came up against Rowville Secondary College in the Semi-Final of the SSV Premier League, played at the QEO in wet and cold conditions on Wednesday 15 June.
The first half of the match was dominated by Rowville, who simply adapted to the wet conditions better than CMC. They were cleaner with their possessions and their spread across the ground was impressive. They kicked three goals to one in the first quarter, followed by two goals to none in the second quarter and were playing the match on their terms. This gave a Rowville a handy twenty-three-point lead going into the halftime break.
As in its previous games, CMC came out firing in the third term, applying intense pressure all over the ground. They were now forcing turnovers and were making the most of being first to the ball and getting clean possession. CMC were now the ones dominating play and kicked three goals three in the term. They restricted Rowville to just one point and headed into the last term just three points in arrears!
In an intense final term, the ball sailed from end to end as both teams scrapped for possession. Rowville kicked a point at the seven-minute mark to extend their lead. CMC continued to press forward, however, Rowville were covering well in defence, but at the fifteen-and-a-half-minute mark, Archer Patterson was able to scramble the ball through for a goal.
The game was anyone's, and with just four minutes to play, CMC held a two-point lead. Rowville threw everything at the CMC defenders who continued to rebound the ball out. Rowville kicked another point a minute later and it was now just one point the difference. CMC were mighty in their ability to constantly win back possession in the final minutes of the game. However, in a nail-biting moment, Rowville won a free kick forty-five metres out from their goal, right on the siren. The kick was long and on target, but the CMC boys were able to keep the ball from going through for any score and as a result came away with a thrilling one-point victory.
Final scores: CMC 5-6-36 def Rowville 5-5-35
Goal Scorers: Rowan Fox 3, Wilson Butler 1, Archer Patterson 1
Best: Riley Mulquiny (Best on Ground) Rowan Fox, Jack McMahon, Eli Pearce, Darcy Edmiston, Jacob Nihill, Henry McCarthy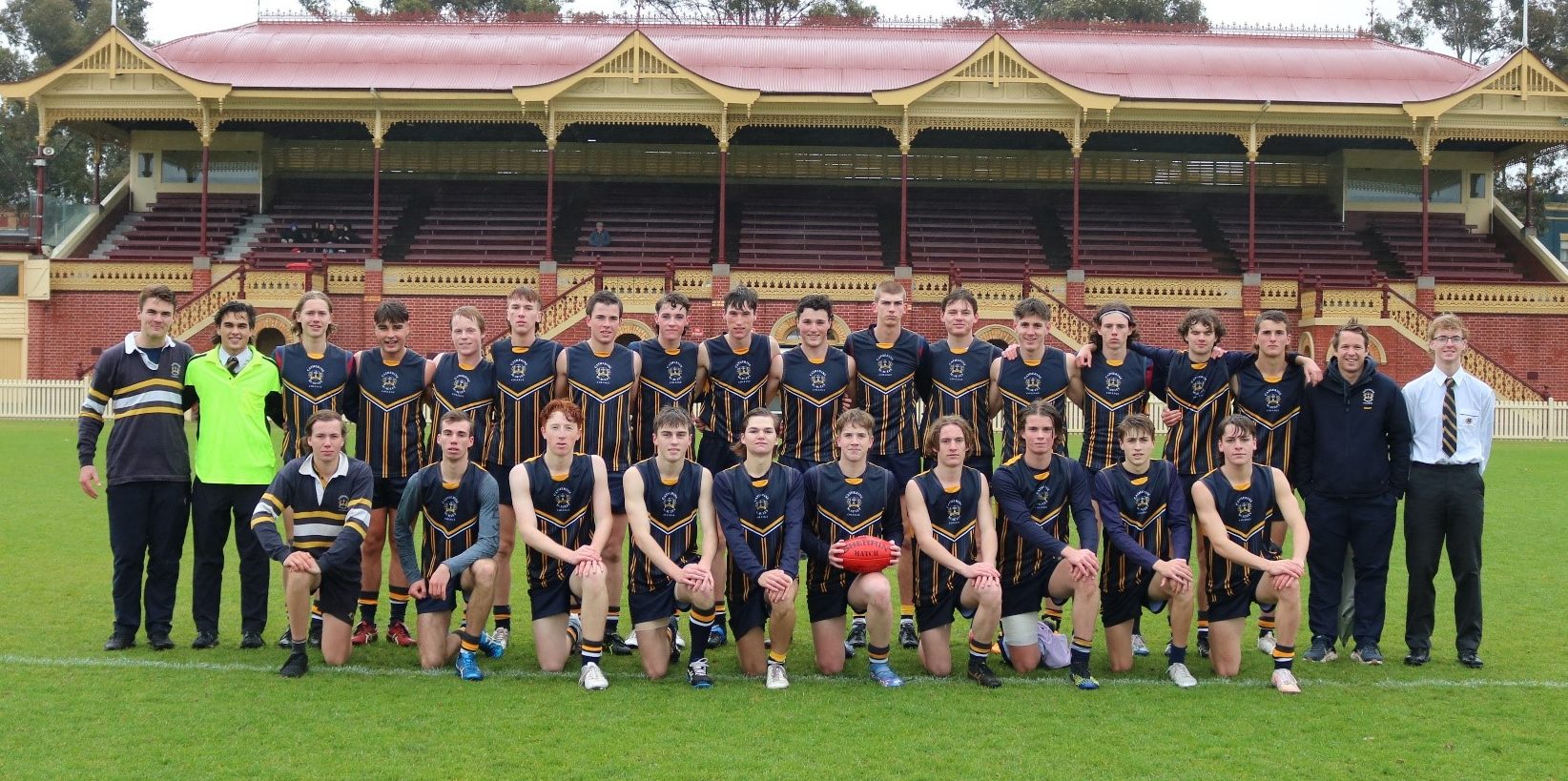 Back L-R: Evan Cole, Harrison Kelly, Joshua Harris, Xavier Meersbergen, Joshua Gillies, Oliver Mayman, Jack McMahon, Wil Pinniger, Wilson Butler, Rowan Fox, Jacob Nihill, Eli Pearce, Archer Patterson, Tim Long, Toby Harrison, Archer Day-Wicks, Mr Lee Coghlan (Coach), Ethan Yates
Front L-R: Edward McCarthy, Henry McCarthy, Jack Smith, Zavia Roberts, Zac Grieve, Riley Mulquiny, Darcy Edmiston, Jasper Cheesman, Will Stewart, Nicholas Sherriff