Premier League Football off to a winning start for CMC
10/05/2022
SCHOOL SPORT VICTORIA: ROUND 1 vs BSSC
Congratulations to the Catherine McAuley College (CMC) Premier League Football Team who started their campaign in style by defeating Bendigo Senior Secondary College (BSSC) in their opening round at the Queen Elizabeth Oval (QEO).
The boys started the game lacking skill and intensity and BSSC took advantage. They kicked four goals to two in the first half, to have a handy 13-point lead at the half time break. Backs McMahon and Harris were playing out of their skin and, with the support of the other defenders, kept the CMC team in touch on the scoreboard. The message from coach Coghlan at the break was simple, "You do not need to change much, you are in the game, you just need to lift your energy levels, get your hands on the ball and start to run in numbers."
The effect of the half time speech was immediate. The boys attacked early and a goal to Darcy Edmiston at the 2-minute mark of the third quarter was the kick start the boys needed. From there, they started to win the ball at stoppages and their run-and-carry style of play ignited. At the 8-minute mark Riley Mulquiny goaled and from there the excellence of the CMC team came to the fore. The trio of Fox, Day-Wicks and Kelly all slotted through majors and the boys were now dominating BSSC all over the ground. The second half was the complete opposite of the first and the CMC's ability to now hit targets and win the contested ball were highlights. It was a 5-goal quarter and with the back six intercepting or turning over every BSSC forward entry, the CMC boys went into the three-quarter time break with a handy 18-point lead. It was a 28-point turnaround in just a quarter of footy and now it was up to the boys to bring it home in the last.
The final quarter saw BSSC attack early and kick a goal, however a brilliant passage of play from Harrison Kelly saw him answer that goal with one of his own. Josh Gillies and Tom Farrelly added their names to the goal kickers list to put the result beyond doubt. It was a terrific turnaround in form from the start of the match to the end and a gutsy 27-point win resulted.
Congratulations to the boys on a fantastic game.
Final Score: CMC 10-9-69 to BSSC 6-6-42
Best Players: Jack McMahon (Best on Ground), Harrison Kelly, Riley Mulquiny, Nicholas Sherriff, Joshua Harris, Archer Day-Wicks, Rowan Fox and Darcy Edmiston.
Goal Kickers: Archer Day-Wicks 2, Harrison Kelly 2, Joshua Gillies 2, Darcy Edmiston 1, Riley Mulquiny 1, Rowan Fox 1, Tom Farrelly 1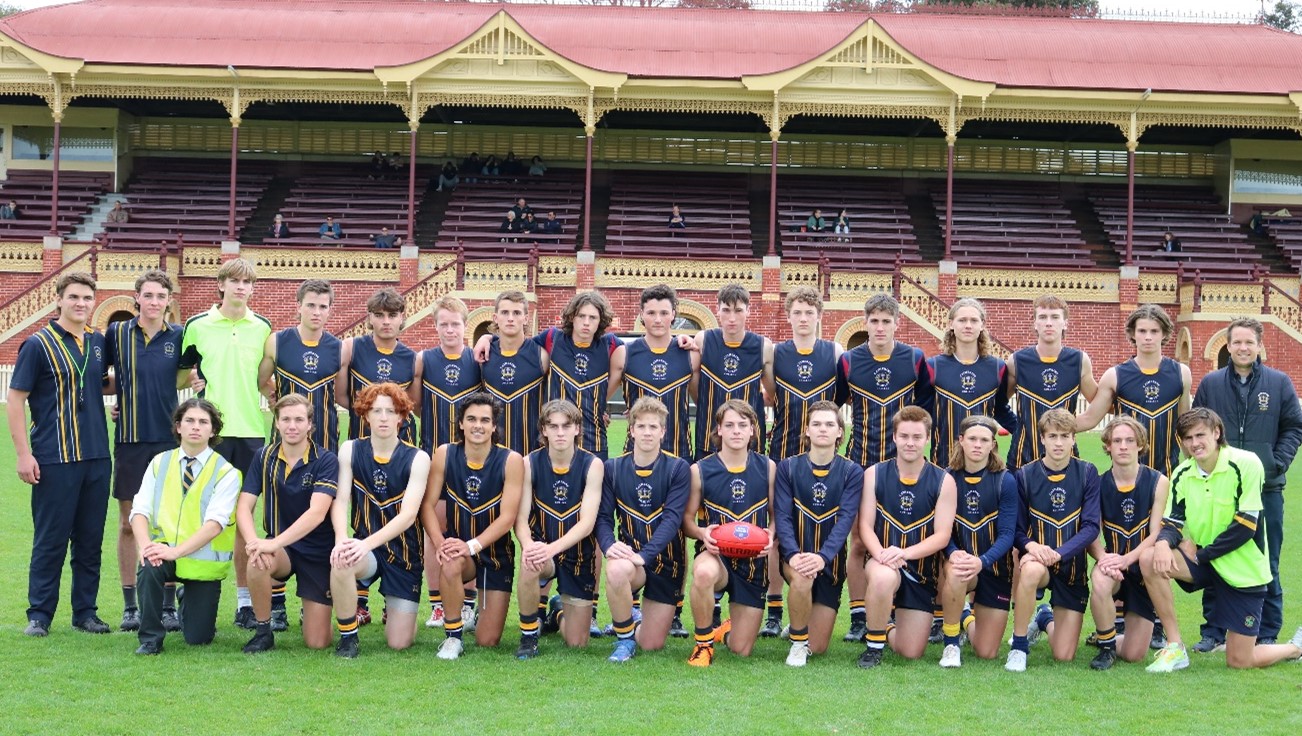 Back L-R: Evan Cole, Wil Pinniger, Jacob Nihill, Jack McMahon, Xavier Meersbergen, Joshua Gillies, Archer Day-Wicks, Tim Long, Rowan Fox, Wilson Butler, Liam O'Brien, Archer Patterson, Joshua Harris, Oliver Mayman, Jasper Cheesman, Mr Lee Coghlan (Coach)
Front L-R: Dylan Arnold, Edward McCarthy, Jack Smith, Harrison Kelly, Zavia Roberts, Riley Mulquiny, Nicholas Sherriff, Zachary Grieve, Thomas Farrelly, Seth Boyd, William Stewart, Darcy Edmiston, Jason Gilbee