Outstanding swimmers at State Swimming Championships
16/06/2021
SCHOOL SPORT VICTORIA – STATE SWIMMING CHAMPIONSHIPS
Congratulations to all our student representatives who competed at the School Sports Victoria State Swimming Championships, held at Melbourne Sports and Aquatic Centre on Thursday 22 April.
All students were amazing ambassadors for the College and swam exceptionally well in their events. Layla Day was our standout swimmer of the day, finishing with four State Titles.
Layla's result:
1st – 50m Backstroke
1st – 100m Backstroke
1st – 50m Freestyle
1st – 100m Freestyle
2nd – 50m Butterfly
Henry Allan also showed his talent, finishing second in the 13yr boys 50m Backstroke and third in the 13yr boys 50m Butterfly.
Our other medallists for the day were the Open Girls 4 x 50m Relay team of Varlee Nihill, Ella Downing, Telani Bibby and Layla Day. The girls raced exceptionally well, finishing third in a very close race. The team were also pipped by a few hundredths of a second for third place in the Open Girls 4 x 50m Medley Relay.
Individual competitors, Ella Downing and April Downing, may not have finished with a medal, but both swam well and loved the experience that the day brings, including achieving some Personal Best times.
Our 13 Year Boys Medley & Freestyle Teams were also very competitive against strong opposition teams on the day.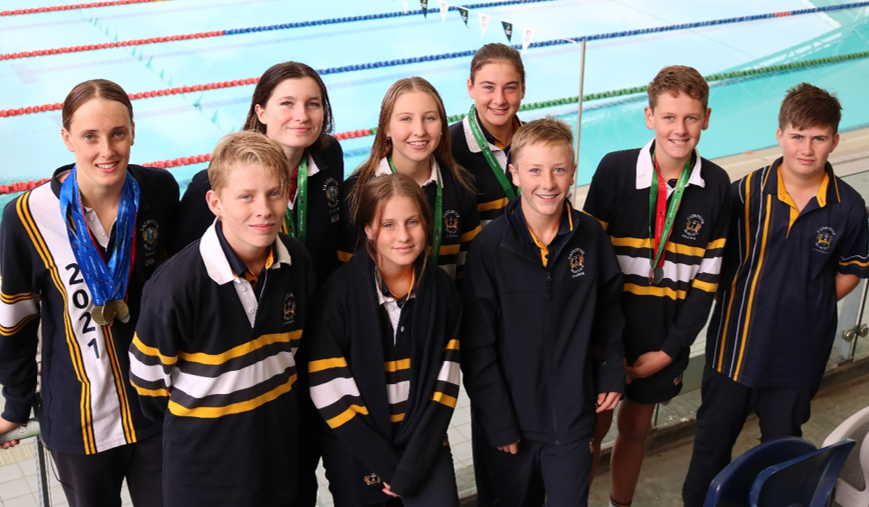 Team:
Back Row L-R: Layla Day, Varlee Nihill, Ella Downing, Telani Bibby, Henry Allan, Jackson Hetherton
Front Row L-R: Miller Nihill, April Downing, Charlie Bannan
Absent: Thomas Davie