Outstanding performances take Year 8 Boys Cricket Team to Sandhurst Final
A very successful day of cricket for the Year 8 Boys Team saw them winning comfortably in their two matches and progressing to the final later this term.
SCHOOL SPORT VICTORIA: SANDHURST DIVISION
On Tuesday 12 March the Year 8 Boys Cricket team ventured to Weeroona College to play their first match in the 2019 Sandhurst Junior Cricket Competition. The boys batted first against their Weeroona College rivals.  They held their opponents to task, hitting the ball to all parts of the oval, making a total of 102 from their 15 overs.  The standout performance of the innings was from Jasper Cheesman who, with a boundary off the last ball of the final over, made a brilliant 51 runs not out.  The boys fielded well and bowled even better, during Weeroona College's innings, restricting them to only 21 runs. Xavier Austin's bowling stood-out, seeing him take 3 wickets in 3 overs.
For Game 2, the boys then travelled to Ewing Park to play Girton Grammar School, who had just beaten Castlemaine Secondary College.
Again, batting first, the boys made 132 runs from their 15 overs with Xavier Austin and Jasper Cheesman starring.  Xavier made 46 runs before being dismissed and Jasper again excelled, retiring on 50 (making a total of over 100 runs for the day).
The boys fielded and bowled strongly, restricting Girton to just 88 runs and hence securing victory.
The boys, who played with great sportsmanship and represented the College very well on the day, now play Bendigo South East College in the final which will occur later this term.
Mr Stephen Evans & Mr Joe Lloyd, Team Managers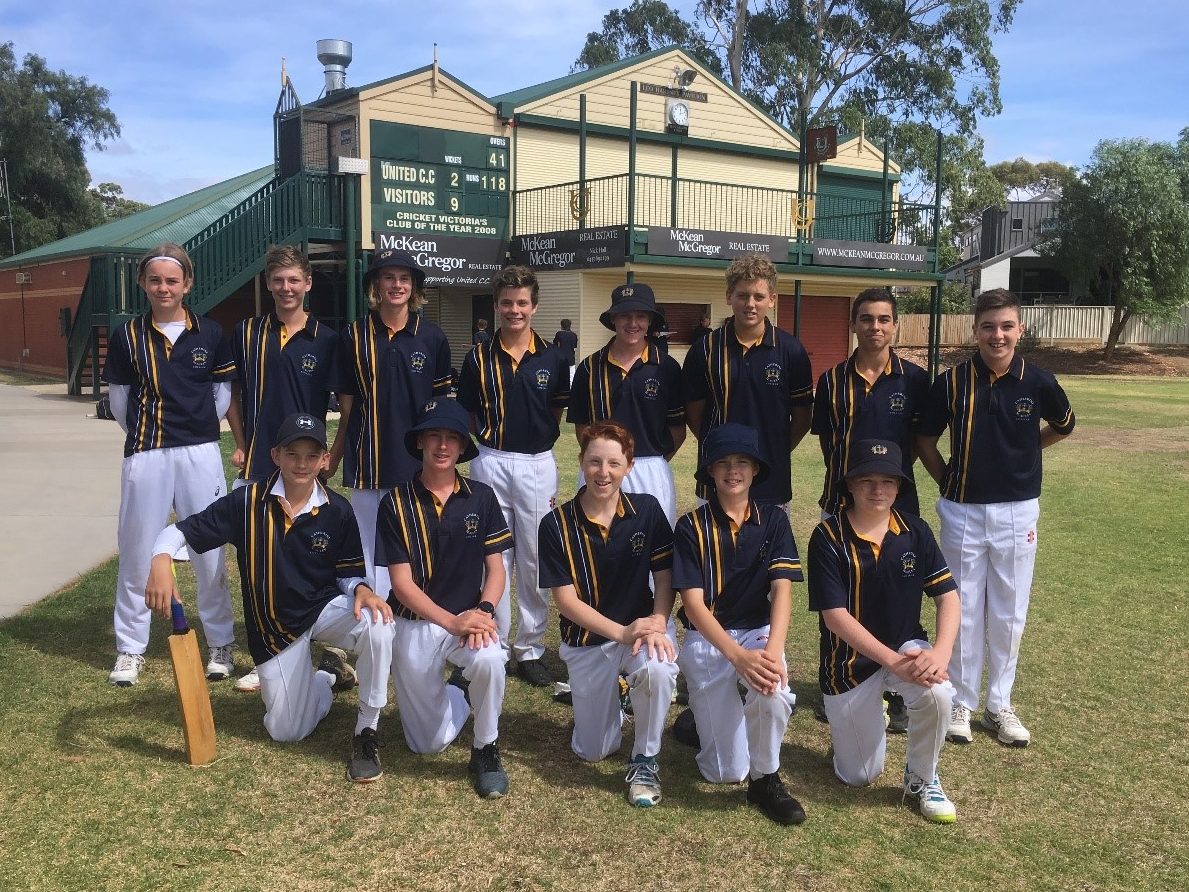 YEAR 8 BOYS CRICKET TEAM
Back L-R: Jedd O'Keefe, Jack Wilson, Harry Roberts, Jasper Cheesman, Bailey Tyrrell, Max Harris, Harrison Kelly, Charlie Edwards.
Front L-R: Jacob Floyd, Xavier Austin, Jack Smith, Louis Banfield, Callum Thompson