Outstanding Effort by Energy Breakthrough Teams
26/11/2019
The annual Energy Breakthrough Challenge was held in Maryborough from 21 – 24 November this year. With a Code Red day declared, it delayed our departure from Bendigo, however, the students adapted very well and ensured everything was packed and ready to go for a 7.30am start on the Friday.
The students were able to present their high level of knowledge and commitment to the program through their 'Display and Presentation', with both of our teams finishing runners up by less than one mark. The 'Design and Construction' element tests students understanding by asking them impromptu questions about their vehicle and the event, as well as various other topics the judges are passionate about.
Finally, the students get to undertake the gruelling 24-hour endurance 'trial' where they complete as many laps as possible with their team of eight riders and support crew keeping them going. The event is both mentally and physically challenging as they ride all through the day and night, which means waking up at times like 3am to go and ride.
The results this year are a testament to the wonderful students, parents, former students and staff we have working on this program. Every person's contribution was so important and we can't thank you enough for making it one of the best years yet!
RESULTS
Pulse (Years 7–9 Team)
Overall Category Result: 3rd
24hr Endurance Trial: 4th
Display and Presentation: 2nd
Design and Construction: 5th
Oscar Bravo (Years 10–12 Team)
Overall Category Result: 8th
24hr Endurance Trial: 10th
Display and Presentation: 2nd
Design and Construction: 11th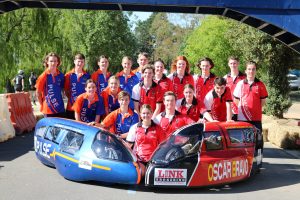 Energy Breakthrough Squad 2019
Back: Ryan Hall, Campbell Evans, Phoebe Maher, Ava Nihill, Tait Poyser, Lucy Terry, Sophie McLean, Alex Costigan, Zachary Walsh, Sam Lewis
Middle: Hannah Maher, Ellie Bonnici, Will Rodda,
Front: Patrick Hannaford, Carissa Brook, Hugh Whalen, Polly Hughes, Bailey Paynting