Netball Wrap-up
07/08/2019
SSV Loddon Mallee Regional Finals & Victorian Schools Netball Championships
Year 7
Victorian Schools Championships
Monday 29 July
The Year 7A netball team went to Melbourne for the Victorian Schools Netball Championships. We played against teams mostly from Melbourne who were a combination of Year 7 and Year 8 students.
Our first game was against Girton and the final score was 8-6 with Girton Grammar School coming out on top. The second game was against Presbyterian Ladies College and we lost 9-4. The third game of the day was against Korowa Anglican Girls' School and we had a great win, 8 goals to 4. The last game was against Our Lady of Mercy College and we lost 9-6.
Overall, we finished 4th which is pretty good considering we were up against mostly Year 8 students, but we had a terrific day. A big thanks to Mrs Kingsley for coaching us this season and well done to all the girls. We all tried our very best.
Jessica Millar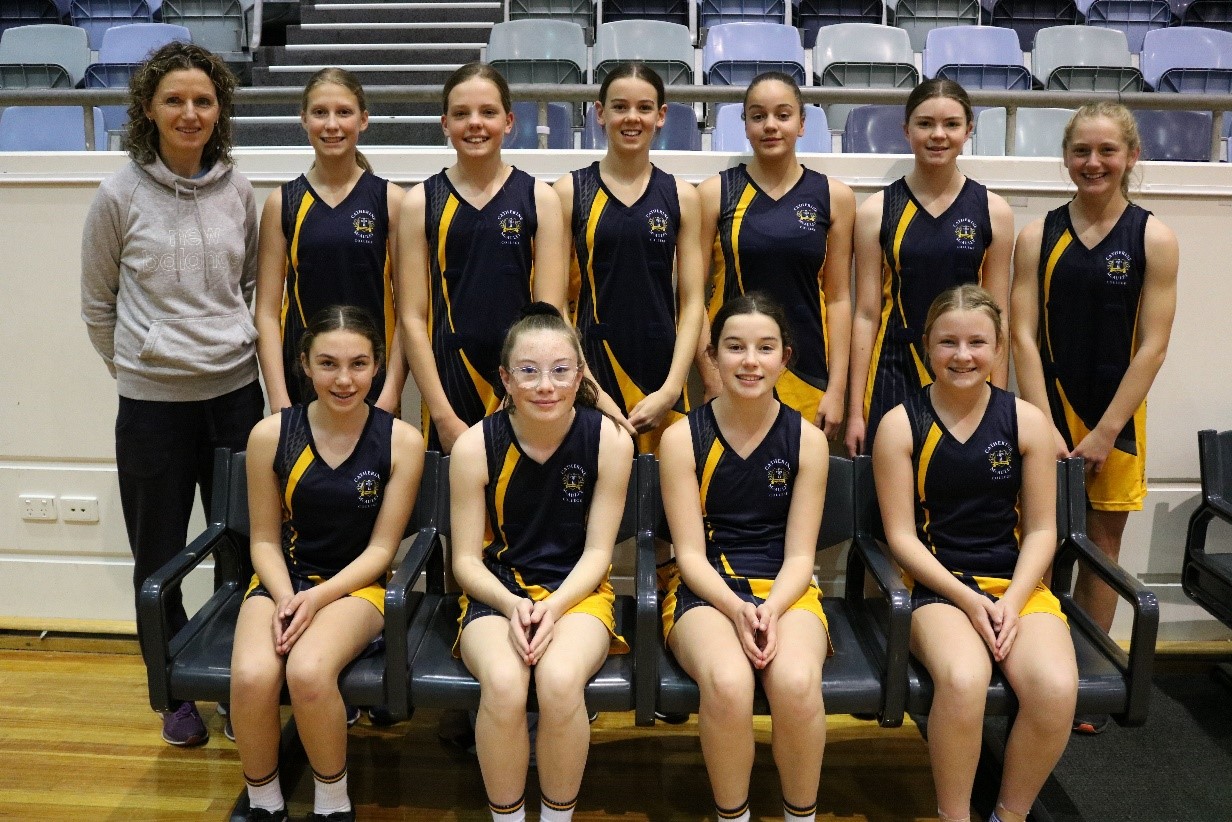 Back Row L-R: Mrs Kate Kingsley, Ava Nihill, Sasha Pearce, Phoebe Maher, Ava Rifat, Milana Whiteacre, Jorja Morrison
Front Row L-R: Emarnee Davies, Mayah Chilver Asha Griffin, Jessica Miller
Year 8
School Sport Victoria – Loddon Mallee Region
Thursday 25 July
The Year 8 Netball team started the tournament very strongly. In their first game against Wedderburn College they outplayed and outscored their opposition winning 45 – 0. This preparation was not ideal when in the next game they came up against a highly talented and well drilled Joseph's College Mildura. The girls struggled to match the pace of their opposition and ended up going down by 10 goals.
Fortunately, the team then played much better netball against Rochester Secondary College. A few positional changes resulted in a much more settled and controlled game along with increased accuracy in goal scoring. For our final game against St Mary MacKillop College, the result was similar to our second match with us going down by about 10 goals. We had difficulty bringing the ball out of defence and did not cope with the pace and aerial skills of our opposition. It was a disappointing end to the day but we look forward to the next tournament so we can put together a consistent performance and play our style of netball.
Victorian Schools Championships
Monday 29 July
The Year 8 netball team took several games to settle and match the physicality and speed of our opponents. Our draw was a tough one as we came up against very tall, agile and competitive opponents. We narrowly lost 2 of our games and drew 1.
Our team consisted of accurate goalers including by Hannah Tyndall, Marley Gallagher and Maggie Burke. Our super-speedy centre court players were Ella Raco, Cate O'Bree, Amity Thorpe and Alexandra Langley. We had a lot of depth in defence and numerous combinations were tried on the day. These defenders included Sophie Giles, Akeily Pearce, Layla O'Shea and Brydie O'Rourke. All the girls should feel proud of their efforts on the day as they relished the opportunity to represent CMC.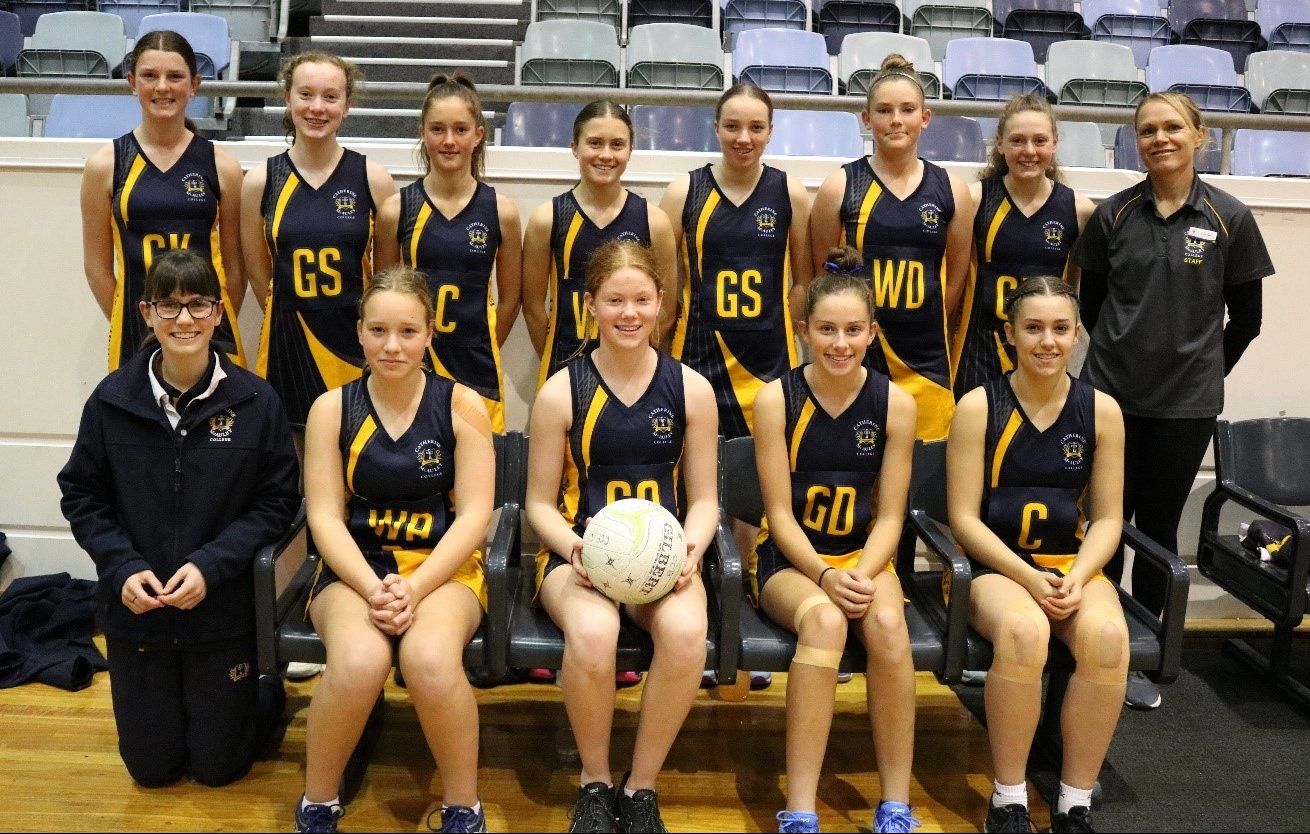 Back Row L-R: Layla O'Shea, Hannah Tyndall, Alexandra Langley, Amity Thorpe, Marley Gallagher, Sophie Giles, Akeily Pearce, Mrs Clare Hope (Coach)
Front Row L-R: Maggie Keating, Cate O'Bree, Maggie Burke, Brydie O'Rourke, Ella Raco
Year 9
Victorian Schools Championships
Throughout the day the Year 9 girls represented the College with enthusiasm, determination and a terrific sense of teamwork. They should be very proud of their efforts, especially as they were bottom age playing in the Intermediate (Year 9 and 10) competition. The effort was incredible and a great reflection of them as sportswomen. Great job girls.
Results:
CMC defeated Lauriston Girls' School 17-3
CMC defeated Woodleigh School 15-1
CMC lost to Our Lady of Mercy College 11-16
CMC lost to Sacre Coeur 11-8
CMC lost to Girton Grammar School by 1 goal
CMC defeated Korowa Anglican Girls' School convincingly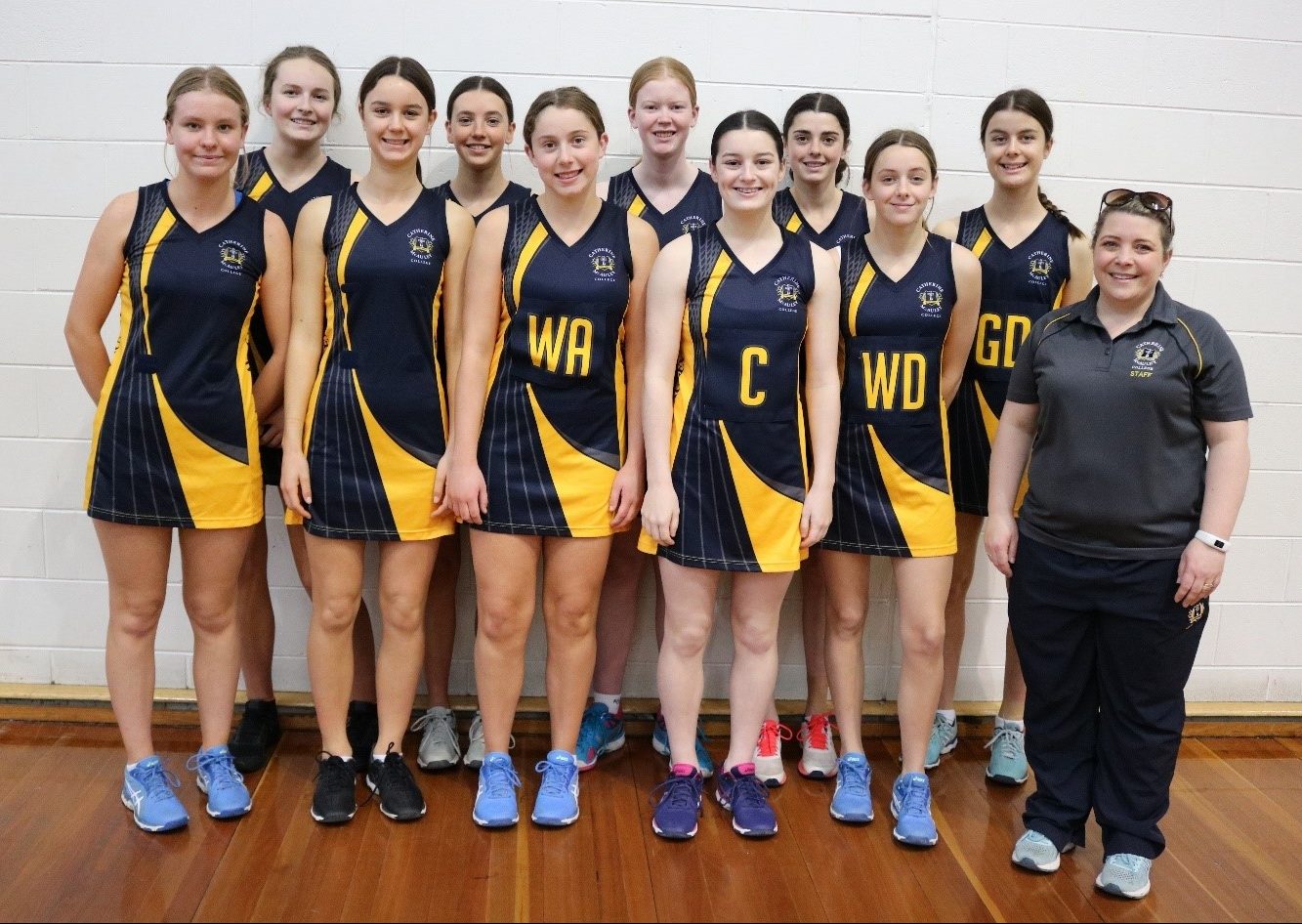 L-R: Charlotte Crouch, Charlotte Sexton, Aimee Dean, Ava Hamilton, Jorja Morrison, Siarne Cass, Tahlia Isaac, Macey O'Shea, Lily Trimby, Katie Dean, Mrs Sharna Frawley (Coach)
Year 10
School Sport Victoria – Loddon Mallee Region
Thursday 25 July
Stepping up to the next level was something the girls managed well. All the girls continued to work well with each other in any combination they were given. With solid wins against Wedderburn College and Kerang Technical High School, they faced up against Rochester Secondary College in our closest match. Rochester showed great play and forced our girls to step up to another level which they did quite comfortably, winning 15 goals to 6.
The last match against St Joseph's College Mildura finished off the day nicely with another comfortable win. Overall our goalers were efficient with the ball and goaled brilliantly, our defenders were relentless in applying pressure and turnovers kept coming. Our centre-court players all worked hard to move the ball quickly down the court. A fabulous day's play occurred with lovely sportsmanship and a fabulous team spirit throughout the day.
Victorian Schools Championships
Monday 29 July
With a changed line up due to injury, the girls adjusted well and continued their winning streak. With such a versatile group of girls they were able to try different combinations and still keep the intensity high. Over five matches they played against Camberwell Girls Grammar School, Goulburn Valley Grammar School, Methodist Ladies College, Presbyterian Ladies College and St Monica's College Epping. Across all games the team scored 74 goals and restricted the oppositions collectively to just 14.
The manner in which the girls played and carried themselves in all games was fabulous, with plenty of opportunity for all girls to showcase their abilities. We now progress through to the State Finals in September where we look forward to continued success. Congratulations girls – you have been amazing.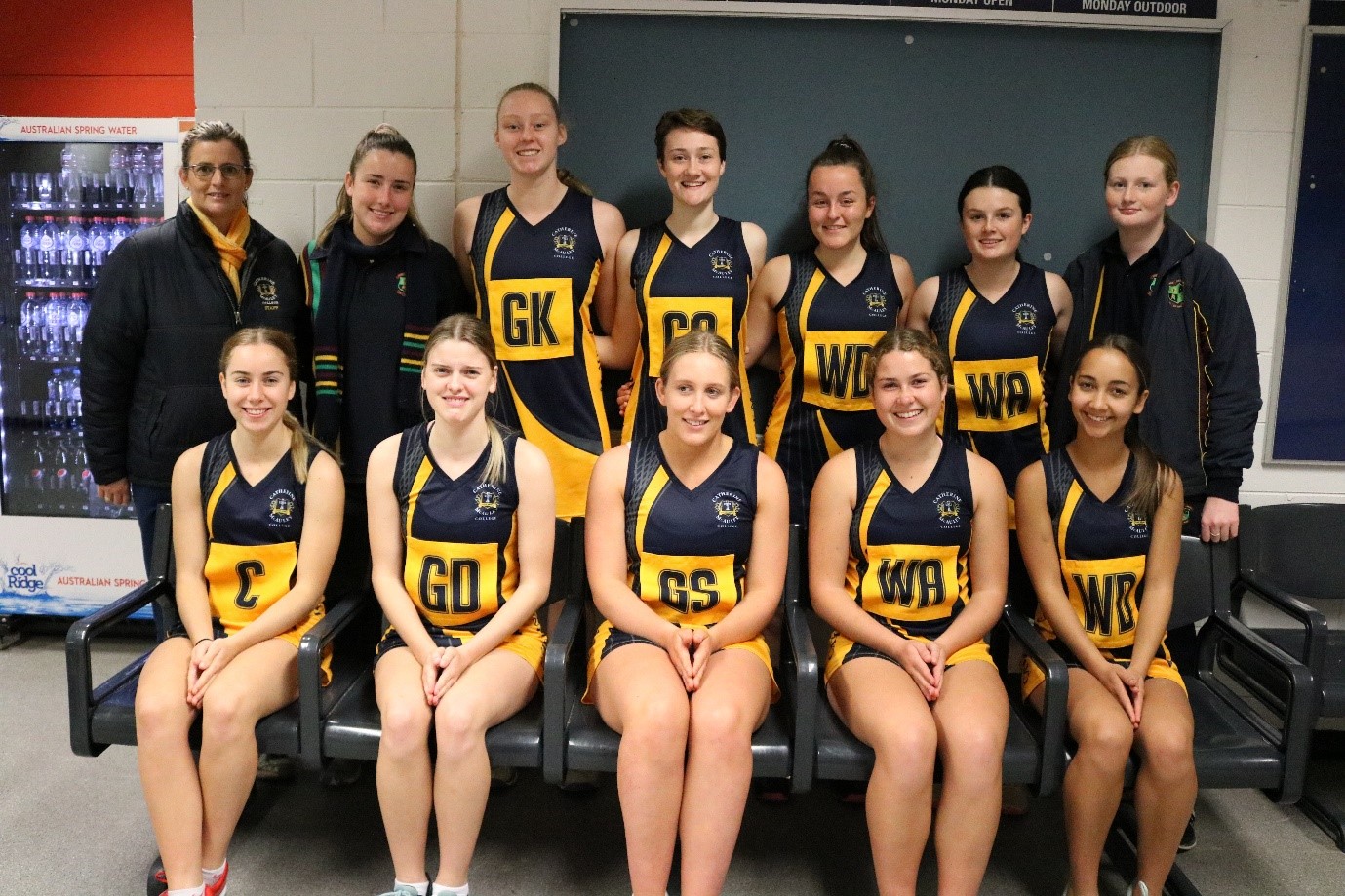 Back Row L-R: Mrs Kristine Rosaia (Coach) Abbey Clohesy, Piper Dunlop, Deanna Duane, Ellie Donnellon, Olivia Erwin, Nikita Matthews
Front Row L-R: Meg McCarthy, Amelia Moon-Manning, Tahlee O'Keefe, Carissa Brook, Tiahna Leader
Senior Girls
School Sport Victoria – Loddon Mallee Region
Thursday 25 July
Game 1 vs Mildura Senior College
The girls got off to a slow start in the first half of the game. The defensive pressure from Mildura was difficult to negotiate and they created many turnovers. Ashlee O'Shea was shooting accurately in the goal circle and was fed well by Abby Powell and Matisse Perez. The half-time score was 9 – 6 our way. The second half resulted in quite a few positional changes. Tess Keating came on into Goal Attack, Darcey Lloyd Wing Defence and Bridie Semmens moved into Goal Keeper. We increased the pressure and with accurate goaling, we came away with the win. Final score 20 – 13.
Game 2 vs Wedderburn College
In a very challenging first half, the girls struggled to create any space and unforced errors resulted in many turnovers. At half time they were only up by 2 goals. In the second half, Matisse came back on into Centre, Ruby Turner into Goal Defence and Keeley Jones moved to Wing Attack. This proved a successful move. The girls stepped up their game and annihilated Wedderburn in the second half with the Final score being 35 – 13.
Game 3 vs St Mary MacKillop College Swan Hill
Meg Layton started the game in Wing Attack and combined very well with Matisse in Centre. Ashlee and Keeley had an absolutely stellar game in the shooting circle, both shooting with 100% accuracy. Bridie and Emmie Banfield were a superb combination in the defensive goal circle getting many intercepts and bringing the ball smoothly out of defence. At half-time the girls were up 15 goals to 4. Abby Powell came on into the Centre in the second half and was a little pocket rocket. She was able to get many tips on the ball and created essential turnovers. Bronte McConachie moved into Wing Defence in the second half and dictated the play of her opponent. The girls were outstanding and came away with a great win 28 goals to 6.
Game 4 vs St Mary's of the Angels Nathalia
We started with the defensive line-up of Darcey, Ruby and Emmie. Emmie demonstrated a high level of skill in managing to get some brilliant intercepts with both hands on the ball. Darcey and Ruby led out quickly from defence and created many opportunities for the offense to capitalise on. Half-time score was 12 – 3 our way. In the second half Meg moved into Centre and Bronte into Wing Attack. They created many opportunities for the goalers and demonstrated patience with their feeds. Tess and Keeley increased the speed of their scoring in the second half and the lead continued to build. The Final Score against Nathalia was 27 to 9.
The girls finished undefeated and have now qualified for the State Finals which are to be played in Melbourne on Monday 9 September. Good Luck Girls
Victorian Schools Championships
Monday 29 July
The Senior girls played five games over the course of the day and need to finish on top of the ladder in order to progress to the finals day on 17 September. The pressure on them to perform right from the start was huge.
Game 1 v Lauriston Girls' School
Over the past decade, the CMC Senior Girls team has often been knocked out of the tournament after the first round, however that was not the case this time around. Tess Keating and Keeley Jones led the charge in the goaling circle shooting at 80%. We were up 9-2 at half-time. The second half saw Meg Layton provide many opportunities at Wing Attack and the defensive line-up of Darcey Lloyd, Ruby Turner and Emmie Banfield created many turnovers and stopped all Lauriston's attempts at goal. Final score was a win 15 goals to 2.
Game 2 v Girton Grammar School
We didn't take playing our neighbours lightly. They had a strong team and the girls were determined to win. With Ashlee O'Shea away ill, Ruby started at Goal Shooter in the first half and provided many opportunities for Tess at Goal Attack to score. Bridie Semmens and Emmie teamed up well in the defensive goaling circle keeping Girton's goalers to 1 goal going into the break. We were up 7 – 1 at half time. The second half saw Abby Powell step into Wing Attack to provide drive into the goal circle. Matisse Perez played a consistent game at Centre and was very perceptive with her feeds. Her vision was extraordinary and a 10 goal to 4 victory was the result.
Game 3 v Goulburn Valley Grammar School
We knew this game was going to be tough after some inside information from Girton, so we were primed and ready to take to the court. After a slow start, we were able to start getting goals on the board to be even at half time with the score being 5 – 5. In the second half, Ruby was exceptional in Goal Defence – her intercepts and drive down court were inspiring. Keeley and Tess were shooting under tremendous pressure but were able to keep their cool and shoot accurately. Matisse continued to work overtime in Centre despite a very physical opponent. We came away with a well-deserved win 9 – 7.
Game 4 v Sacre Coeur
With three wins on the board, we came up against second-placed Sacre Coeur, which was another tough game for us to contest. There were many turnovers in the first half with some errant passes and lack of strong leads. We were down 2 – 3 at the half. Changes were made in the second half – Keeley went into Goal Shooter, Tess out to Goal Attack, Emmie to Wing Defence and Bridie back into Goal Keeper. Sacre Coeur struggled to adjust to our changes and we were able to tidy up our game, lead into space, drive strongly and increase the accuracy of our passing. Again, the girls were able to steady the ship and sail her nicely into port. We won 9 – 7.
Game 5 v Our Lady of Mercy College
The last game of the day was against the third placed team OLMC. Even though we were all feeling a little weary, the girls were able to hype themselves up, accurately count down from 10 – 1 and were ready for the last challenge. Meg started in Wing Attack with Abby at Centre. They worked hard in attack and were able to find space to feed Keeley and Tess in the goal circle. We were up 5 – 4 at half time. In the second half Meg went into Centre and Abby into Wing Attack. Darcey at Wing Defence combined well with Ruby to force turnovers in the mid-court and brought the ball cleanly out of defence. We came away with the win 11 – 8.
As a coach, I am so very proud of the ladies for the day. Their sportsmanship, their ability to keep their cool, even when under intense pressure and their support of each other is commendable. This is the first year in many years that the Senior team has progressed to the Victorian Schoolgirls Finals day. The Finals day is on Monday 9 September at the State Netball and Hockey Centre. A big thank you to Bronte McConnachie for acting team manager and scorer on the day. A big thank you to the parents who came down to watch.
Mrs Maree Pearce, Activities Coordinator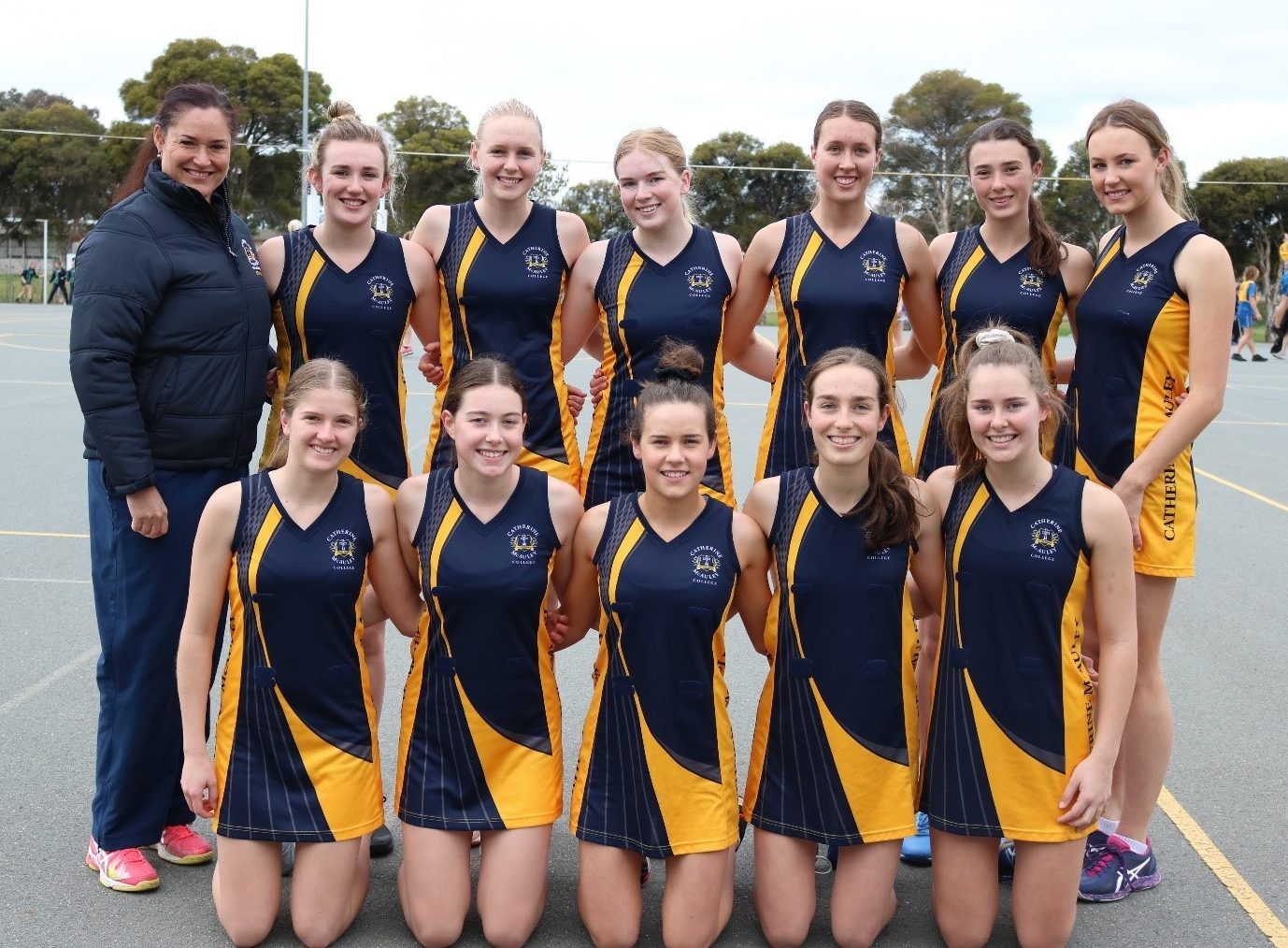 Back Row L-R: Miss Anthea McEniry (Coach), Keeley Jones, Emmie Banfield, Bronte McConnachie, Bridie Semmens, Ruby Turner, Ashlee O'Shea, Ruby Turner
Front Row L-R: Meg Layton, Matisse Perez, Abby Powell, Tess Keating, Darcey Lloyd